Welcome to the forty-first installment of the Haunted Montreal Blog!
With over 200 documented ghost stories, Montreal is easily the most haunted city in Canada, if not all of North America. Haunted Montreal is dedicated to researching these paranormal tales, and the Haunted Montreal Blog unveils a newly-researched Montreal ghost story on the 13th of every month! This service is free and you can sign up to our mailing list (top, right-hand corner) if you wish to receive it every month on the 13th!
Our January blog explores not only haunted pubs, but also other paranormal drinking establishments from hotel bars, theatre lobbies, private clubs, discotheques and even an old brewery to a Canadian Legion, train station and McGill University Frat House! With over 40 haunted watering holes, Montreal has perhaps the most of any city on the planet!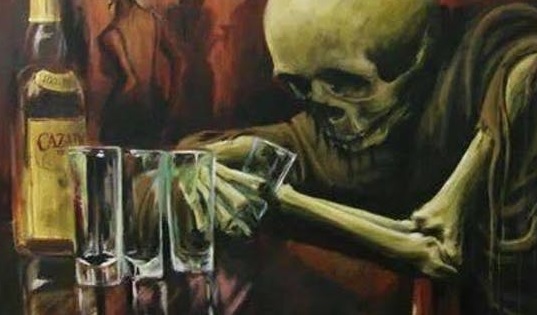 While Haunted Montreal is in winter mode and will not offer any more public ghost tours until April, 2019, we are pleased to announce our Haunted Pub Crawl! With a proto-type happening in January, we will offer this creepy, boozy and haunted experience to the public starting on Sunday, February 10th. The tour in English starts at 3 pm and the tour in French at 4 pm.
Please see our new Haunted Pub Crawl webpage for more details, the full schedule and to buy tickets.
For those seeking ghost walks during our off-season, Haunted Montreal is still offering private tours for company outings, school groups, bachelorette parties and other gatherings of all types. Please contact info@hauntedmontreal.com to organize a private tour for your group. These ghost tours require very warm clothing during the winter months and the Haunted Mountain tour is not offered once there is snow on the ground due to dangerous and icy conditions on Mount Royal / Otsirà:ke.
Haunted Research
Haunted pub crawls are becoming more and more popular throughout the world as a great way to combine two popular activities – ghost tours and pub crawls. Founded by Gregory Proffit, owner of the Creepy Crawl in Savannah, Georgia over a decade ago, haunted pub crawls now exist in dozens of cities across the planet.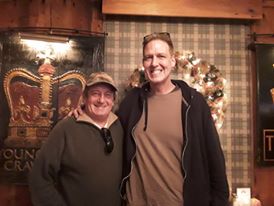 While Dublin City, Ireland has around 15 haunted pubs and Savannah, Georgia, "America's most haunted city", has around 25 paranormal bars, Montreal is clearly the best metropolis to mix booze with creepy ghost stories. With over 40 haunted pubs and other drinking establishments, Montreal is an ideal city to pour back some libations while pondering the paranormal.
Inspired by Gregory Proffit's Guide to the Haunted Pubs of Savannah, I have prepared for you a list and short description of many of Montreal's haunted watering holes, where guests can enjoy some spirits – with a spirit!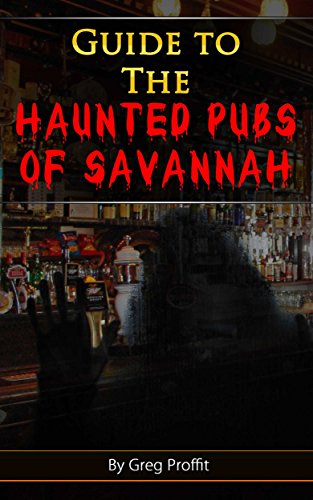 While Haunted Montreal's Haunted Pub Crawl will visit four of the haunted bars, I invite you to create your own itinerary from the list to have a self-guided haunted pub crawl so you can visit some of the other spooky drinking establishments!
Haunted Bars, Pubs, Restaurants and Nightclubs
Montreal has a lot of haunted places to drink some booze, from fancy nightclubs and dive bars to ancient inns and brew-pubs. Pick your favorites from this list of the haunted bars, pubs, taverns, restaurants, burlesque halls, nightclubs and other drinking establishments – and begin your ghost-hunting and boozy adventure!
1. Barfly.
Often voted Montreal's "best dive bar", Barfly is a favourite haunt for musicians and Plateau locals. It is also said to be haunted by a former owner who played by his own rules. At closing time, staff have reported strange phenomena such as the stereo system turning itself back on and blaring music and upside down barstools flinging themselves onto the floor. The speculation is that the old owner wants to keep the bar open after closing time, just like in the old days when he ran the establishment based on his whims instead of the laws. (4602 Boulevard St. Laurent)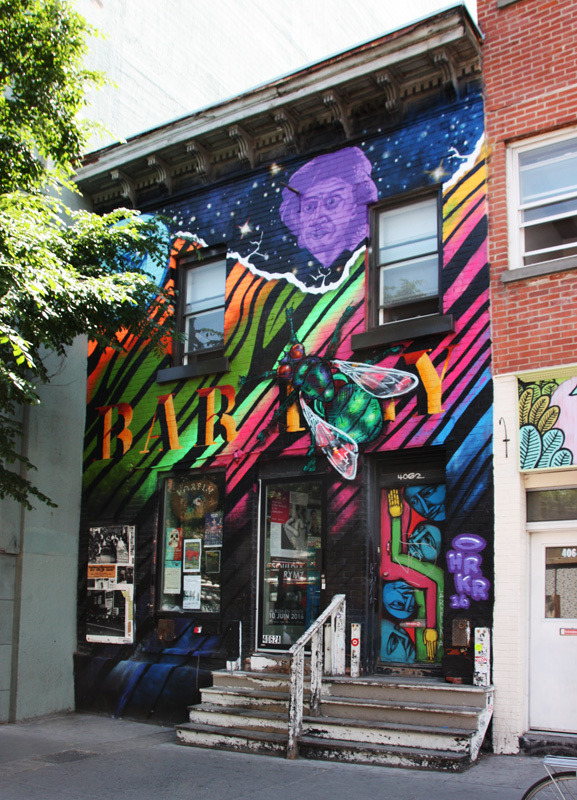 2. L'Amère a Boire.
L'Amère à Boire is an artisanal brewpub half-way up the hill on Saint Denis Street in the trendy Quartier Latin. The French name of the pub is a witty double-entendre: it means simultaneously "Bitter to drink" and "the sea to drink" (La mer à boire), an idiom to do something impossible. Opened in 1996, L'Amère à Boire brews ales and lagers on-site and also serve fancy pub grub, such as tapas, burgers and seasonal meals. However, despite its convivial atmosphere, according to some staff members the building is haunted by the ghost of a man wearing a mysterious hat. He has been spotted on the security cameras on several occasions. (2049 Rue St. Denis)
3. Auberge St. Gabriel.
The oldest inn in North America, dating back to 1688, is said to have a lot of ghosts. The most famous story relates the appearance of a girl, who died in a fire that ravaged the inn, who had taken refuge on the top floor. This room contains old pianos and harmoniums, which sometimes play on their own when the room is empty and the lights are off. Understandably, employees are reluctant to walk alone at night in the attic. Now a fancy bar/restaurant with a nightclub called Le Velvet Speakeasy, the old inn is a great destination for ghost hunters. (426 Rue St-Gabriel)
4. Charlie's American Pub.
This old Bishop Street bar features a pool table, laid back atmosphere and friendly, informal vibe. It is also the starting location for Haunted Montreal's new Haunted Pub Crawl. Staff have reported unexplained and paranormal activity, such as doors opening and closing, lights violently flickering over the pool table for no reason whatsoever, and constant feelings of being watched, especially when alone in the bar, unnerving some of the bartenders. (1204 Rue Bishop)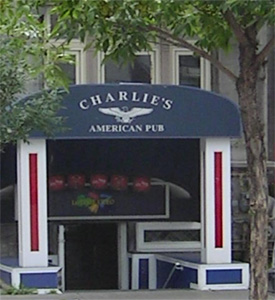 5. McKibbin's Irish Pub.
The original McKibbin's Irish Pub on Bishop Street is situated in what was once a beautiful red-stone Victorian residence. Featuring Irish pub food and many beers on tap, including Guinness, the pub's menu also features the ghost story of Mary Gallagher, the beheaded prostitute who returns to Griffintown every 7 years. Some staff members believe the pub is haunted, describing a ghost who is sometimes spotted near the fireplace and unexplained gusts of cold wind that blow throughout the establishment. (1426 Rue Bishop)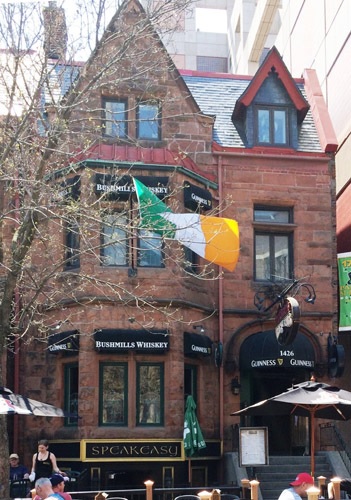 6. Hurley's Irish Pub.
The building housing Hurley's Irish Pub was constructed in 1885 as a tenement, back in the day when this area was considered to be working-class slum. The building suffered many fires over the years and in some cases tenants did not escape, meeting fiery deaths. The manager has seen his fair share of sights over the years, but one of the strangest experiences to be had in the pub is a run-in with a ghost known only as the Burning Lady. She is known to haunt the top of the stairs, in the ladies' washroom and the upstairs bar. Her perfume sometimes mingles in the air and on the anniversary of her death she is known to scream "Help! Help!", causing staff to reschedule meetings. (1225 Rue Crescent)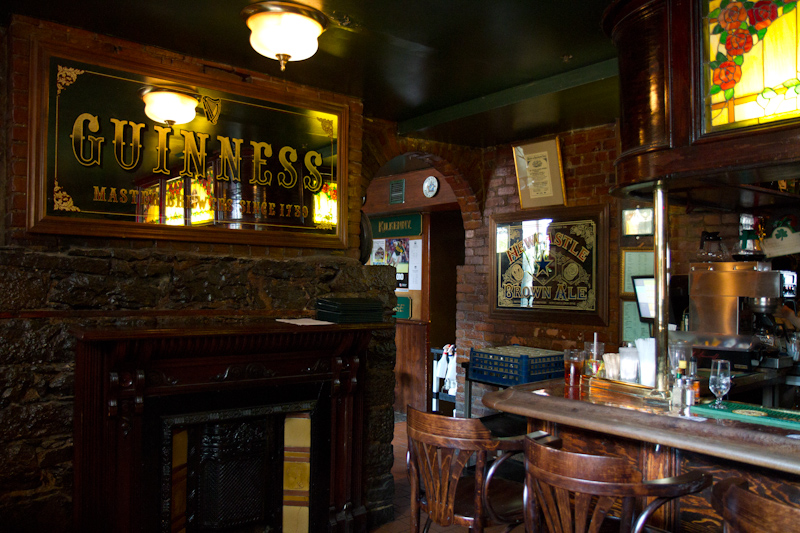 7. Andrew's Pub.
Rumour has it that this popular hangout amongst students and locals has its own haunting, one that sometimes disturbs even the most loyal of customer. Some people say there is a horrifying apparition haunting the place that manifests itself in the creepiest of ways. On rare occasions clients who have had a few drinks will experience a pungent odour that materializes out of nowhere: blood mixed with cordite, a chemical that replaced gunpowder in modern weapons. After detecting the odour, some of them feel like they've been bumped into by a large person when there is nobody there. Rumour has it that a headless apparition of a burly man appears in the mirrors and some people believe it is the ghost of an Irish mobster whose head was blown off when he was gunned down in the bar in 1969. (1241 Rue Guy)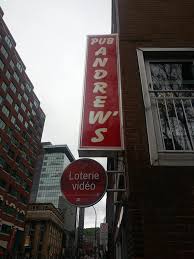 8. Club Le Cinq
Probably the most haunted building in Downtown Montreal, this trendy nightclub is a good place to "enjoy some spirits with a spirit." This former funeral home is said to be a hub of poltergeist activity. With all three floors said to be haunted by various apparitions, Club Le Cinq can get frightening at times! Women are warned never to go to the downstairs bathroom alone, as that is where the ghost of an autopsied woman with a jagged scar down her torso is known to appear! While it remains unclear exactly who or what is haunting the old funeral home-cum-nightclub, one thing remains certain: the nightspot is also a hotspot for the paranormal. For more details, please see Haunted Montreal Blog #29. (1234 Rue de la Montagne)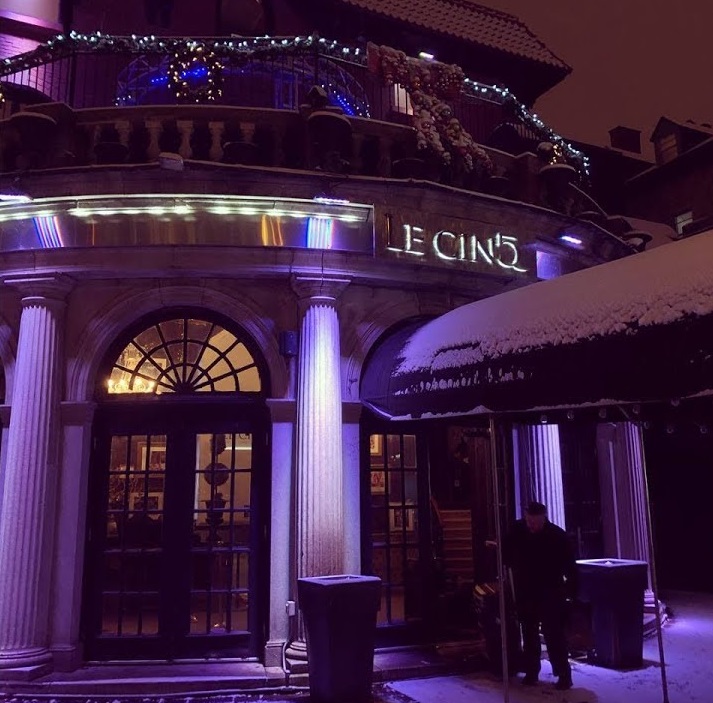 9. Sir Winston Churchill Pub.
Sir Winston Churchill Pub is considered the founding establishment of today's vibrant Crescent Street. Opened in 1967, during a time of extreme language tension in Montreal, it triggered an exodus of anglophone nightlife from the Main, whereas francophone nightlife moved east to the Quartier Latin. Once the favourite haunt of boulevardier/journalist Nick Auf der Maur, who has an alleyway beside the bar named in his honour today, Sir Winston Churchill Pub is also said to be haunted by his unconventional and cheeky ghost. (1455-59 Rue Crescent)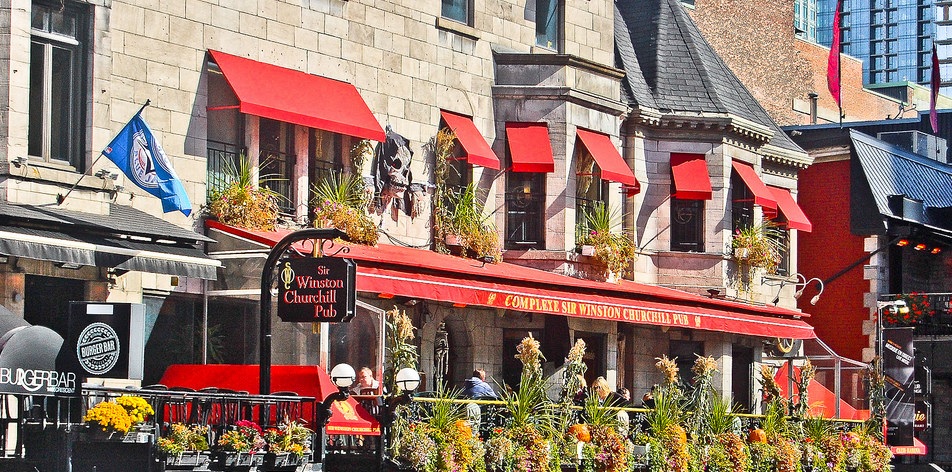 10. Café Cléopatre
Built in 1896, this infamous Montreal stripclub and burlesque hall is still putting on shows. Originally housing Ponton Costumes, from 1925 onwards, the building hosted various nightclubs and welcomed the city's most sexually diverse clients and performers. During the heyday of Montreal's Red Light District, the nightclub witnessed all sorts of mishaps from violence and mayhem to a 42-year-old tourist from New Jersey having his private parts blown off by a bomb in the bathroom. Today, many ghosts are said to haunt Café Cléopatre, which was itself saved from demolition when burlesque queens refused to be ejected. Now surrounded by a glass office tower, this venerable burlesque hall is itself a ghostly reminder of the past. (1230 Boulevard St. Laurent)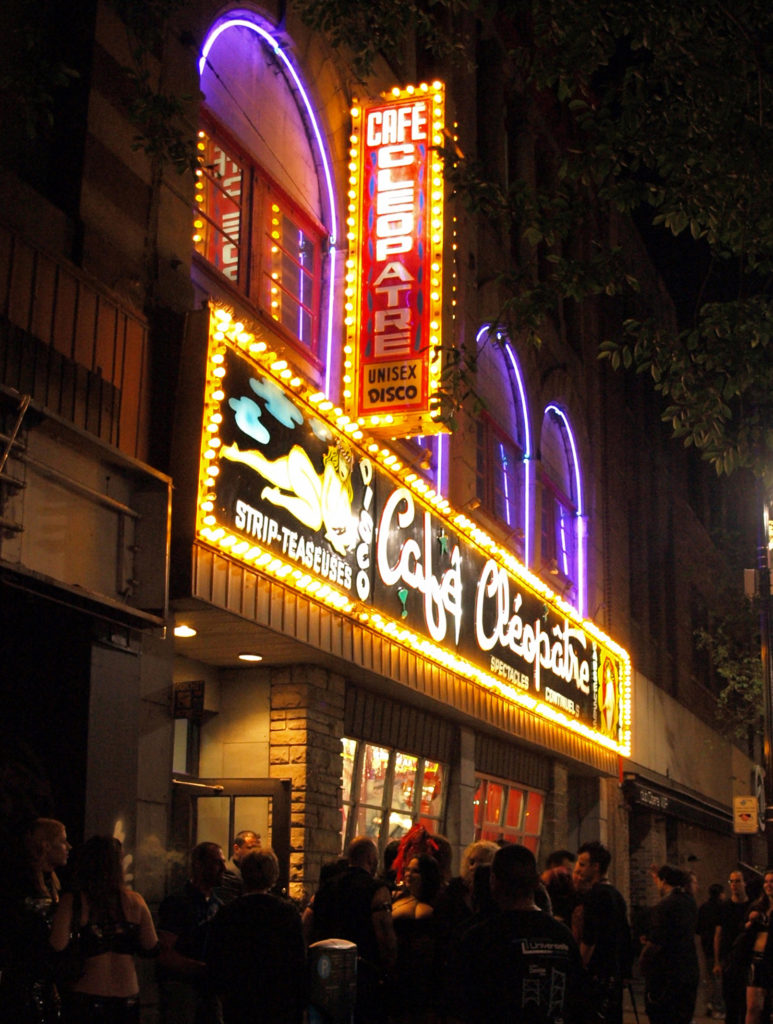 11. Taverne Midway.
This throwback to the glory days of Montreal's old tenderloin district is the starting location for Secret Montreal's Old Red Light District Ghost Walk and Burlesque Walking Tour. Recently renovated, the tavern is said to still be haunted by ghosts from the old days when it was one of Montreal's seediest bars. Once the favourite haunt of violent criminals, sex workers and junkies, today the old tavern is a popular hipster bar. The most common ghost is said to be that of now-deceased burlesque queen, who is sometimes spotted applying her make up in the ladies washroom. (1219 Boulevard St. Laurent)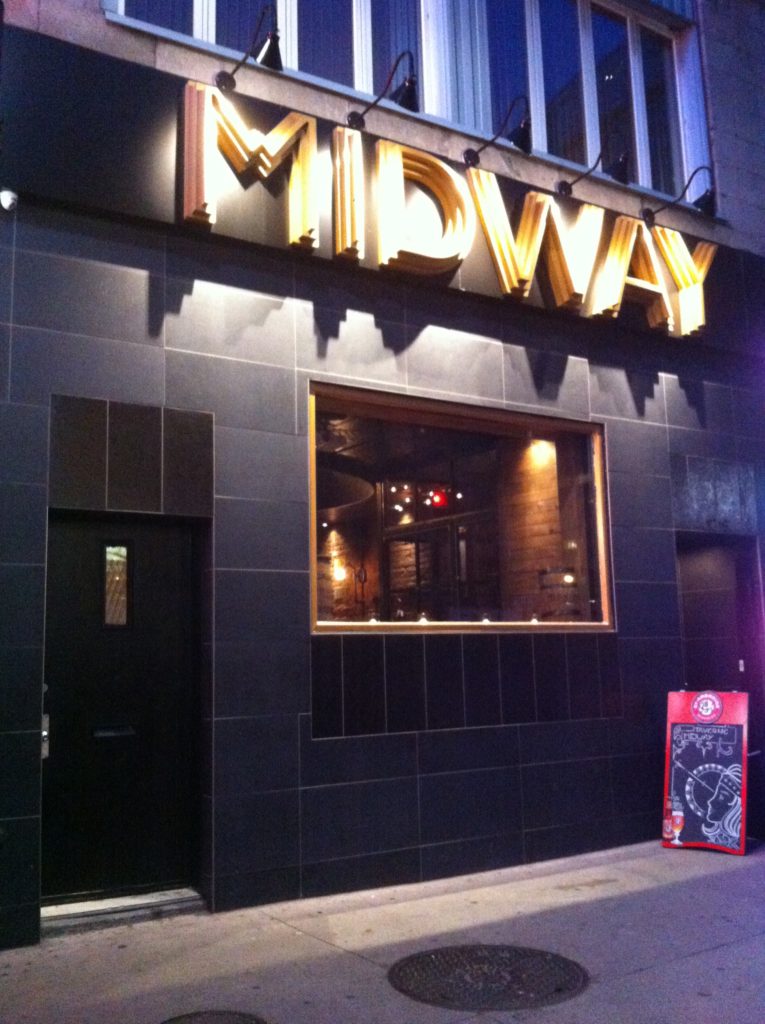 12. Cabaret Lion D'Or.
This cabaret hall has a salacious history. Al Capone, a frequent visitor to Montreal during the days of Prohibition, was so enthralled with our city that he actually invested in a burlesque hall and oyster bar called the Cabaret Lion d'Or. In the basement he ran a blind pig, or illegal "after hours" bar. Today, the cabaret hall still exists as a rare throwback and still offers burlesque performances. With a secret door and tunnel in the basement that Capone used to evade police during raids, some staff members believe that the mobster's ghost haunts the Cabaret Lion d'Or . (1676 Rue Ontario Est)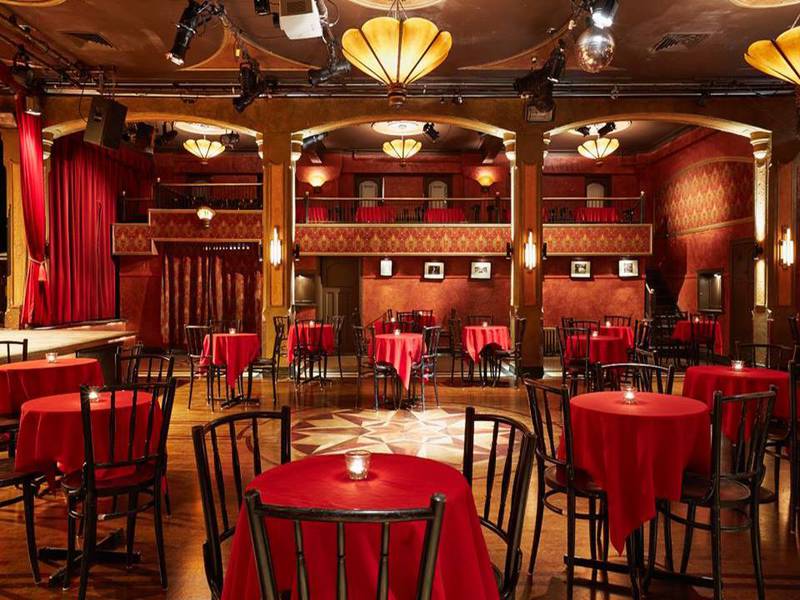 13. Pub Quartier Latin.
Once the site of Canada's most notorious brothel, 312 Ontario, today the Pub Quartier Latin is a cozy establishment with a comedy club called Le Bordel. While the building is certainly haunted by sex workers of the past, resulting in disembodied giggles and clients feeling caressed by invisible hands, it is also known to have a much, much darker ghost. Known to haunt people living in the lodgings above the pub during their nightmares, the ghost is none other than that of McGill University's most infamous alumni, abortionist and serial killer Dr. Thomas Neill Cream. (318 Rue Ontario Est)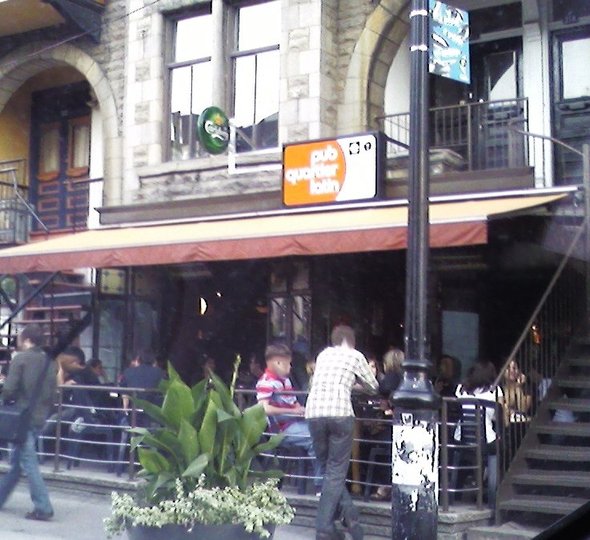 14. Windsor Station.
Windsor Station, a Romanesque Revival masterpiece, was once the hub of Canada's railway system, linking east to west. When the Bell Centre was built, Windsor Station was cut off from the railroad tracks, rendering it no longer functional. Today, it is possible to enjoy a drink at the Gare Windsor Rotisserie, a resto-bar or in the Salle des pas perdus during private rentals. Once the lobby where thousands of people awaited trains or returning loved ones, it is now an impressive events venue. In this imposing hall, mysterious voices can sometimes be heard chattering away, newspapers rustle by themselves and on occasion the faint sound of an old train whistle can be heard blaring. (1160 Rue de la Gauchetiere Ouest)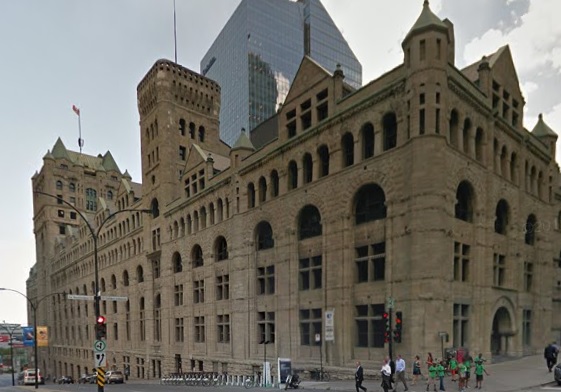 15. La Capital, Chinatown.
Opened in 2015, La Capital is a Mexican bar/restaurant that serves tacos, beer and other fare in bustling Chinatown. According to staff members, the building is haunted by a mysterious ghost. They have heard rumours that someone died in the building and is now haunting the place. The most common paranormal activity is for things to suddenly get knocked over or pushed off of shelves and counters. Sometimes plates drop and shatter on the floor, pots go flying off their hooks and heavy boxes of pork slide off the counters and onto the floor. Some speculate the building once hosted a kosher butcher shop when the area included a large Jewish community and believe that the ghostly butcher returns to try and remove pork from his old shop. (1096 Boulevard St. Laurent)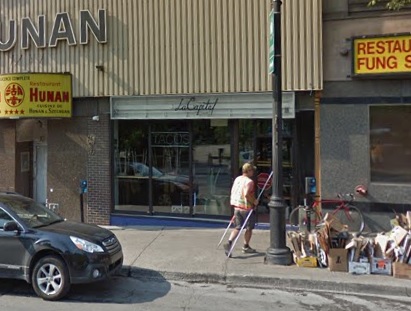 16. Bonsecours Market.
This magnificent Palladian-style marketplace was inspired by Dublin's Custom House and opened in 1847. It has witnessed lots of history and even served as Canada's seat of governance in 1849 after angry politicians burned down the nearby Parliament in a fit of rage. Today, the Bonsecours Market features a host of places to have a drink, such as Pub BreWskey, an industrial-chic brewpub that serves craft beer on tap. Unfortunately, night guards are constantly kept on their toes with the sounds of phantom footsteps echoing throughout the building and the occasional appearance of a frightening apparition. (350 Rue Saint-Paul Est)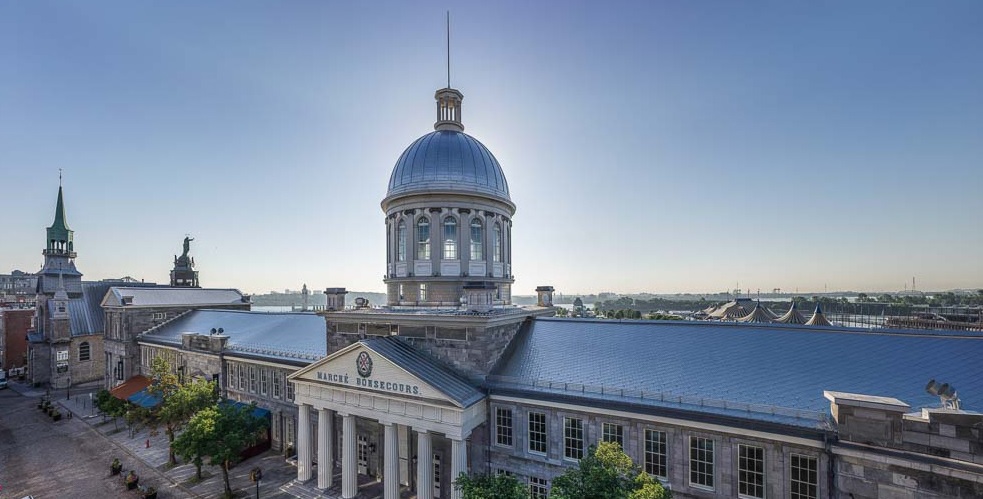 17. Reggie's Bar, Hall Building.
Reggie's Bar has long been enjoyed as a watering hole for students at Concordia University. Situated on the ground floor of the Hall Building, the pub is a hot-spot for academic debate, student activism and enjoying a few cold ones while skipping class. Sometimes, when the bar is quiet, students can hear ghostly whisperings in the Hall Building's lobby, a strange and paranormal phenomenon that, while unexplained, has inspired art shows at the university in the past. (1455 Boulevard de Maisonneuve Ouest)
18. Orange Rouge Restaurant, Chinatown.
This is one of the only bar/restaurants run by non-Asians in Chinatown. Apparently, locals refused to rent it because it's allegedly haunted. Orange Rouge was opened by a man named Patrick Dumont in 2013. Set in the Wing's Noodle Factory building owned by the Lee Family, Orange Rouge kicked off with a popular chef named Aaron Langille behind the stoves. When the restaurant opened, the Lee family paid for a lion dance ceremony, a traditional way to bless a new business with good fortune, plus as a way to calm any bad spirits. (106 Rue de la Gauchetière Ouest)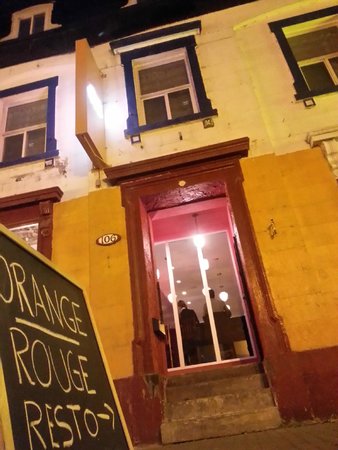 19. Les Trois Brasseurs, Old Montreal.
A French brew-pub with several locations, the one in Old Montreal is said to be the most haunted. The upper floors of the building are said to be infested with shadowy apparitions, which sometimes affect people in the bar below. Many clients have heard strange noises from above, hanging lamps sometimes swing on their own accord and there are also reports of shadows jumping from the higher windows only to vanish before they land on the sidewalk. There is speculation that people burned alive in a fire many years ago. (105 Rue St. Paul Est)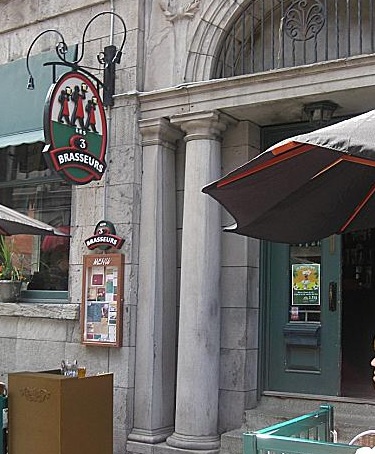 Haunted Theatre Bars
Theatres are prime locations for hauntings, and Montreal has its share of them. Usually the only time to enjoy a drink in these establishments is before performances and during intermissions, so you might want to check out what's playing and buy a ticket to enjoy some theatre as you look for ghosts.
20. Centaur Theatre.
Set in Old Montreal's magnificent former Stock Exchange Building, there are many ghosts said to haunt the Centaur Theatre. One story involves a stockbroker who killed himself during the Great Depression (some say he jumped off the Stock Exchange whereas other say he hanged himself on its furnace, essentially ensuring his body was cooked through and through). Another features a gay actor who was constantly bullied onstage during a performance so asked that his ashes be placed in the theatre's potted plants so he could haunt the theatre after his death. His friends complied, and since then his ghost is said to haunt the bar, spilling the drinks of any homophobes who are present. Lastly, there is a little-known legend about a vampire who once occupied the building, his coffin disguised as a prop. (1453 Rue St. Francois-Xavier)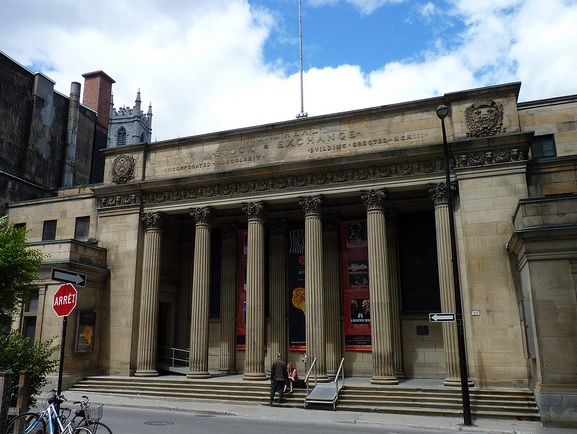 21. Imperial Theatre
The Imperial Theatre was built in 1913 as a vaudeville playhouse but now it serves as a cinema and venue for other performances in the Quartier des Spectacles. According to the Quebec Ghosts and Hauntings Research Society, the grand old theatre on Bleury Street is definitely haunted. While details are sketchy, the most common rumour has it that a ghost of someone who perished in a fire plagues in the majestic theatre, bringing the smell of charred flesh wherever it goes. Please note that the Imperial Theatre currently offers irregular programming, so it is not always easy to schedule a drink at the theatre's bar. (1430 Rue de Bleury)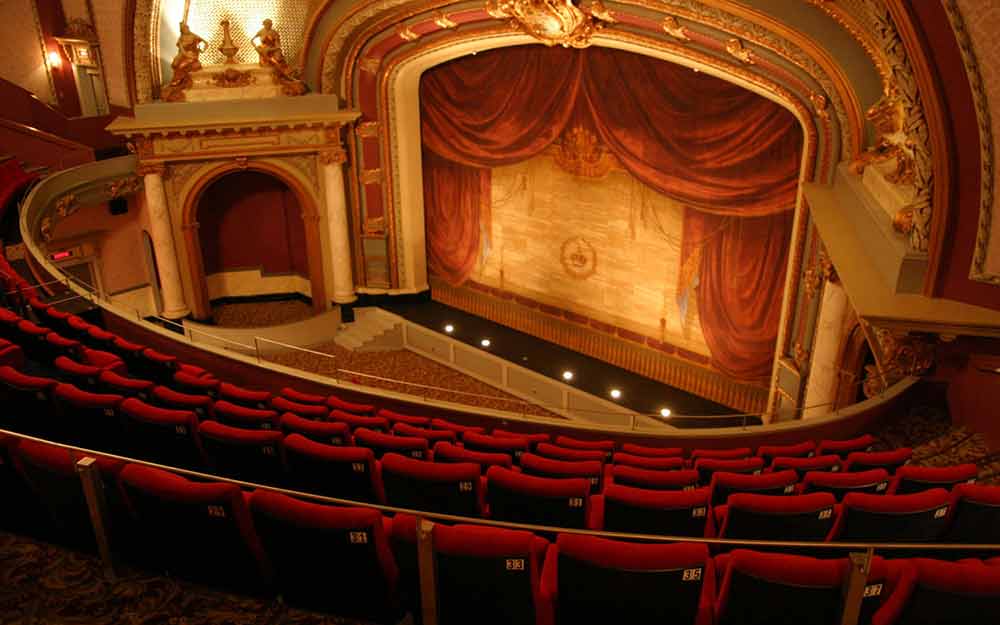 22. Monument-National
The grandiose Monument-National, one of Quebec's oldest and finest theatres, is rumoured to be haunted by at least two ghosts. Today's "Studio Hydro-Québec", located in the building's basement, has a very bizarre and unsettling history. Once the site of a deranged Victorian waxwork museum called the Eden Musée, today a ghost bangs on the pipes and tends to make a lot of noise. Many people speculate that it is the ghost of strongman Beaupré the Giant, whose corpse was once displayed among the waxworks. There are also whispers that another ghost haunting the Monument-National is none other than Sarah Berhardt, one of the greatest French actresses of her era, whose spirit has been spotted on the glorious staircase. For more details, please see Haunted Montreal Blog #10. (1182 Boulevard St. Laurent)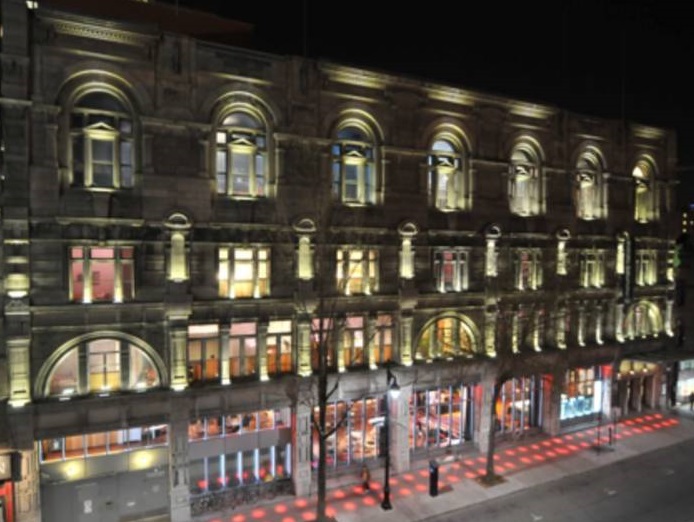 23. Cinématheque québecoise
The Cinématheque québecoise includes a cozy bar for film fans to enjoy a drink before or after screenings. Located in a former Catholic girls' school, this film library and cinema is reputed to be haunted. There are persistent rumours that the building is haunted by the ghost of a little schoolgirl. Janitors have reported seeing her on many occasions, and in 2005, the girl's spirit was spotted by an employee in one of the projection rooms, clutching a stack of school books. Staff members believe the ghost is one of the school's former students, but are unsure why she haunting the building. For more details, please see Haunted Montreal Blog #12. (335 Boulevard de Maisonneuve Est)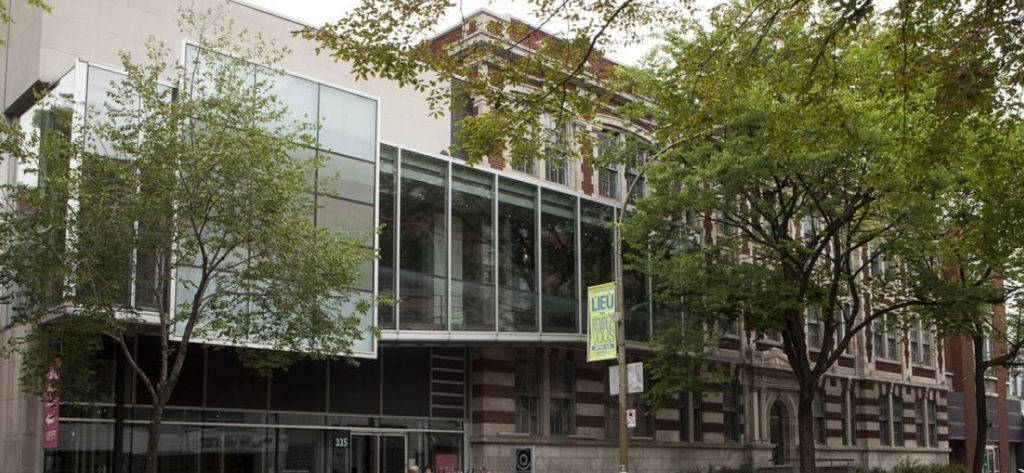 24. Théâtre du Nouveau Monde
The Théâtre du Nouveau Monde is one of Quebec's most famous theatres and offers both classical and contemporary theatre in the French language. The theatre has many mysteries and is said to be haunted by several ghosts. Strange, unaccountable noises, including mysterious creaks and phantom footsteps, can sometimes be heard and a ghostly woman constantly sits in her favorite seat in the audience. There are also tales of people feeling suddenly terrified when descending into the basement or standing on the stage. Some people also think burlesque star Lili St. Cyr haunts the place because it was her favorite stage to perform on during Montreal's glory days as a Wide Open City. For more details, please see Haunted Montreal Blog #13. (84 Rue St. Catherine Ouest)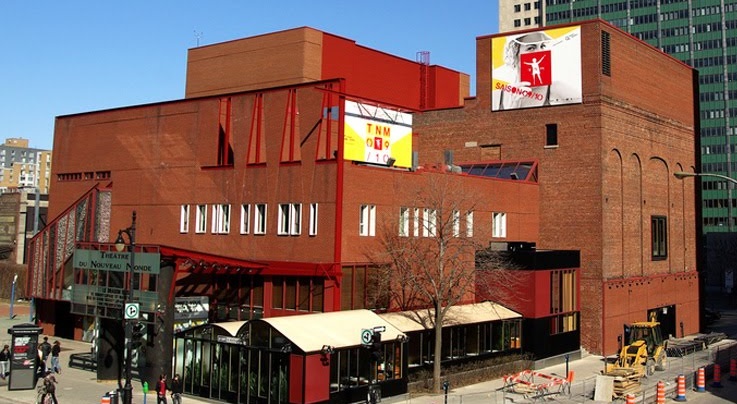 25. Théâtre Quat' Sous
Situated on the site of a former synagogue, Théâtre Quat' Sous offers interesting performances in the French language. During the 80s, the artistic director at the time, Mr. Pierre Biernard, began frequently speaking aloud to a ghost who he believed was haunting the place. While some people thought he was going crazy, others agreed with him that the theatre was haunted. This ghost was perceived as being of the non-malicious variety and was even described as "nice". Theatre staff and patrons still talk about this spirit to this very day. (100 Avenue des Pins Est)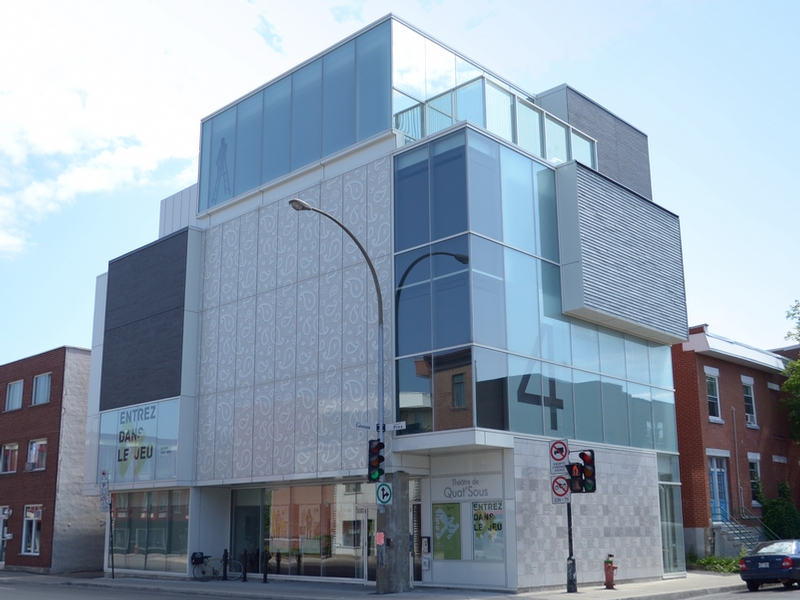 Haunted Hotel Bars
Hotel bars can be a great place to meet tourists and chat with staff, many of whom know ghostly stories about their establishments. Whether staying at the hotel or not, clients are usually welcome to enjoy some libations at the hotel bar. With Montreal containing several allegedly haunted hotels, you might consider adding some of these bars to your itinerary.
26. Bar Georges (Old St. Stephen Club).
The famous St. Stephen Club, once a private old boy's club for the wealthy, now hosts a giant, Post-modern hotel fused into its Victorian architecture. Much of the old Club is now occupied by Bar Georges. According to the Quebec Huffington Post: "The first owners of the establishment were Lord George Stephen, first baron, and his wife Annie Charlotte Kane. They lived there from 1883 to 1900. It is said that the woman was very attached to her home. Some service employees have already admitted to having seen her appear on the main staircase of the house or in her former bedroom on the first floor." One decorator also mentioned strange phenomena, including doors that lock by themselves, toilets that flush all alone, and shadows that traverse the ballroom. (1440 Rue Drummond)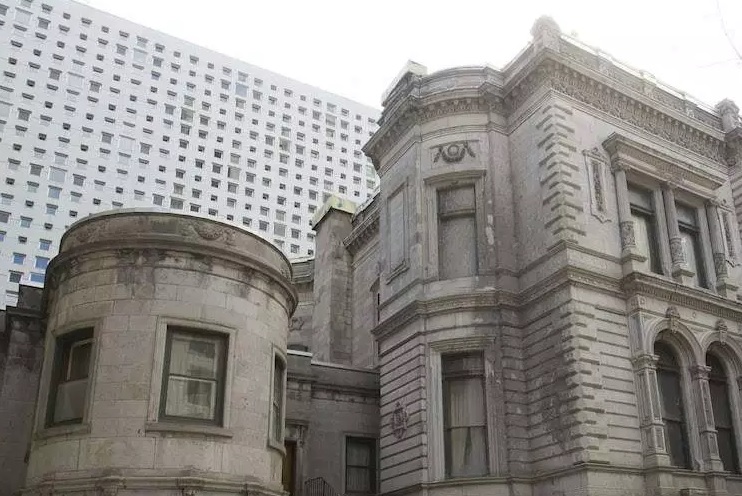 27. Hotel Place d'Armes.
With its undeniable old-world charm and an international reputation, Hôtel Place d'Armes is undeniably one the most popular boutique hotels in Old Montreal. The hotel's bar, Suite 701, is said to attract Montreal's jet-set crowd. However, there are also persistent rumours that the hotel is haunted, and some of the housekeeping staff fear entering certain rooms alone. On several occasions there have been reported ghost sightings, especially in Suites 1702, 1703, 1704 and 1705. A ghostly woman with an American accent has interacted with staff, demanding room service. On one occasion, she leapt from the window when a housekeeper arrived with fresh towels. The housekeeper ran to the window and looked down on the street below. There was no broken body or pool of blood, but merely a flock of pigeons, pecking away at seeds on the sidewalk. Terrified, the housekeeper quit her job shortly thereafter. (55 Rue St. Jacques)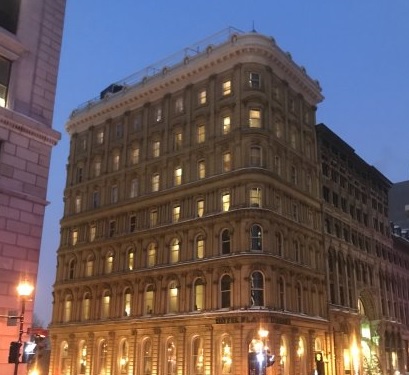 28. Queen Elizabeth Hotel.
The luxurious, 5-star Queen Elizabeth Hotel is one of the original grand hotels built by the Canadian National Railway, in 1958. With 1039 rooms and 21 floors, it is the largest hotel in Quebec. The Queen E is allegedly haunted by a "woman in white" who brings freezing cold temperatures with her wherever she goes. Staff and clients have reported mysterious cold spots in the hotel and feelings of being watched, followed and even touched. The White Lady's apparition has been seen wandering the hallways and staircases of the hotel, and she occasionally roams into a guest room. She allegedly has extremely cold hands and when she touches one of the guests, it sends shivers up their spine. The hotel also has unexplained noises, including disembodied voices, sudden bangs, mysterious knocks and phantom footsteps. (900 Boulevard Rene Levesque Ouest)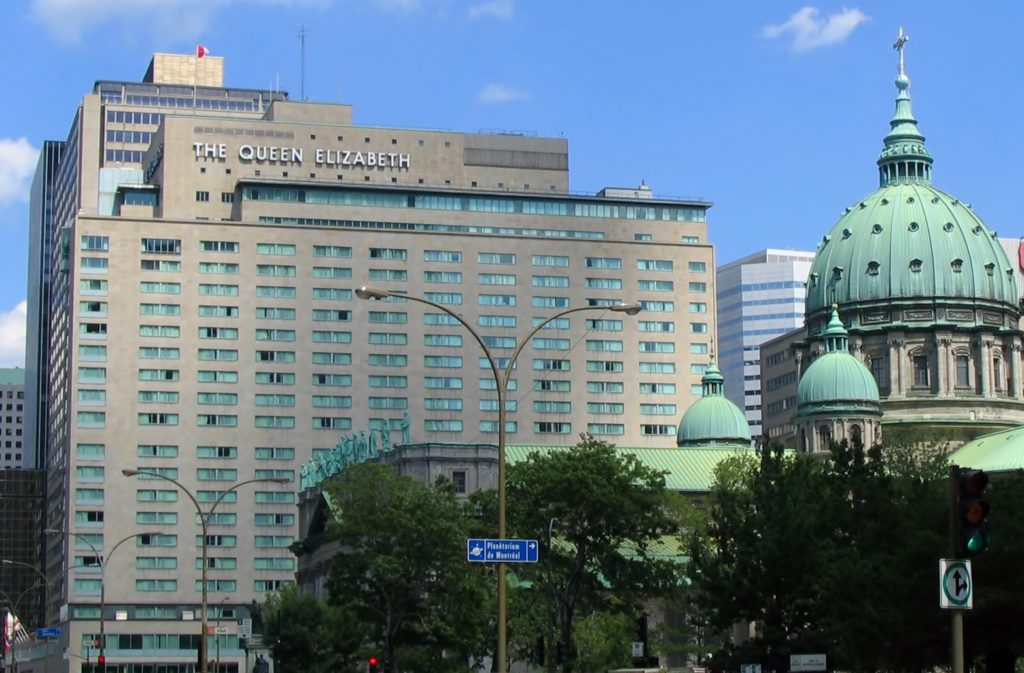 29. Hotel Bonaventure.
Montreal's most famous spot to see UFOs, the Hotel Bonaventure is nestled on the top two floors of the sprawling, 17-storey Place Bonaventure, once the city's main convention center. With 397 spacious rooms, including 5 luxurious suites, conference halls, the fancy Kube Restaurant and a heated rooftop pool, the 4-star hotel is described as "a true Garden of Eden overlooking the bustling streets of the city." The Hotel Bonaventure has also witnessed unexplained paranormal activity, notably a well-documented UFO sighting on November 7, 1990. Many UFO-hunters book a room in the hotel in hopes of an otherworldly sighting. For more details, please see Haunted Montreal Blog #31. (900 Rue de la Gauchetiere Ouest)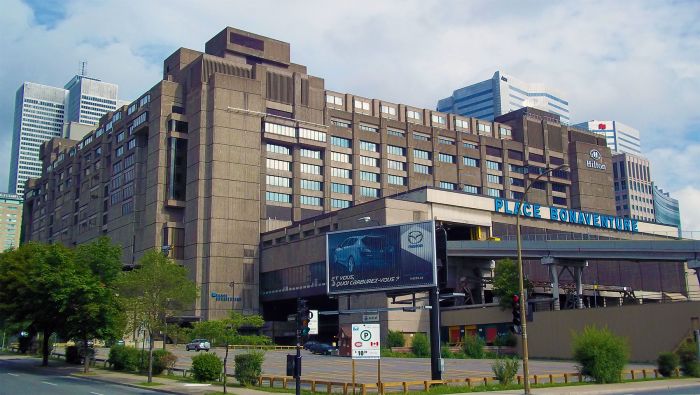 Haunted Private Clubs and Organizations
These haunted private clubs and drinking establishments usually require an invitation, so here you will need to get creative and try to make arrangements in advance. Make friends with a McGill professor, join the Army or attend a start-up conference to increase your odds of scoring an invitation!
30. Notman House
The Notman House is a handsome, limestone mansion on the corner of Sherbrooke and Clark Streets. Originally constructed in 1845, the building has changed hands and vocations many times over the decades. It has served as a home for the city's wealthy elite, a famous photographer's abode, a religious hospital for those deemed "incurable", a residence for elderly women, a location for film shoots and, most recently, a "dream home" for tech start-up companies. The building is haunted by various ghosts, including hospital patients who were cremated on-site and one invisible spirit who startled a team of security guards on a creepy November night in 2002. For more details, please see Haunted Montreal Blog #14. (51 Rue Sherbrooke Ouest)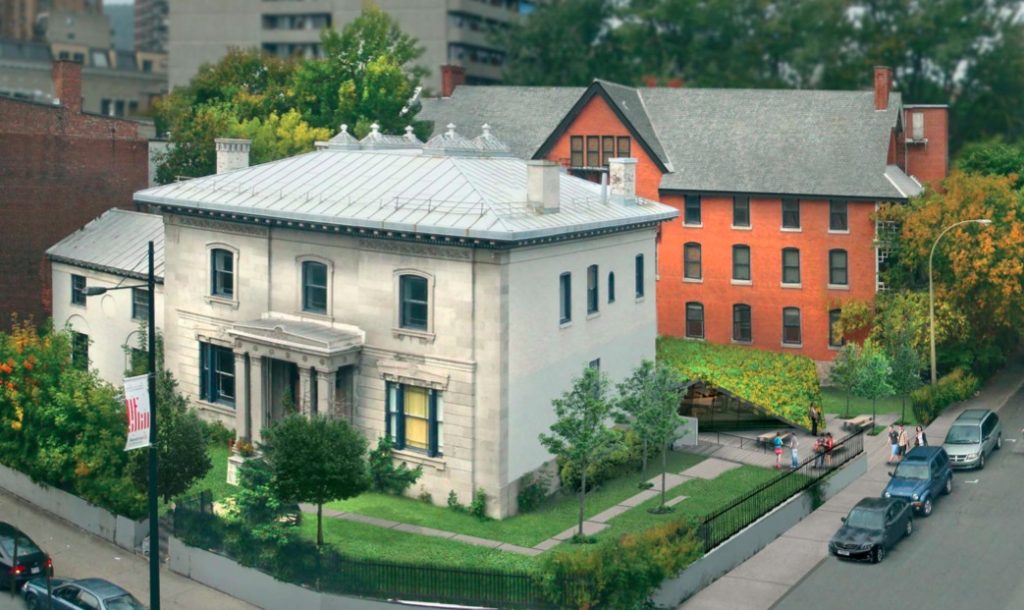 31. McGill University Faculty Club
The McGill University Faculty Club welcomes the school's elite of professors, deans, provosts, and other academics. The opulent mansion is a private oasis on the bustling campus, a place where academics come to relax, dine, socialize and discuss important matters. However, according to many sources, the Faculty Club is haunted by ghosts of the past, including Baron Alfred von Baumgarten, a wealthy German sugar tycoon who originally commissioned the home. There are also billiard balls that roll on their own, a ghostly dancer who appears in a ballroom mirror and other more frightening apparitions on the upper floors. For more details, please see Haunted Montreal Blog #28. (3450 Rue McTavish)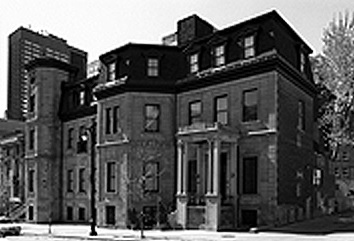 32. Point Saint Charles Legion
The inconspicuous Branch 127 of the Canadian Royal Legion in Point Saint Charles is known by employees, veterans and locals to be haunted. Featuring the sounds of disembodied women singing to a non-existent piano and mops that sometimes move about on their own, it is nicknamed "The Crazy House" for good reason. Online groups such as "Ghosts and Stories of Point St Charles" (Facebook) discuss the hauntings feverishly and Legion employees, such as the bartender, sometimes regale visitors with tales of their own paranormal experiences at work. For more details, please see Haunted Montreal Blog #3. (543 Rue Sainte Madeleine)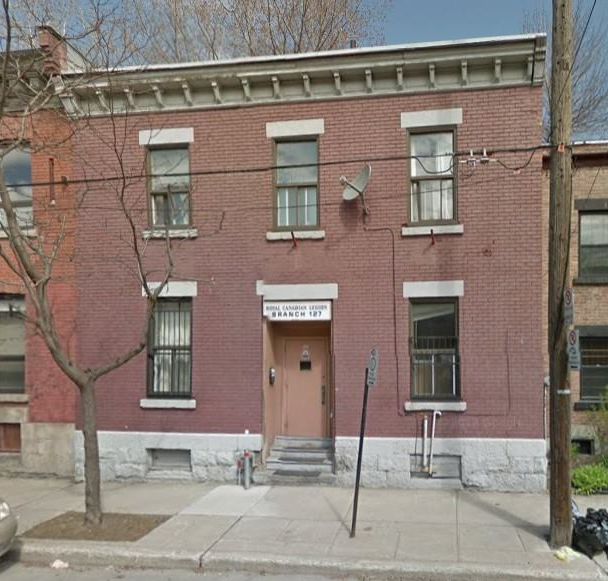 33. Frat House on Pine Avenue. This beautiful red-stone student residence has seen thousands of frat parties over the years. Hosted by rambunctious McGill University students of the Delta Upsilon Fraternity up until 1988, beer cases were often piled outside in the weed-choked and long-forlorn garden. Over the years, many frat boys reported seeing the ghost of an elderly lady tending to the garden with a large watering can, as though it were still flourishing. While some students blamed the sightings on hallucinogenic drugs being consumed during wild nights, others speculated that the ghostly lady used to live in the house and loved her garden so much that she never departed it. (522 Avenue des Pins)
34. Former Viger Hotel. This imposing, Chateau-style building was once a bustling and luxurious hotel for a long-since abandoned railway station. When the hotel closed with the loss of the rail line, the City of Montreal used the building for storage. Today, a start-up company has taken over and renovated the entire structure and hosts frequent cocktail parties. However, visitors have reported a very negative and haunted energy about the place. Disembodied voices of children crying for their mothers can sometimes be heard echoing throughout the old corridors and from the windows and visitors have reported being overcome with the feeling of an engulfing sadness. (700-800 Rue St. Antoine Est)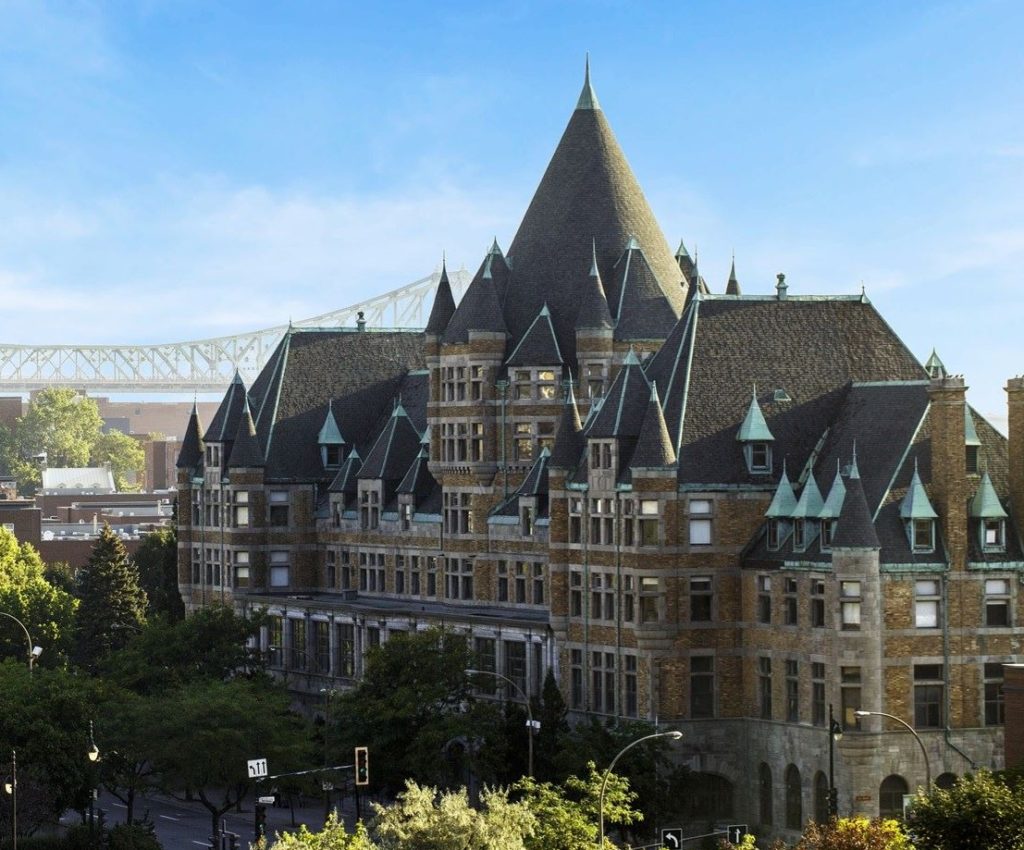 Drinking Places that are not Currently in Operation
Sadly, none of these haunted drinking establishments are currently in operation for various reasons, from 5-alarm fires and real estate transactions to bankruptcies and neglect of historical properties. You might want to have a look at them if your itinerary takes you to nearby drinkeries that are actually in operation.
35. Maison Pierre du Calvet
This beautiful New France era home is made of field-stones and over the past several decades hosted a cozy inn and restaurant/bar called Les Filles du Roi. During the inn's operation, there were constant reports of a ghostly woman sitting on ornate 4-poster beds, the bilingual pet parrots speaking to ghosts when the area was quiet, and all sorts of other paranormal activity. The building was recently sold and will hopefully be re-opening soon under a different format. For more details, please see Haunted Montreal Blog #27. (405 Rue Bonsecours)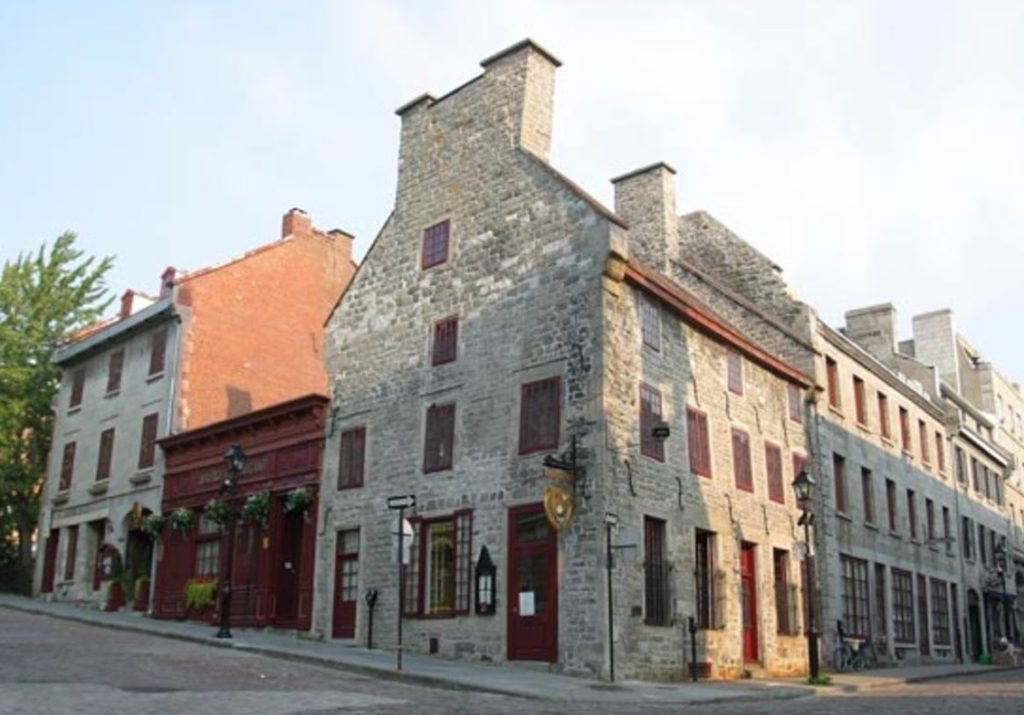 36. Dow Brewery.
This abandoned and decrepit Griffintown brewery was once flowing with the suds of Dow Beer, which was the most popular brand in Quebec. Following several deaths after a beer-poisoning scandal, the brewery went bankrupt and slowly fell into a state of disrepair. Visited by ghost hunters and urban explorers, several mediums confirmed there is the ghost of a little girl haunting the building who is trying to escape. She is enclosed in cement and thinks she is still alive. Rumour has it that the mafia uses the site to dispose of unwanted bodies. (984 Rue Notre Dame Ouest)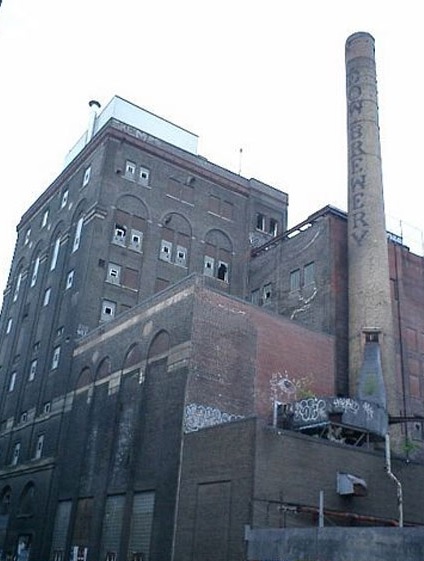 37. John Doe Pub.
The John Doe is another haunted pub, albeit one that burned down recently during a 5-alarm fire. Many people, including a group of mediums, have described bizarre happenings inside, especially on the third floor where the comedy club was located. Staff saw spirits on the staircases and heard disembodied voices. Lights flickered, doors locked and unlocked themselves and glass-racks rattled for no particular reason. At other times, staff found the faucets running when they were positive the taps were closed. Once a dishwasher spotted a ghostly girl turn on a tap and then vanish into thin air. The owner, Troy, vows to rebuild his pub and get to the bottom of who or what is haunting his building. For more details, please see Haunted Montreal Blog #39. (1238 Rue Bishop)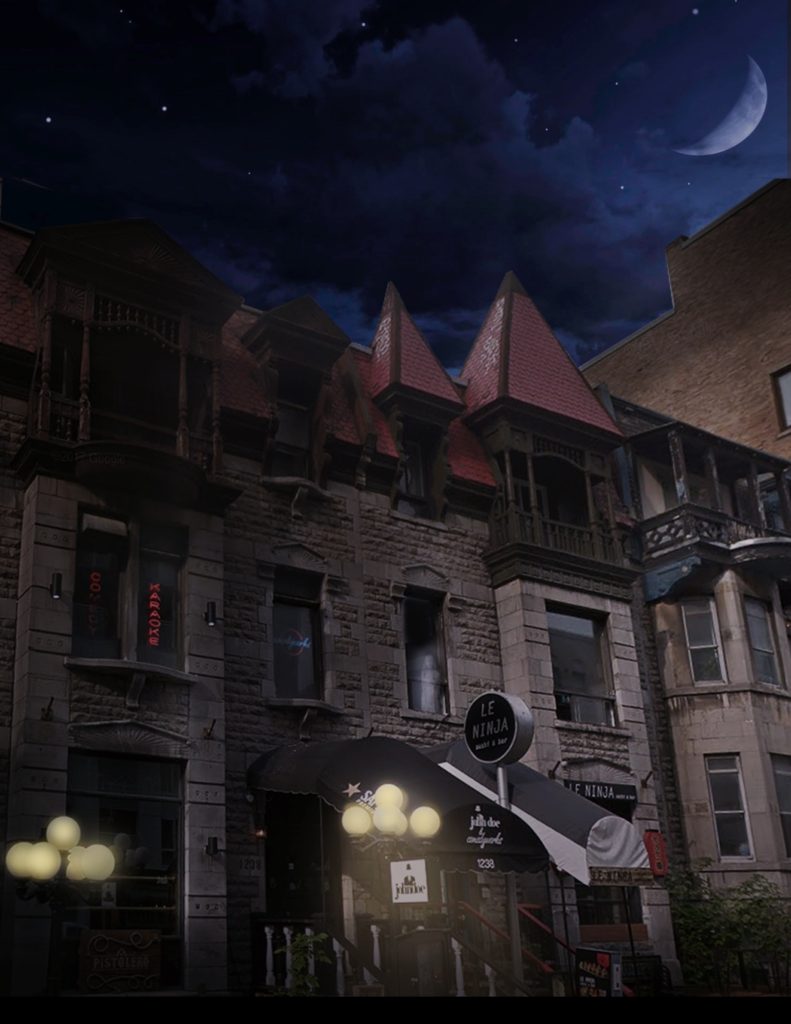 38. Joe Beef's Old Canteen.
During the Victorian Era, Joe Beef's Canteen was a bustling port-side watering hole, eatery and lodging house that catered to longshoremen, sailors, the down-and-out and the destitute. Governed by former military quartermaster and gruff Irish philanthropist Charles McKiernan, also known as "Joe Beef", he was known to keep a menagerie of wild animals in the cellar and two human skeletons behind the bar to entertain guests. Following his death in 1889, his ghost was said to return to haunt his old canteen and a fort on St. Helen's Island. Today, the building sits empty. For more details, please see Haunted Montreal Blog #26. (201–207 Rue de la Commune Ouest)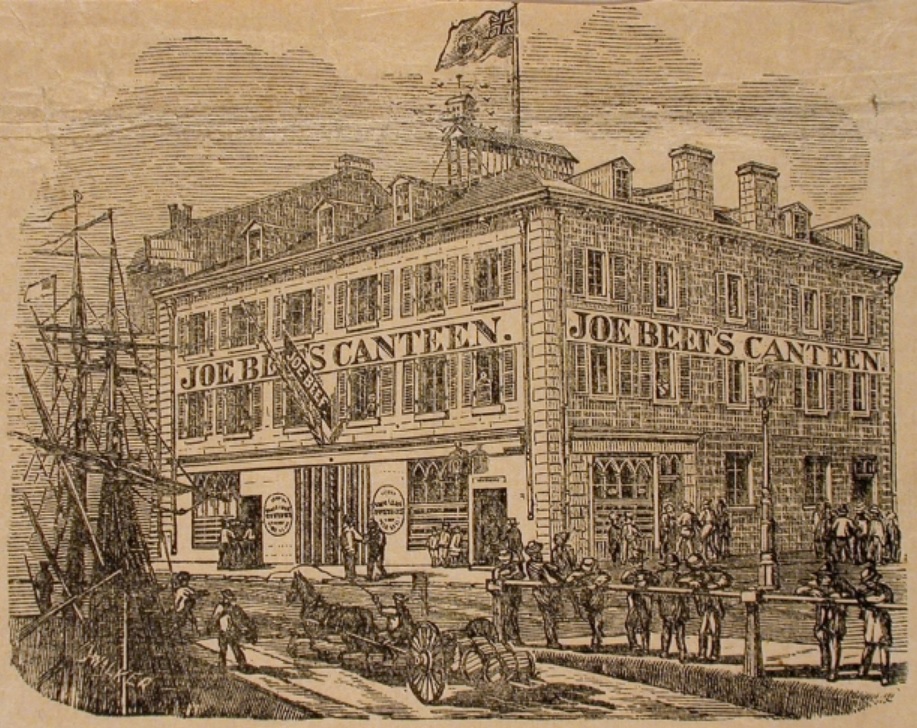 39. Old Pointe Claire Hotel / Le Pionnier.
In the heart of Pointe Claire Village sits a rambling old structure which until recently housed a bar known as Le Pionnier. The building was originally a bustling hotel that hosted travellers passing through the village or merchants coming to conduct trade. While the hotel has changed hands and names over the decades, one thing remains constant – the old building is rumoured to be haunted. According to several people who have worked in the old hotel, a shadowy figure is known to terrify people on the building's creepy third floor. In early 2019, the building was sold to condo developers who wish to demolish it. For more details, please see Haunted Montreal Blog #8. (286 Rue Lakeshore, Pointe Claire)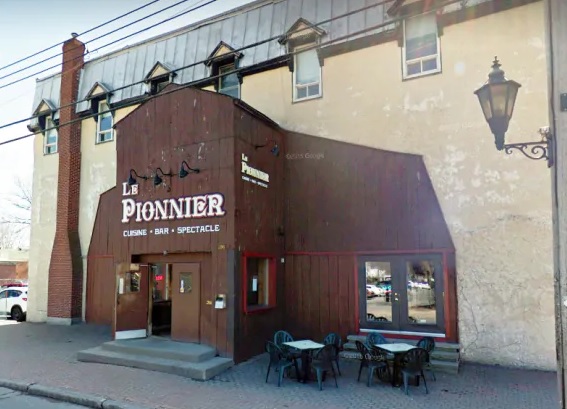 40. Former Restaurant Van Roy
This empty building on Clark Street in Chinatown was once known as Restaurant Van Roy. It was extremely popular with night-clubbers who would often finish the evening here after a night of dancing and partying. The famous salt and pepper pork chop would keep customers coming back again and again. Popular opinion said that a ghost was roaming the premise, specifically in the basement of the establishment where the bathrooms were located. The ghost was known to startle people looking in the bathroom mirrors by appearing behind them. Today, the premise is empty and for rent. (1095 Rue Clark)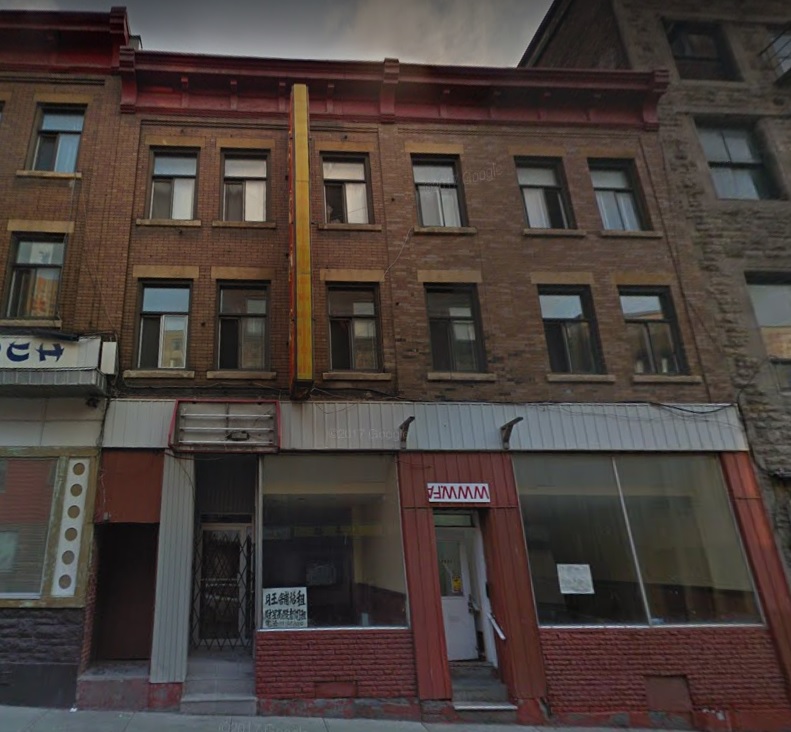 With so many haunted pubs and drinking establishments, Montreal is the ideal location to get out and look for some ghosts while enjoying a few drinks with friends! Enjoy your self-guided haunted pub crawl! If you do decide to do it, please feel free to send us an email to tell us about your experience at info@hauntedmontreal.com !
COMPANY NEWS
A very Happy New Year to our readers from Haunted Montreal! In 2019, we are pleased to announce our new paranormal initiative!
After much research and hard work, Haunted Montreal will be launching our new Haunted Pub Crawl on Sunday, February 10!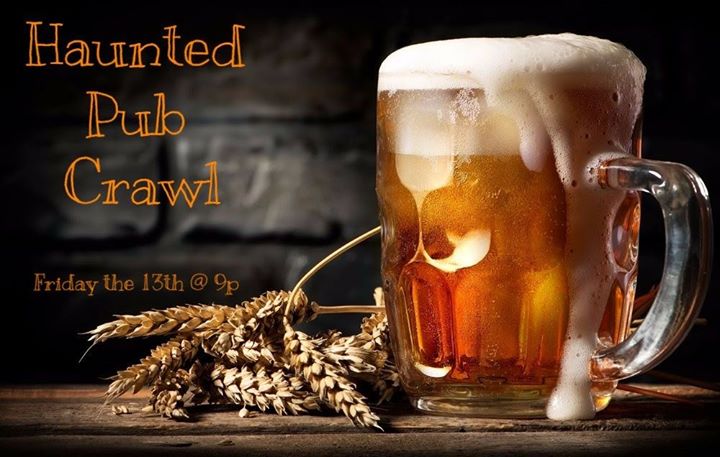 For full details, including a synopsis, the starting location and schedule, please visit our new webpage! Join us at 3 pm any Sunday of the year for a haunted pub crawl in English! Tickets are now on sale!
Haunted Montreal also offers private tours, including for company outings, school groups, bachelorette parties and all types of gatherings. Please contact info@hauntedmontreal.com to organize a private tour.
We are also pleased to promote a new book called Macabre Montreal.
Written by Mark Leslie and Shayna Krishnasamy, it is a "collection of ghost stories, eerie encounters, and gruesome and ghastly true stories from the second most populous city in Canada.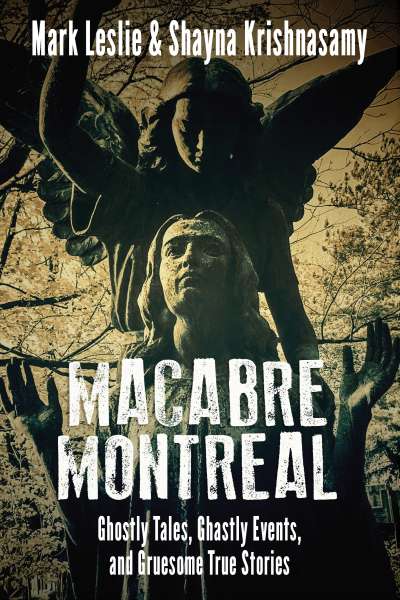 The authors write:
"Montreal is a city steeped in history and culture, but just beneath the pristine surface of this world-class city lie unsettling stories. Tales shared mostly in whispered tones about eerie phenomena, dark deeds, and disturbing legends that take place in haunted buildings, forgotten graveyards, and haunted pubs. The dark of night reveals a very different city behind its beautiful European-style architecture and cobblestone streets. A city with buried secrets, alleyways that echo with the footsteps of ghostly spectres, memories of ghastly events, and unspeakable criminal acts."
With the introduction written by Haunted Montreal, Macabre Montreal is a must-read for anyone interested in Montreal's dark side.
Haunted Montreal would also like to thank all of our clients who attended a ghost walk during the 2018 season or more recently!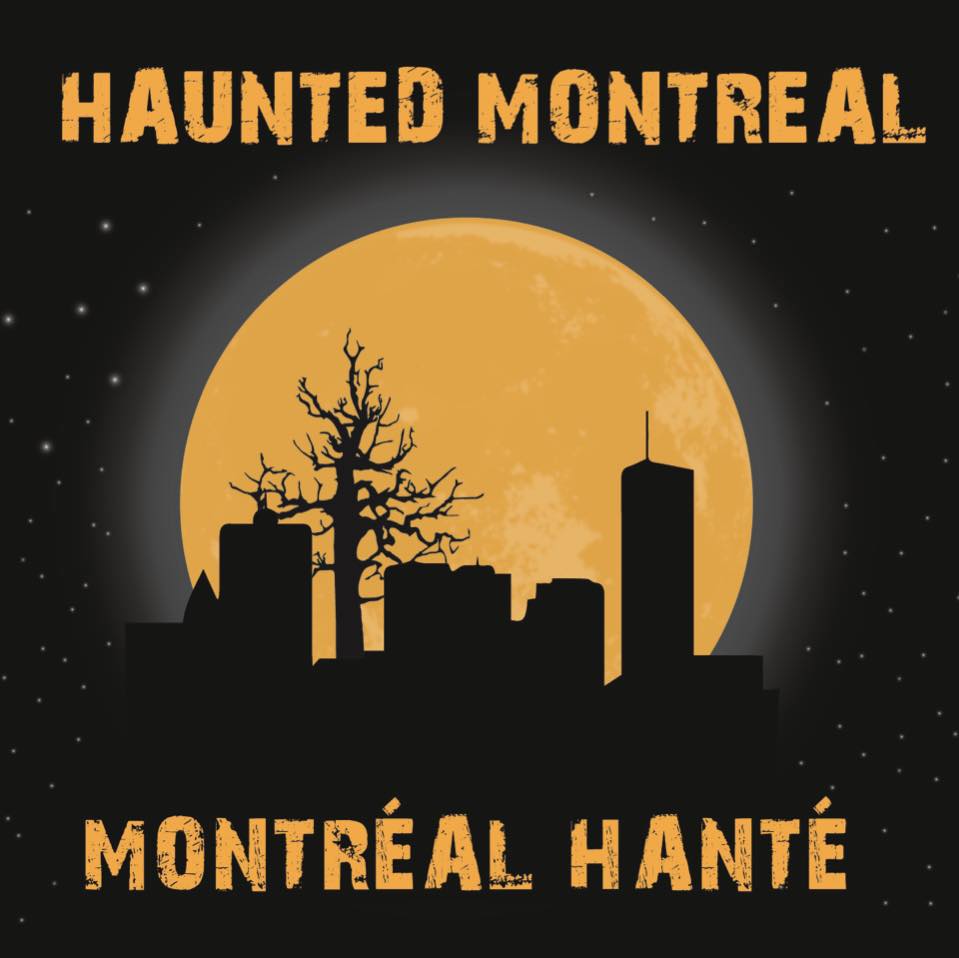 If you enjoyed the experience, we encourage you to write a review on our Tripadvisor page, something that helps Haunted Montreal to market its tours. If you have any feedback, please email us at info@hauntedmontreal.com so we can improve our visitor experience.
Lastly, if you would like to receive the Haunted Montreal Blog on the 13th of every month, please sign up to our mailing list on the top right of this page.
Coming up on February 13: St. Joseph's Oratory
The famous basilica where Saint Brother André once worked and healed the sick is today popular with tourists and pilgrims, but it apparently also has several visitors from beyond the tomb. Some tourists have reported seeing priests in tunics, and when they approached them, the priests suddenly evaporated into thin air. Additionally, it is also said that Saint Brother André himself appears from time to time in the little chapel where his bronzed heart is on display. One rumour has it that the good Saint returns to guard his heart, which was stolen from the Basilica by thieves on Thursday, March 16, 1973 at around 5 p.m. It took the police a full 645 days to recover the missing heart, a scared Catholic relic. Now it is under tighter security, possibly including a sort of holy surveillance provided by Saint Brother André himself.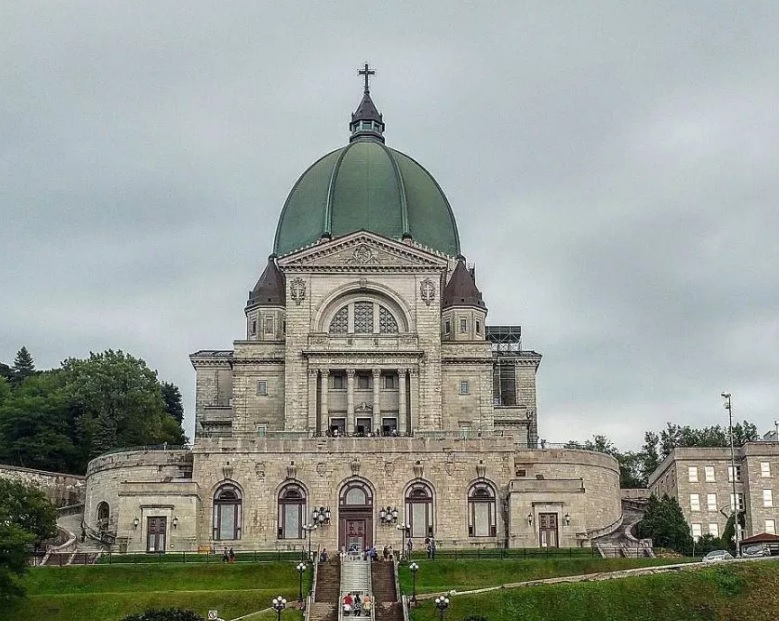 Donovan King is a postcolonial historian, teacher, tour guide and professional actor. As the founder of Haunted Montreal, he combines his skills to create the best possible Montreal ghost stories, in both writing and theatrical performance. King holds a DEC (Professional Theatre Acting, John Abbot College), BFA (Drama-in-Education, Concordia), B.Ed (History and English Teaching, McGill), MFA (Theatre Studies, University of Calgary) and ACS (Montreal Tourist Guide, Institut de tourisme et d'hôtellerie du Québec).