Welcome to the fifty-ninth installment of the Haunted Montreal Blog!
With over 350 documented ghost stories, Montreal is easily the most haunted city in Canada, if not all of North America. Haunted Montreal dedicates itself to researching these paranormal tales, and the Haunted Montreal Blog unveils a newly researched Montreal ghost story on the 13th of every month! This service is free and you can sign up to our mailing list (top, right-hand corner for desktops and at the bottom for mobile devices) if you wish to receive it every month on the 13th!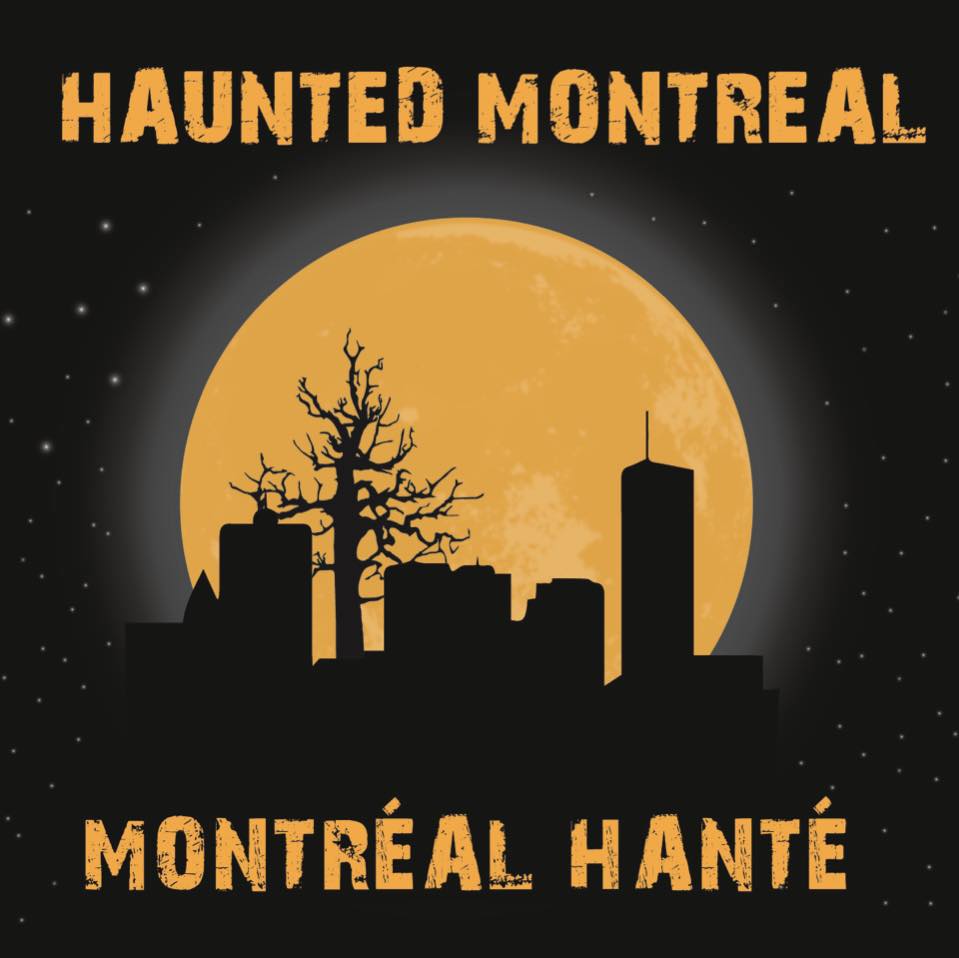 Our July blog explores a missing award that has recently become haunted. Awarded to Haunted Montreal in 2019, the Travel and Hospitality Award for "Quebec's Most Unique Experience of the Year", a disgruntled ex-administrator has refused to return it to the company. As such, a spell-caster has placed a jinx on the award to make it haunted.
Haunted Research
It is not often I write personal ghost stories or tales of magic and the paranormal, but I felt it was important to write a column about what inspired me to pursue the Haunted Arts and some of the challenges I face running Haunted Montreal.
I started working in the Haunted Arts genre in the early 1990s when recruited to hire bilingual actors for a temporary Haunted House called Chateau Greystoke.
The brainchild of Robert Short, a Hollywood special effects master who won an Oscar for Beetlejuice (1988), the haunted attraction was set up in an old shopping mall called Decarie Square.
Not only did I hire bilingual actors for Bob Short, but I also played creepy characters within the haunted house. I was hooked on a whole new way of doing theatre!
Bob kept his Oscar on his desk and became a mentor to me. He was very proud of his work and his award. He would allow the actors to take pictures with it.
I was extremely inspired as a young actor by Bob's talent, work ethic, openness and his Oscar Award. I thought, one day I would love to earn a trophy of my own!
I credit Bob for setting me off on a fantastic journey into the Haunted Arts, something I am still doing almost 30 years later!
From the Chateau Greystoke, I moved on to the world-famous London Dungeon in England. This was a more permanent attraction, but also involved actors to animate scenes and scare the bejaysus out of clients.
The managers put me in charge of the entire Entertainment side of the operation when they recognized my ideas and initiatives to enhance the experience. Living for two years as a young man in London and running the attraction's entertainment department was a formative experience. I have very fond memories of my time at the London Dungeon.
When I eventually returned to Montreal, I landed a job with Fantômes Montréal / Montreal Ghosts as an actor, and later as a translator and dramaturge. I have been working with this company for over 15 years now, on and off.
In 2011, I founded Haunted Montreal because I wanted to put Montreal on the map as Canada's most haunted city. I created new tours, started a haunted blog and eventually hired other actors to lead ghost tours.
I also hit an artistic goal of mine by paying local actors union-based wages with zero subsidy. In Montreal, it is usually the opposite where artists often pay-to-play while festivals reap in corporate and government sponsorship.
Since I started the company, I have created five public ghostly experiences. These include three ghost walks, one haunted pub crawl and a paranormal investigation. I have also worked tirelessly promoted Montreal as Canada's most haunted city – because it is!
Being an artist and trying to run a business has a lot of ups and downs.
Personally, I just want to be creative. I am an artist at heart. I want to research and write blogs, create ghost tours and other haunted experiences and perform in them.
I dislike Administration and always try and find ways to pay others to do this task. I find it very repetitive and overall mind-numbing – and yet it is crucial to the running of any business.
In early 2018, I was struck with an episode of Major Depression following a serious burnout after trying to do the creative work and administration, not to mention a full-time teaching contract. I had to shutter Haunted Montreal.
I should mention that I agreed to take on a business partner, in a 50/50 deal, so I could focus on creative work and avoid burnout. It seemed like a logical solution, despite a loss of 50% of the income I would normally earn in profits.
My now ex-business partner assumed all administrative responsibilities and re-booted the company when I was still unable to work. This included all financial matters. I offered her a deal whereby I would only ask for a 15% royalty in 2018 and she could keep all the profits.
By the autumn of 2018, I had recovered and was able to return to work. My ex-administrator paid me for the ghost tours I did, as was the company policy since 2011. However, my 15% royalty was not paid until the following fiscal year for some unknown reason.
In 2019, we went back to the 50/50 profit-sharing agreement, formalized by the creation of a corporation called Griffin Tours Inc. which would oversee Haunted Montreal's tours along with other offerings.
That year I created the Haunted Pub Crawl, the Paranormal Investigation, wrote 12 blogs, and did over $8000 worth of performances, not to mention about 10% of the administrative tasks.
In April, 2019, my original dream actually came true!
Haunted Montreal was bestowed with a Travel and Hospitality Award for "Quebec's Most Unique Experience" of the year.
I was thrilled that after a decade of hard work, Haunted Montreal was finally being recognized for its unique attributes and solid delivery of haunted experiences in the city.
I discussed this with my ex-administrator and asked her to process the award by paying the associated fees, which is normally done from the company's accounts. She did, and claimed the Award on behalf of Haunted Montreal. She sent me the following photo.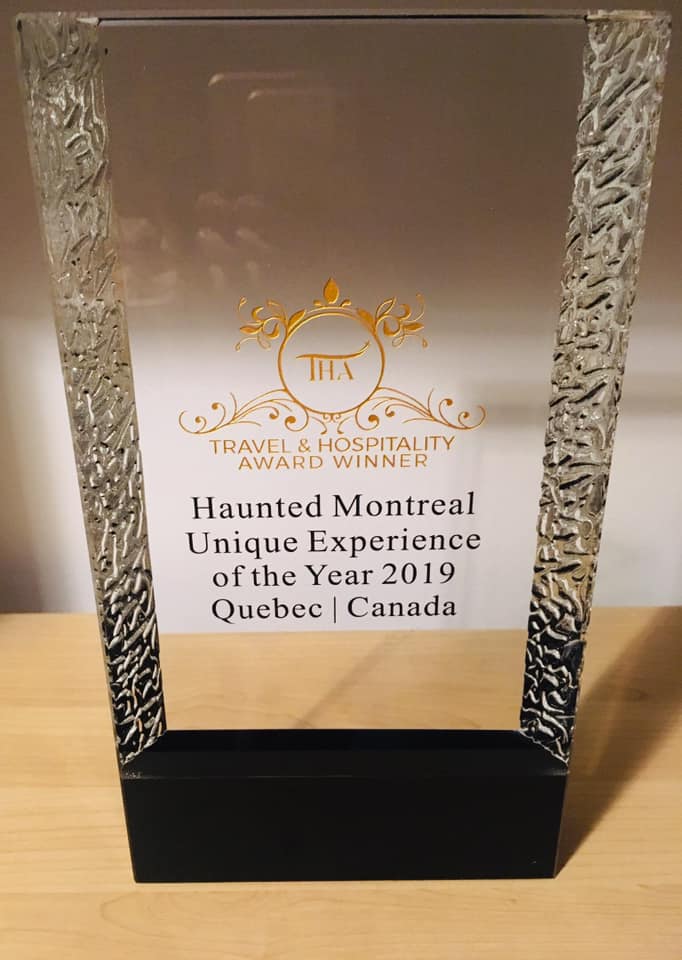 I was very happy that the business was going so well until a meeting with the ex-administrator in November about the final accounts for the season.
At this meeting the ex-administrator told me that I would not be paid for over $8000 worth of performances because she did not think it was fair, despite the fact that she had paid herself to administrate.
Despite my objections, she quickly departed on a 4-month holiday in Charleston, South Carolina, America's fourth most expensive city.
To make a long story short, this was the beginning of months of Business Hell. When I explained that I do not work for free, instead of paying me, she booked another actor for my tours and paid him. When he could not attend a pub crawl one day, she cancelled it instead of asking me to do it.
In December 2019, I informed her that she would no longer have permission to use my intellectual property unless a resolution was reached.
She finally agreed to pay me for my tours starting in 2020, but only on the condition that I forfeit my $8000 of 2019 performances. I reluctantly agreed, despite advice to the contrary from the YES Legal Clinic, because I wanted the company to continue running uninterrupted.
Over the months, there were many financial irregularities. For example, when I asked for my share of the profits, I was assured I would be paid 50% – eventually. Normally, in business, both partners split profits at the end of the fiscal year.
However, the ex-administrator said:
"We both agreed that the profits would be split 50-50 last year. I got $8200 and you will get $8200. The reason why you don't have the full amount is because there isn't currently enough in the bank account due to expenses."
I started demanding detailed financial information, something that had never been properly provided. I wanted to know why she had paid herself during the fiscal year but not me, which was a violation of the legal agreement.
When I suggested a forensic audit, the ex-administrator said: "I quit".
When I got the final figures from our accountant, he explained that I had only earned $800 for a full year's work after my expenses were factored in, less than 1/10 of what the ex-administrator paid herself. My $800 profit was promptly eaten up by outlandish expenses, such as an $848 "service fee" for a $4.5K website with an online store that never existed – or was jointly authorized.
To make matters worse, in April, 2020, the ex-administrator claimed her parents wanted to throw Haunted Montreal's possessions in the trash, such as merchandise, accounting documents and a lamination machine to make posters. She suggested I find a way to pick up the company's possessions, despite her now living in the Eastern Townships after a 4 month sun-kissed vacation.
She also said: "The award I would like to keep because I paid for it plus I feel like I earned it to be honest. You can have the lamination machine if you want it."
I explained: "It was awarded to Haunted Montreal in 2019. The initial communication mentions my work (Haunted Montreal) and not your name. Just because you were the administrator does not mean that the award is for you. Travel & Hospitality Awards is for great experience in Tourism, not an administrator processing things."
The ex-administrator retorted: "It was awarded at the beginning on 2019. You can downplay how much work I did, doesn't bother me."
I replied: "Not downplaying it at all, but it was awarded it to Haunted Montreal and not you. The company has existed since 2010 and I'm disappointed you think the award is for you because you worked hard on administration. Don't you think its downplaying my work to say you deserve this award more than the company I created?"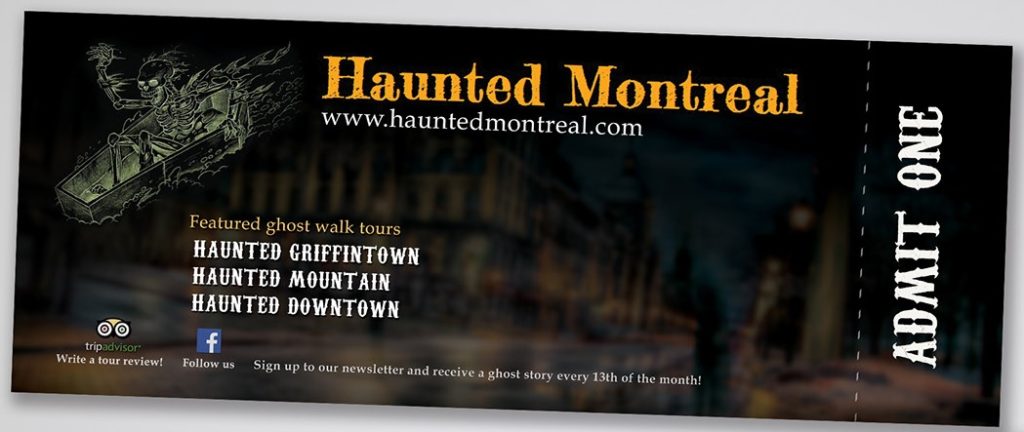 I was also very surprised that the ex-administrator claimed that she paid for this company expense out of pocket, something that makes no sense business-wise, given she had full access to the company accounts.
Trying to give her the benefit of the doubt, I said: "If is very difficult for me to interpret things financially if you cannot provide any figures, but I think any company expenses you made out of pocket should be included in the final calculations, which [the accountant] has prepared."
I failed to understand how I was paid a pittance for a year of hard work, and yet the ex-administrator was now demanding compensation for a company expense.
I provided a list of Haunted Montreal possessions to the ex-administrator, including the Award, and hired drivers at a cost of $200 to collect the company's belongings.
When the drivers returned, both the Award and lamination machine were missing. When I enquired about the Award, the ex-administrator said: "I don't mind giving it to you but would like to be compensated for it."
When I pointed out that she had already charged the company in the documents she supplied to the accountant, she changed her tune and said: "I'm sure I'll come across a friend we have in common and can give it to them eventually unless you need it now."
I replied: "There is no rush, and it's like I said that I have no problem sharing it with you or anyone else who has contributed to Haunted Montreal. It's like the Stanley Cup – all the players are allowed to drink champagne out of it and take their turn. I mainly need it to try and promote the company to help get it out of the corona-mess. In the pic I have there are fingerprints on the award and it is not staged. I'd like to promote it on a bed of velvet or satin with great lighting and let the world know that Quebec's most unique experience from last year is coming back soon or even have a creepy actor clutch it in a dark place."
Needless to say, the Award has still not been returned several months later when Haunted Montreal is now desperate to try and re-boot business following months of cancelled tours due to COVID-19.
I have tried everything from persuasion to a mise-en-demure (legal notice), but so far have had no luck in getting our prestigious award back (or my fair share of the profits according to the legal agreement).
As I said, being an artist is never easy, even if one has reached a measure of success. My old neighbor, Leonard Cohen, once complained to me about arts administrators who overstep their bounds. Indeed, he had an experience whereby his administrator pocketed most of his life savings while he was away on a retreat. He took legal action in 2005 and won.
According to award-winning International DJ Ron Roxtar, who is close with many celebrities around the planet:
"Many artists don't get paid very much so Awards are given for recognition for a job well done and a sense of pride that one has achieved their goal."
When pressed what he would do if an ex-administrator kept one of his prestigious awards, DJ Roxtar said:
"If I won an Award and an ex-admin kept it, I would be calling them to get it back. If the calls didn't work I would certainly go to them directly face to face. That way it can't be avoided. The Award would also most likely be there at their home when I visited."
One of Haunted Montreal's staff members, who shall be referred to as Spell-Caster X for confidentiality purposes, was not impressed with the ex-administrator's decision to keep the company award for herself.
Spell-Caster X said: "The artists deserve this Travel and Hospitality Award because we provide travellers with a unique experience. It was awarded to us working at Haunted Montreal, and not the ex-administrator specifically. It was awarded to the entire team at Haunted Montreal for 10 years of hard work. This includes professional actors, designers, paranormal investigators, mystics, box office staff and administrators, such as accountants, marketers and ticket-sellers. It also includes Donovan King, who founded the company and is the artistic brain behind the entire operation."
Spell-Caster X decided to use the ancient magical arts to place a jinx on the Award to make it haunted.
A jinx is an ancient type of spell placed on a person or an item to bring bad or negative luck.
According to Spell-caster X: "I placed the jinx on the Award specifically, and not the ex-administrator herself, as that would bring about bad Karma."
Spell-caster X continued: "In this case, I created a very special spell to ensure anyone who kept the Award from the company for more than 7 days would suffer the effects of the jinx. To stop the haunting, it is a simple matter of returning the Award to Haunted Montreal, the rightful recipients of the prize."
Haunted Montreal would like to thank Spell-Caster X for placing a protective jinx on our prestigious Award.
In the name of respect for artists, we hope the ex-administrator returns our Award very soon without any further delays.
Company News
Haunted Montreal is extremely pleased to announce that our tours are up and running again!
Our ghost tours are being offered every Saturday night in July and on both Friday and Saturday nights in August. Our Paranormal Investigation is also available on the last Friday and Saturday night of every month. Fridays are in English and Saturdays in French.
All of our tours and experiences are restricted to a maximum of 15 clients. We also practice social distancing and offer face masks and hand sanitizer to our clients to ensure Public Health directives are met.
Haunted Montreal would like to thank all of our clients who attended a ghost walk, haunted pub crawl or paranormal investigation during the 2019 – 2020 season!
If you enjoyed the experience, we encourage you to write a review on our Tripadvisor page, something that helps Haunted Montreal to market its tours.
Lastly, if you would like to receive the Haunted Montreal Blog on the 13th of every month, please sign up to our mailing list.
Coming up on August 13: Place des Jésuites (Jacques Cartier Square)
Today's Jacques Cartier Square is an idyllic locations for tourists to have a meal, enjoy some live busking or have a caricature drawn. Surrounded by colonial monuments, the square has a very dark history and is alleged to be haunted. Once called Place des Jésuites during the colonial New France era, it was in this square that Indigenous people were tortured and executed by Jesuit priests and their henchmen. In one such episode in 1696, four members of the Haudenosaunee Confederacy were tied to stakes and tortured with hot irons until they perished. Today, while Jacques Cartier Square may seem idyllic for tourists, it is also said to be haunted. There have been several ghostly sightings of one of the Jesuit Priests who oversaw the endless murder, brutality and genocide in the square when it was called Place des Jésuites.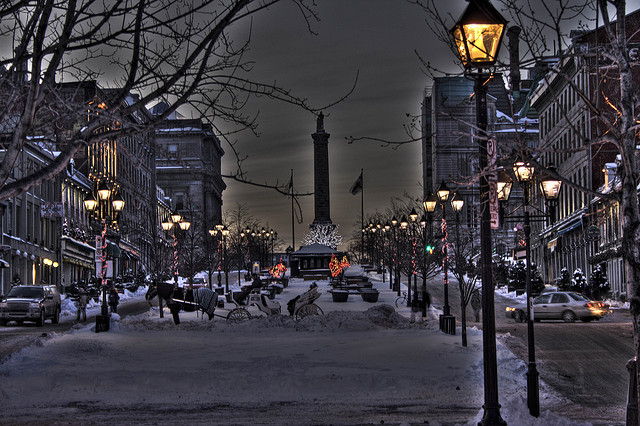 Donovan King is a postcolonial historian, teacher, tour guide and professional actor. As the founder of Haunted Montreal, he combines his skills to create the best possible Montreal ghost stories, in both writing and theatrical performance. King holds a DEC (Professional Theatre Acting, John Abbott College), BFA (Drama-in-Education, Concordia), B.Ed (History and English Teaching, McGill), MFA (Theatre Studies, University of Calgary) and ACS (Montreal Tourist Guide, Institut de tourisme et d'hôtellerie du Québec). He is also a certified Montreal Destination Specialist.