Welcome to the twenty-ninth installment of the Haunted Montreal Blog! Released on the 13th of every month, the September 2017 edition focuses on research we are carrying out into Club Le Cinq, an allegedly-haunted nightclub at 1234 De La Montagne Street. Haunted Montreal is also pleased to announce that our public season is now in full operation, with ghost tours in Griffintown on Friday evenings and on Mount Royal on Saturday nights! We are also happy to share our extensive plans for the 2017 Hallowe'en Season, including the return of the Haunted Downtown Montreal Ghost Walk! To receive a new Montreal ghost story on the 13th of every month, please sign up to our mailing list on the right of the screen.
HAUNTED RESEARCH
It is rumoured that guests attending a trendy nightclub, located at 1234 De La Montagne, can "enjoy some spirits with a spirit." Once the site of the Joseph C. Wray & Bros. Funeral Home, the building was used for decades by coroners and funeral directors until being sold and vacated in 1970 and converted into a nightclub. Today, all three floors of the nightspot, now known as Club Le Cinq, are reputed to be haunted and various frightening paranormal encounters over the years have solidified the nightclub's reputation as one of the most haunted buildings in downtown Montreal.
Now a popular place to party at night, this building was originally constructed as a family home in 1859 for a wealthy businessman named David R. Wood.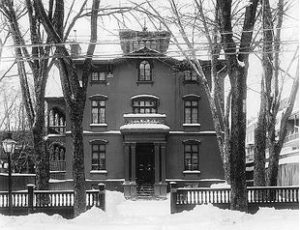 In the late 1800s the house was purchased by Sir Alexander Tilloch Galt, a politician and a father of Canadian Confederation. Galt had become linked to one of the most prominent Montreal families following his 1848 marriage with Elliott Torrance, daughter of merchant John Torrance. Galt was excited about the prospect of raising a large family, but unfortunately his wife died on May 25, 1850, shortly after giving birth to a son, Elliott. Galt was devastated that he would be unable to raise a large family, so the following year he married his deceased wife's younger sister, Amy Gordon Torrance. They would go on to have at total of two sons and eight daughters.
In the early 1890s, Galt contracted throat cancer and his health began to fail so he scarcely ever left his residence. In 1893, he had to undergo a tracheotomy, an incision into his windpipe made to relieve an obstruction to his breathing.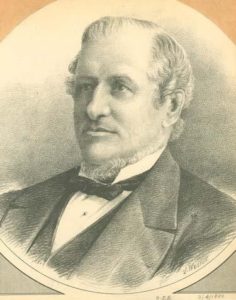 Unable to speak, he was forced to communicate with his relatives in writing only. Shortly before dawn on September 19 of the same year Galt perished from the cancer. Two days later, an imposing funeral was held in Mount Royal Cemetery, with the grim service being celebrated in the family home.  His funeral would ultimately foreshadow the future repurposing of the building.
In 1902, the residence was bought funeral directors by Joseph C. Wray & Bros. and converted into a funeral home. It was used for decades as such, handling some of Montreal's most important burial services for the English Protestant community.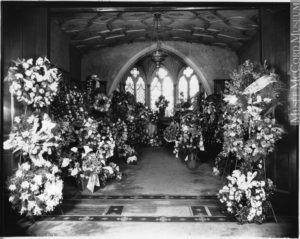 In 1970, the company moved to a new facility on University Street and the funeral home was abandoned. The creepy building would sit empty for the next eight years. Residents whispered rumours about ghosts in the building and it wasn't long before the empty old funeral home began taking on a reputation as a haunted house.
In 1978, the abandoned funeral home was finally re-purposed and converted into an elegant nightclub, a vocation it still holds to this day. Over the years, 1234 De La Montagne has hosted celebrities including Mick Jagger, Boy George, Louis Vega and the cast of Cirque du Soleil. While the names of the clubs have changed many times – Club L'Esprit, Club 1234, World Beat Complex and now Club Le Cinq – there is one thing that remains constant – the building is definitely said to be haunted. Indeed, all three floors of the nightclub are reputed to host spirits and paranormal activity.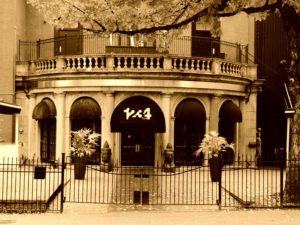 Starting in the basement, that is the location of the infamous ladies' washroom, which is in the same area where the funeral home's mortuary used to be. Patrons sometimes encounter a terrifying ghostly woman with a jagged scar running the length her chest that appears to be the handiwork of a mortician. Over the years, there have been many terrifying encounters with this ghost. As such, female clients are often warned never to enter this bathroom alone.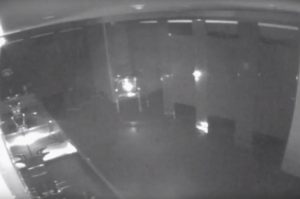 On the ground floor, where the bars and dance-floor are located, during one renovation between nightclubs, workers saw a large ball of light floating through the air towards them. When they complained to the owner, he dismissed their concerns.
However, later that evening the owner dropped by to check on how the work was progressing and he noticed a tall, beautiful woman standing by the bar, with her face turned away.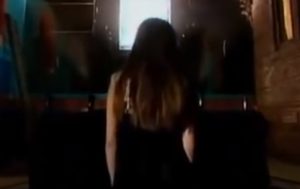 Given the establishment wasn't open to the public yet, the owner was intrigued. He approached her, sat on a nearby bar stool, and then asked if he could be of help.
The slender woman turned around and the owner almost fell off his stool. The woman had no face – it was as though it had been surgically removed. In a state of panic, the owner freaked out and bolted from the establishment, leaving the renovations unfinished.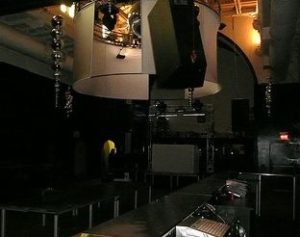 Also on the ground level, a mysterious table near the coat check area has been known to fling itself across the room in the past. It is rumoured to be in the same location as the table that was used for cosmetic touches before putting corpses on display at funerals.
Upstairs, there are also reports that the attic is haunted. From the street, people used to report seeing the image of a creepy, spectral woman in the attic's dusty window. Apparently that is the main reason the windows were recently boarded up.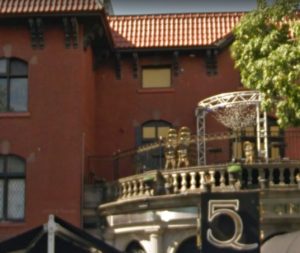 The attic is strictly off-limits, but sometimes people go there by mistake or out of curiosity. Once, three staff members entered on a dare, but bolted when they saw something floating near the wall. In another case, a celebrity's bodyguard went up by mistake. He felt an invisible presence sitting nearby and reported that every hair on his body stood up. He felt as though he was intruding, so left immediately. It took almost a week for his goose bumps to subside.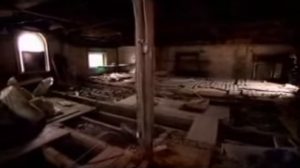 In one frightening instance that occurred around 2005, a drunken girl was warned by staff not to go into the attic. Ignoring the warning, when staff had their backs turned, she went anyway. A few minutes later, people heard a loud, hysterical screaming. Hollering at the top of her lungs, the girl dove out of the attic window facing the street and then jumped off the balcony, in a state of complete terror. Luckily, the bouncers below were able to catch her. They tried to calm her down, but were unable to. The girl had to be taken away in an ambulance.
According to one witness: "I used to bartend at 1234 when it first opened, from the Fall of 2004 until the Fall of 2006. I was there that night when the girl jumped out of the window. Yes, a bouncer caught her and brought her in. She was SCREAMING out of the top of her lungs, she didn't stop, not even when the police and the ambulance put her on a stretcher. We were all freaking out – I thought she was possessed for a second – I never saw anyone scream like that. It was definitely that she saw something that scared her to her very core. What was it? Who knows?"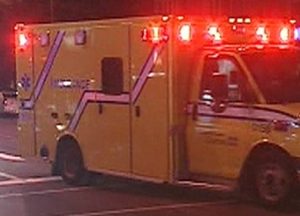 With so many frightening stories emerging from the nightclub, it wasn't long before paranormal investigators began to take an interest into the alleged hauntings in the old funeral home.
In 2004, a Canadian television show called Creepy Canada featured the nightclub in its Season 2, Episode 10. The episode is simply titled 1234 De La Montagne (runs 22:05 – 30:05). In the video, Creepy Canada host Terry Boyle explains that the club has "a particularly menacing haunting," suggesting: "These are not passive ghosts but aggressive apparitions whose physical appearance embodies our darkest fears."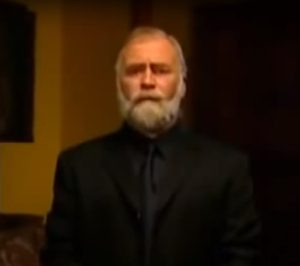 In the episode, Magali Brotons of Le Spectre de Montréal mentions unsubstantiated rumours of necrophilia within the mortuary that began to circulate when the old funeral home closed. She speculated that the corpses stored in the old mortuary may have suffered deranged indignities. Based on this information, Terry Boyle suggested: "Perhaps the spirits of those people whose bodies were defiled have not been able to rest in peace."
The episode recounted the ghosts of mutilated women who had been autopsied and their terrifying encounters with both employees and guests of the nightclub.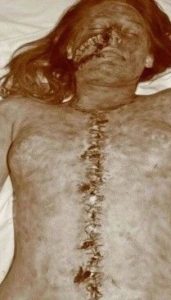 When the club was re-bapitized as the World Beat Complex after being abandoned for several years, the new owners attempted to do something about the ghosts. According to then staff member Monica Wizinski, following her bizarre encounter with a floating orb, a professional witch was brought into the nightclub to try and exorcise the spirits. The witch performed some cleansing ceremonies, and while Monica Wizinski believes this helped lessen the number of ghosts, she is also pretty certain some of the spirits remained. She said: "I think that there will always be ghosts that feel at home here and that they're going to always be here."
Meanwhile, in 2010, ghost hunter André Robitaille investigated the site, then known as Club 1234, for a television show in French called "Rencontres Paranormales" (translation: Paranormal Encounters).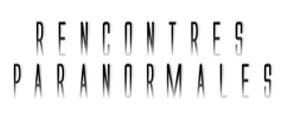 After being invited to the club by the owner DJ MC Mario, André Robitaille asked medium Roger Mainville to conduct a paranormal investigation. DJ MC Mario was perplexed because he had experienced paranormal activity within the building while with his wife Sandrine. In addition to witnessing doors opening and closing on their own accord, the couple heard the disembodied voice of a 10-12 year old girl singing. DJ MC Mario invited the paranormal investigators because he wanted to know if his nightclub could co-exist in peace with the ghosts. At first he was a non-believer in the paranormal, but after he purchased the club he began to experience the inexplicable. He said: "I can't explain it. I don't know what it is, but there is something there."
Paracontacts, the 12 person team tasked with the investigation, included both believers in the paranormal and sceptics. Using ghost-hunting tools such as EMF Readers and digital cameras, the team set out to investigate the ladies' washroom. In one photo, the image of a spectral woman's face appeared.
Some members of the team then engaged in a round of table-turning, a type of séance where participants sit around a table, place their hands on it, and wait for it to move. Used like a Ouija board, participants vocalize questions to prompt the table to respond.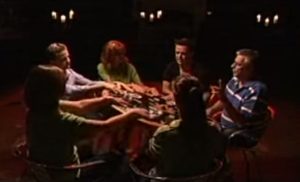 By all appearances, the team was able to communicate with various ghosts, including members of the Galt family who lived there in the late 1800s. They had a paranormal conversation with the spirit of Sir Alexander Tilloch Galt's first wife. Apparently she is unhappy because the activity from the nightclub, which she considers taboo, is disturbing her young daughter, who also haunts the building. Still at the table, the team from Paracontacts actually made a deal with the ghost: if the club owner started every evening by playing Mozart, the ghosts would leave the living alone! DJ MC Mario readily agreed and proceeded to play Mozart every night as the club opened. As though the ghost of Galt's first wife was satisfied with the arrangement, the table began dancing to Mozart's Requiem as the team from Paracontacts channelled the spirits.
However, despite these reassuring signs that the ghosts could co-exist with the nightclub in peace, Club 1234 was shuttered in February 2013, only to be re-baptized a few months later as Club Le Cinq, the current incarnation of the nightclub in the old funeral home. Whether or not any more strange and frightening stories have emerged since the club changed names is unknown at this time.
There are many theories about the ghosts haunting the nightclub, from members of the city's past wealthy elite to the unfortunate souls who received autopsies, and possibly worse, when the building was a popular funeral home. While there is much speculation about who or what is haunting the old funeral home-cum-nightclub, one thing remains certain: the nightspot is also a hotspot for the paranormal. By all appearances, this is one of the most haunted buildings in Downtown Montreal.
COMPANY NEWS
The Haunted Montreal public season of ghost tours is now open, with Haunted Griffintown and Haunted Mountain being offered in both English and French. From August to October 7, Haunted Griffintown is being offered on Friday nights and Haunted Mountain is on Saturday nights.
There are also many extra tours that have been added on Mount Royal in French due to high demand.
For the Hallowe'en Season, running Friday October 13th to Hallowe'en and beyond, Haunted Montreal is pleased to announce a gamut of activities! For the first time ever, we are offering all three of our ghost tours in both languages on different nights. Tours in English start at 8:30 p.m.
Friday, October 13               Haunted Griffintown
Saturday, October 14          Haunted Mountain
Sunday, October 15             Haunted Downtown
Friday, October 20               Haunted Griffintown
Saturday, October 21          Haunted Mountain
Sunday, October 22             Haunted Downtown
Friday, October 27               Haunted Griffintown
Saturday, October 28          Haunted Mountain
Sunday, October 29             Haunted Downtown
Monday, October 30            Haunted Downtown
Tuesday, October 31           Haunted Downtown
Friday, November 3             Haunted Griffintown
Saturday, November 4        Haunted Mountain
Sunday, November 5          Haunted Downtown
We have also been busy helping establish a new company called Secret Montreal! The new enterprise has taken over the Haunted Red Light District Ghost Walk and also offers a brand new Montreal Burlesque Walking Tour that is being led by real burlesque queens!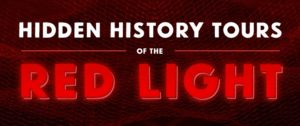 The Haunted Red Light District Ghost Walk is being offered in both languages on Friday nights. For the Hallow'en Season, tours will run from Thursday, October 26 to Tuesday, October 31st.
Secret Montreal plans to develop other tours in the future that delve into the city's fascinating past with a focus on hidden history.
For details on Secret Montreal and its walking tours, please visit the Secret Montreal website.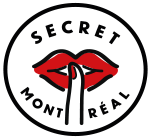 Lastly, a big thank you to all of our clients who attended a Haunted Montreal ghost walk! If you enjoyed the experience, we encourage you to write a review on our Tripadvisor page, something that helps Haunted Montreal to market its tours. Furthermore, if you would like to receive the Haunted Montreal Blog on the 13th of every month, please sign up to our mailing list.
Coming up on Friday, October 13th: Harry Houdini's Ghost
Harry Houdini, once the world's greatest magician, died on Hallowe'en in 1926 after an incident in Montreal. Houdini met his fate on the afternoon of October 22, 1926 while relaxing in his dressing room at Montreal's Princess Theatre on Sainte Catherine Street. He was visited by two McGill students who were curious about his alleged magical powers. One student named J. Gordon Whitehead asked Houdini if it was true that he could withstand any punch to the stomach, as the magician had previously proclaimed. Houdini said yes, prompting the young man to deliver a series of punches before the magician could tighten his muscles. With a ruptured appendix, Houdini's health began to quickly fail. He attempted to continue touring, but was soon on his death bed in a hospital in Detroit. Just before he passed away, he promised his wife he would send a message from beyond the grave if possible. Since then, a séance has been held every year somewhere in the world to try and communicate with Houdini's ghost. Our special Friday October 13th edition explores Houdini's connection to Montreal and rumors that his ghost still haunts the city.
Donovan King is a historian, teacher, tour guide and professional actor. As the founder of Haunted Montreal, he combines his skills to create the best possible Montreal ghost stories, in both writing and theatrical performance. King holds a DEC (Professional Theatre Acting, John Abbot College), BFA (Drama-in-Education, Concordia), B.Ed (History and English Teaching, McGill), MFA (Theatre Studies, University of Calgary) and ACS (Montreal Tourist Guide, Institut de tourisme et d'hôtellerie du Québec).