Welcome to the fifty-sixth installment of the Haunted Montreal Blog!
With over 350 documented ghost stories, Montreal is easily the most haunted city in Canada, if not all of North America. Haunted Montreal dedicates itself to researching these paranormal tales, and the Haunted Montreal Blog unveils a newly researched Montreal ghost story on the 13th of every month! This service is free and you can sign up to our mailing list (top, right-hand corner for desktops and at the bottom for mobile devices) if you wish to receive it every month on the 13th!
Haunted Montreal has suspended all public tours due to COVID-19 directives from government and health officials to keep our staff and clients safe.
Please stay tuned to our website, blog and Facebook page for updates!
In the meantime, clients can enjoy reading the Haunted Montreal blog, which features over 50 local ghost stories, FOR FREE!
Our April blog concerns the infamous Bonhomme Sept Heures, a creepy and legendary character from the New France era who was known to steal children and throw them in his burlap bag if they were not home by seven o'clock in the evening. According to lore, the children were never seen again.
Haunted Research
Bonhomme Sept Heures is an extremely creepy character from Québec folklore who was known to terrify children. Indeed, starting in the days of "New France", parents used the Bonhomme Sept Heures story to keep their children obedient. Translated, his name means "The Seven O'Clock Man". Of all the monsters and other creatures that traditionally terrorized the imaginations of young Quebeckers, the Bonhomme Sept Heures is undoubtedly the most famous.
There are many descriptions of him, depending on the region of Quebec. For some, he is described as a tall, lanky old man with a long, crooked nose who roams the streets at night, large burlap sack in hand. For others, this dreaded being takes on the appearance of an old man dressed as a vagabond with a long black beard, dirty hair, dressed in several coats and dilapidated clothing. Overall, he is known as demonic man, not quite human, capable of using astonishing tricks to snatch children away and haul them away in his large burlap sack. In all of the stories, Bonhomme Sept Heures triggers the fear of death and the night.
The twisted tale of Bonhomme Sept Heures is an example of a "cautionary legend". This genre of moralistic story was typical in "New France" and there are many tales involving dubious deals with the Devil such as La Chasse-Galerie.
All cautionary legends are warnings that promote morals and good behavior and highlight the dangers of straying from social and religious norms.
"You must be at home by 6.30pm, otherwise the Bonhomme Sept Heures will come and pick you up!" was a typical phrase was used by parents in "New France" to keep their children obedient. The fear of this dangerous ogre was enough at the time to keep the children inside, especially from autumn to spring. Children would abandon their games and run to the house at top speed. The lesson was that evil was omnipresent, which motivated children to be wary of strangers, especially those who looked shady.
Rumours suggested that Bonhomme Sept Heures lived in a lost cave in the mountains or in an isolated hut in the middle of the forest. He was known to stroll near the roads, after dark, looking for young victims.
In some versions of the tale, he carried a cane, which he used to hook the children before snatching them and throwing them in his burlap sack. His bag was said to contain sand, which he threw into the eyes of his victims in order to catch them more easily.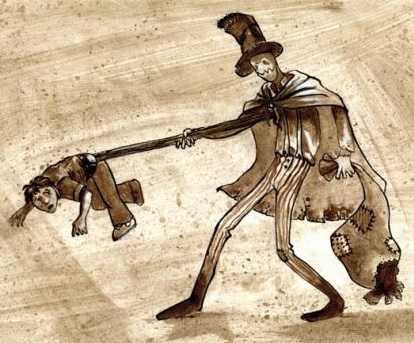 On All Saints' Day, Bonhomme Sept Heures, accompanied by spirits of the dead condemned to purgatory, entered houses to observe the living, especially families who did not respect the solemnity of the Day of the Dead.
To make matters worse, Bonhomme Sept Heures had an insatiable taste for fresh, young flesh. According to the story, the gnawed bones of disobedient children littered his lost cave or hut in the forest.
The origins of Bonhomme Sept Heures lie in the legend of Croque-Mitaine in France, a blood-thirsty ogre constantly on the look-out for children. There are also many similarities between this character and the Boogie Man (or Bogeyman), a monster terrorizing Anglo-Saxon children all over the world. In Montreal, the Headless Mary ghost story is an Irish variant.
While popular in the colonial era of "New France", we must ask if Bonhomme Sept Heures is consigned to the dustbin of history in the 21st Century. Is the deranged story dead or do some superstitious people still subscribe to this horrible legend as truth?
Believe it or not, there are actually many contemporary, first person accounts of run-ins with Bonhomme Sept Heures. One alarming tale appears on Reddit by an author named Manen.
In this account, Manen recalls encountering the Seven O'Clock Man as a boy one cold December evening in a Quebec suburb. After parting ways with his friend Mathieu, he watched the sun setting through the trees.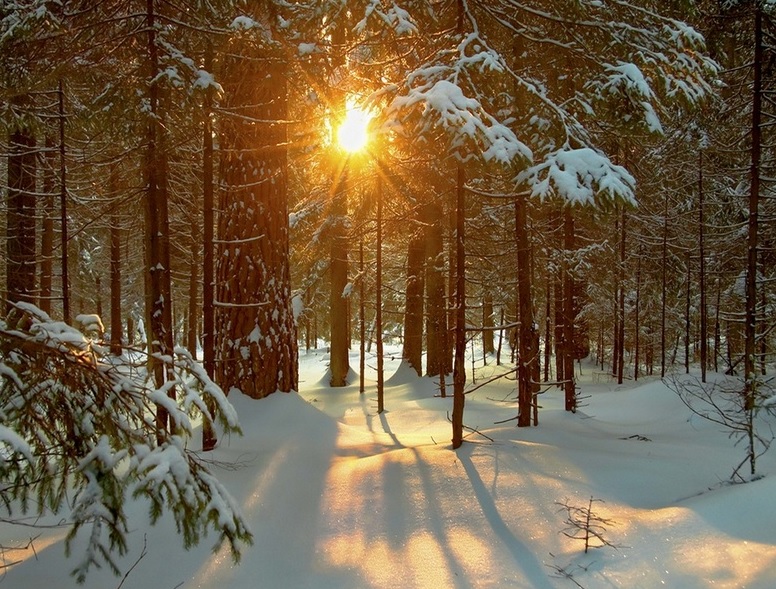 Suddenly, he heard a shriek in the forest and bolted home, certain he was being chased by Bonhomme Sept-Heures. According to the storyteller:
"I ran up the stairs, into my bedroom, and threw myself under my covers. I wanted to sleep, but I was wired. And then, I felt a prickling sensation, like the feeling that tells you to check your closet for monsters. Mine told me to look out the window. Wrapping my blanket around me like a hooded cape, I slowly crept out of bed and to the window, peering between the blinds."
Horrified, Manen continued:
"That's when I saw him. That's when I saw Bonhomme Sept Heures standing in the street. The stories had it right. He was tall – but not inhumanly so – old, wrinkly, wore tattered clothes but for an immaculate black preacher hat, and carried on his back a large brown sack. He smiled at me and waved, sending a feeling of cold to drain out all the warmth in my body. Still holding the bag in one hand, he stretched out the other and gently tapped his wrist, as though motioning for a watch, and then wagged his finger disapprovingly."
Manen then dove for his bed and closed his eyes, praying Bonhomme Sept Heures would not come for him. Still alive in the morning, he heard that his friend Mathieu had gone missing after failing to return home.
Mathieu was never seen again.
With so many different versions of the story being told over the centuries, there has been a lot of influence on cultural production in present-day Quebec.
Numerous videos of the Bonhomme Sept Heures story have been created, such as renditions by École et bricoles and Les sombres légendes de la terre. There are also online storytellers who tell the tale, such as the Conteur De Legendes and Mononcle Herman.
Bonhomme Sept Heures has also been the topic of numerous children's books and tomes of Quebec folklore in French. In English, The Seven O'Clock Man by Thomas Burby is illustrated by Matthew Moore.
Musically, there is a band called Bonhomme Sept Heures from Petite-Nation in the Outaouais region of Quebec and it is even the title of a heavy rock song by EXTERIO avec Louis de Ok Volca.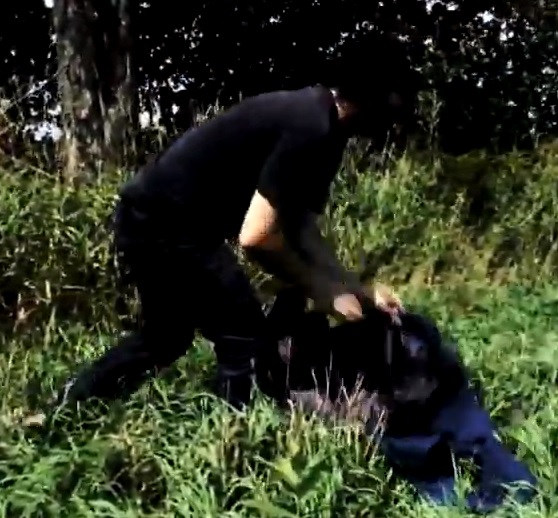 In conclusion, Bonhomme Sept Heures has no doubt shaped contemporary Quebecois culture. It is a lingering reminder of the legends circulating in the colonies of "New France" and still has impact today. Ultimately, horrible stories designed to keep children obedient, from Bonhomme Sept Heures and Croque-Mitaine to the Bogeyman and Montreal's own Headless Mary, leave a lasting impression in the psyche that can trigger unfailing obedience – and deranged nightmares!
Company News
Haunted Montreal takes the health and safety of our staff and clientele very seriously and health experts have issued directives for COVID-19. Because social distancing policies are in effect and "non-essential" gatherings are forbidden, all tours are currently suspended.
Despite the suspension of all current tours due to COVID-19, our full 2020 season of public tours is now online and tickets are still on sale. Please note that in the event the tour is suspended due to COVID-19, clients will receive a full refund or, if preferred, a rain check.
We hope conditions will improve soon so we can begin offering our tours and experiences again.
Haunted Montreal would like to thank all of our clients who attended a ghost walk, haunted pub crawl or paranormal investigation during the 2019 – 2020 season!
If you enjoyed the experience, we encourage you to write a review on our Tripadvisor page, something that helps Haunted Montreal to market its tours.
Lastly, if you would like to receive the Haunted Montreal Blog on the 13th of every month, please sign up to our mailing list.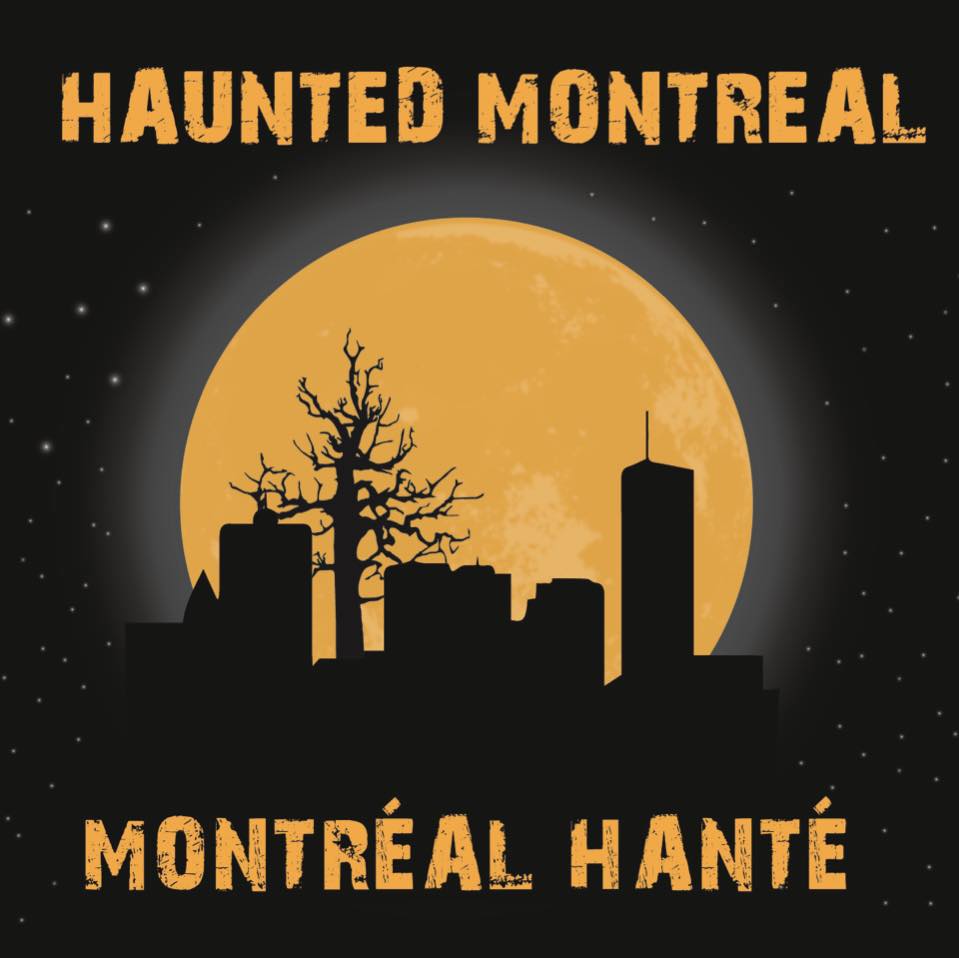 Coming up on May 13: Montreal's Mysterious River Monsters
Dating back to the pre-contact days when today's Montreal Island was known as Tiohtià:ke, a legend about strange monsters swimming in the rivers circulated among many First Nations. When the French colonized in the 1600s, they too encountered these mysterious creatures. Jesuit missionary Louis Nicolas created a Codex depicting a bizarre mermaid combining a fish tale with a human torso. The face appears rather feminine with long hair, but under the chin are fins or possibly a beard. The French inscription in the Codex translates: "Marine monster killed by the French on the Richelieu River in New France." Despite French attempts to eradicate this creature, rumours abound that the mysterious river monsters still swim in the waters surrounding the island of Tiohtià:ke/Montreal to this very day.
Donovan King is a postcolonial historian, teacher, tour guide and professional actor. As the founder of Haunted Montreal, he combines his skills to create the best possible Montreal ghost stories, in both writing and theatrical performance. King holds a DEC (Professional Theatre Acting, John Abbott College), BFA (Drama-in-Education, Concordia), B.Ed (History and English Teaching, McGill), MFA (Theatre Studies, University of Calgary) and ACS (Montreal Tourist Guide, Institut de tourisme et d'hôtellerie du Québec). He is also a certified Montreal Destination Specialist.