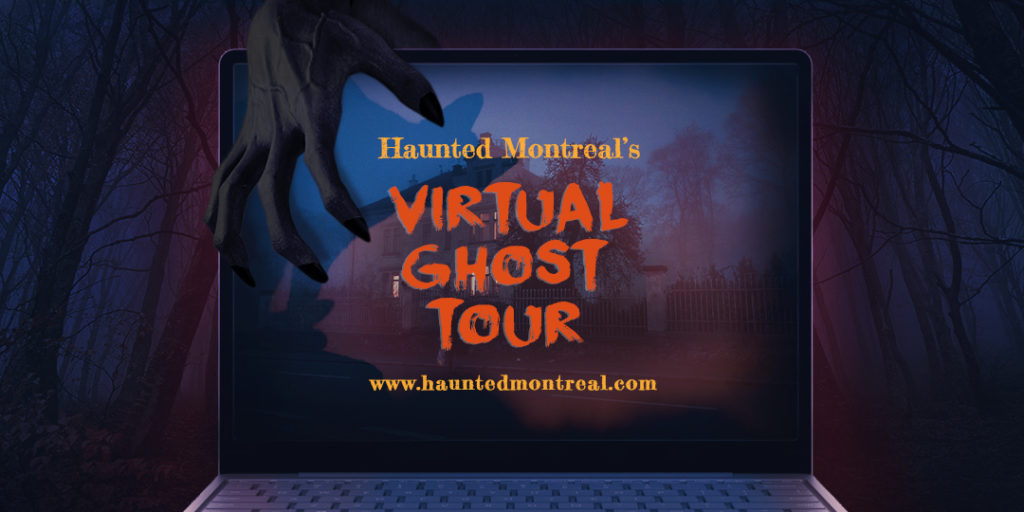 Don't let COVID-19 ruin your plans! Haunted Montreal is pleased to offer a unique experience from the comfort of your home computer – our Virtual Ghost Tour!
Turn down the lights and fire up your computer! Log in easily via a Zoom link.
With over 400 documented ghost stories, Montreal is easily the most haunted city in Canada, if not all of North America. Teeming with spirits and paranormal activity, Montreal is a ghost-hunter's paradise.
During the Virtual Ghost Tour, a professional ghost storyteller will regale guests with the city's most infamous ghost stories and haunted locations, complete with a creepy online atmosphere!
Delve into the circumstances that made Montreal so haunted. Hear the most popular ghost story from the 1800s and discover the two most haunted parks in the city where paranormal activity is rife. Lastly, take in the deranged tale of Griffintown's Headless Mary, Montreal's most infamous ghost story today!
In a following talkback session, clients will enjoy a Q & A with the professional ghost storyteller. Ask any questions you like!
With limited numbers of clients per online event, it is an intimate way to enjoy learning about Montreal's unique haunted history!
This event is currently only offered as a private tour
Price: $14.50 (incl. GST & PST)
---
For French tours, please visit Tour hanté virtuel
Zoom link will be emailed to ticket holders 30 minutes prior to the start of the tour. If Zoom isn't installed on your computer already, you will be prompted to install it when you click the link.