Welcome to the twenty-seventh installment of the Haunted Montreal Blog! Released on the 13th of every month, the July 2017 edition focuses on research we are carrying out into Maison Pierre du Calvet, an allegedly haunted house in Old Montreal. Haunted Montreal is also pleased to announce that our public season is now in full operation, with ghost tours in Griffintown on Friday nights and on Mount Royal on Saturday evenings! To receive a new Montreal ghost story on the 13th of every month, please sign up to our mailing list on the right of the screen.
HAUNTED RESEARCH
Maison Pierre du Calvet is one of the most ancient houses in the city, the sixth oldest, in fact. Built during the French regime in 1725, the house has remarkable architecture and a fascinating history.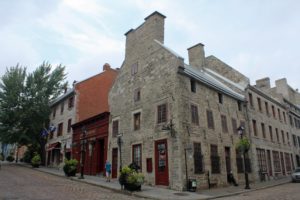 From the outside, the Breton stone facade is built with 3-foot-thick field stone walls, iron window shutters, tall chimneys, French windows and a pitched roof.
The home had to be constructed out of stone after a law was passed following a devastating fire in 1721 that forbade wooden structures inside the city walls.
It is named after Pierre du Calvet, one of Montreal's more colorful characters historically. A Hugenot merchant from France, he sailed for New France in 1758 after a cousin-in-law provided him with the capital needed to purchase goods for trading. Unfortunately, Le Lion, the ship he was on, was shipwrecked about 100 miles from Quebec. With his cargo lost, he was forced to find employment on his arrival.
After much hard work, he recovered and operated as a merchant for two years until the British Conquest of 1760. The new British overlords soon appointed him as a Justice of the Peace, perhaps due to his Protestant faith.
In 1771, Pierre du Calvet purchased the old stone building following his marriage to a woman named Marie-Louise Jusseaume, where he intended to raise a large family. Unfortunately, two of his three children died in infancy.
To make matters worse, only 3 years after his wedding, in 1774 his wife perished, some say under mysterious circumstances.
The following year Montreal was invaded by Americans and occupied by the newly formed-Continental Army during the American Revolutionary War. The objective of the campaign was to gain military control of the British Province of Quebec, and to convince the French-speaking Canadiens to join the revolution on the side of the Thirteen Colonies.
With the American Army occupying Montreal in 1775, Pierre du Calvet raised eyebrows when he openly supported the invaders. Not only did he offer them supplies, but he also hosted meetings inside his home with American leaders, including Benjamin Franklin himself.
The American occupation lasted only 188 days, and the British authorities were not happy with Pierre du Calvet once the invading army had fled the city. He was accused of being a traitor and was imprisoned for three years. His home was seized by the British government.
Pierre du Calvet would spend the rest of his life unsuccessfully trying to prove his innocence to the British while simultaneously attempting to get compensation from the Americans for his support. He was lost at sea in 1784, when The Shelburne, the ship he was sailing on from New York City to France, sank in the Atlantic Ocean.
Over the following years, the house exchanged hands many, many times, and was even inhabited by Jacques Viger, the first mayor of Montreal.
By 1960, Old Montreal, was practically a ghost town. Legions of farmers had abandoned the Place Jacques-Cartier as a place of commerce following the closure of the Bonsecours Market. The Old Montreal district became deserted and counted only about 200 or so people living there. Heritage activists, who were trying to preserve the district among constant threats of demolition, worked hard to secure a historic designation for the storied neighborhood. Due to their efforts, in 1960, plans for an elevated expressway through Old Montreal were abandoned and the Ville-Marie Autoroute was built farther to the north.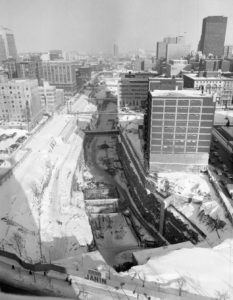 When authorities were finally persuaded that Old Montreal was worth keeping, it was designated a historic district by Government of Quebec in 1964.
In 1962, Jean-Jacques Trottier and Gertrude Beaupré Trottier decided to become part of this heritage solution. They relocated their family and seven children to the old house of Pierre du Calvet where they founded the restaurant Les Filles du Roy. They furnished the house with a wide range of beautiful antiques, including wicker chairs with cushions made from boys' pants. The couple also adorned the walls with family portraits.
Gaëtan Trottier, son of Jean-Jacques, and his associate Ronald Dravigné would later purchase Maison Pierre du Calvet to keep the magnificent building in the Trottier family.
Today, Maison Pierre du Calvet is an intimate 9-room boutique hotel known for hosting private receptions, business meetings, weddings, and romantic getaways. Its gourmet restaurant, Les Filles du Roy, specializes in Québecois cuisine. The hotel has a beautiful interior décor, including many antiques, and its rooms are luxurious. It also features a Victorian greenhouse where three bilingual parrots live in large cages: Pedro, Chico and Coquette.
Maison Pierre du Calvet is popular with celebrities like Richard Gere, Sophia Lauren and Brad Pitt, who resided there in 2007 while shooting portions of The Curious Case of Benjamin Button in Montreal.
With rooms renting for almost $400 per night, the Maison Pierre du Calvet offers an unforgettable experience for guests who want to soak up Montreal's history – and possibly witness a ghost!
Various sources suggest that the inn is haunted and that apparitions of both Marie-Louise Jusseaume and a card-shuffling man dressed in 19th century clothing have been seen on many different occasions.
Some guests report hearing disembodied voices, including entire conversations. In another case, a deep imprint appeared on the just-made bed in Room 1, almost as though someone were sleeping there. Light anomalies have also been seen and photographed in the room.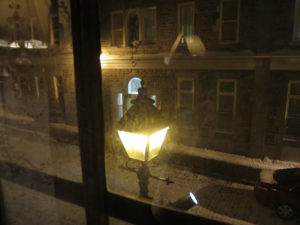 A strange female presence, believed to be Marie-Louise, is felt throughout the inn. Some feel the ghost is benevolent whereas others find her outright menacing. Marie-Louise is most often seen and felt in Room 3, where one guest complained of a woman sitting on the edge of her bed all night long, which prevented her from getting any sleep.
In 2016, a woman named Katariina, a Holistic Health Coach from the San Francisco Bay Area, booked herself into Maison Pierre du Calvet after hearing that it was haunted. She wrote on her blog:
"I read few reviews before I booked it and what sold me to it were the ghost stories. You know I love connecting with spirits. And believe it or not, at around 7 am in the morning, the ghost appeared. It was completely dark in our room and I felt someone grabbing my arm gently and just holding it. I felt the presence and started to panic, but was unable to move, scream or open my eyes, no matter how hard I tried. I'm not sure how much time passed, but eventually I was able to kick with my foot, open my eyes and get up and asked my husband to turn on the TV so that there would be some light in the room. I was pretty shaken up for a while after that, but forced myself back to sleep, because I truly needed some more sleep."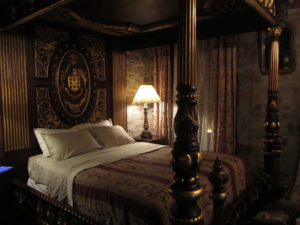 According to another guest who left a review on Tripadvisor, Room 3 of the inn is haunted. She wrote:
"When we checked in, we were taken to our room in which Brad Pitt just checked out of. The room was on the first floor with a beautiful bed – very antique looking. I felt like a princess. We stayed in the hotel for 3 nights…As for the ghost, the second night I woke up and looked at the foot of the bed, strangely there was a man in clothing from late 1800s sitting at the table by the foot of the bed shuffling cards…"
The presence of ghosts is verified in Haunted Canada 5, where a version of the story written by Joel A. Sutherland is entitled "Step into the Cold".
Sutherland mentions that the staff have "witnessed bizarre things and felt an angry presence in the rooms and halls." He speculates that the ghost of Marie-Louise Jusseaume interacts not only with the staff and the guests, but even with the parrots living in the greenhouse!
Concerning the staff, Sutherland describes a man who was working in the hotel's restaurant one night who felt the presence of Marie-Louise Jusseaume's ghost while cleaning alone.
According to the author:
"At first the spirit seemed pleasant enough and he tried to ignore it, unaware that he did so at his own peril. For the ghost demanded attention, and he began to feel that her presence was becoming menacing. Eventually the unseen company of the ghost became too oppressive for him to carry on with his closing duties, so he screamed at the top of his lungs for her to go away and leave him alone. Apparently, Marie-Louise finally got the message and backed off, leaving him in peace from that day forward."
Concerning the guests, according to Sutherland, while the ghost of du Calvet's wife often terrorizes the female visitors, "she is flirtatious with the men, often winking at them." Surtherland believes the ghost of Marie-Louise Jusseaume keeps one eye on female visitors and the other on the males. He wrote: "Men staying at the hotel have seen her ghost step from the shadows to smile at them with a wink, while Marie-Louise gives women the literal cold shoulder."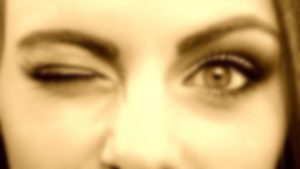 The reason for this, speculates Sutherland, is that in life Marie-Louise Jusseaume may not have been very faithful to her husband. According to his research: "Rumours swirled around Montreal claiming that Marie-Louise got along well – too well – with her husband's male guests who stayed overnight in their home. These accusations found their way to du Calvet's ear and infected his mind like maggots wriggling in his brain. Some believe that his jealousy blackened his soul and in a fit of rage he murdered his young wife for her accused sins."
As for the parrots, Sutherland also mentions that the colorful birds in the greenhouse sometimes communicate with her ghost. The three parrots are known to greet guests passing through the greenhouse with a chirpy "Allô, allô!"
Sutherland states: "Their greeting is friendly and never fails to warm the hearts of those who hear it. Except, of course, when the room is empty and Pedro and Chico can be heard welcoming unseen visitors into their greenhouse. It's believed animals are more highly attuned to the spirits of the departed, and the hotel's employees make sure to give the greenhouse a wide berth when they hear the parrots talking to an empty room."

With so many stories about ghostly activity, Maison Pierre du Calvet has all the hallmarks of being a haunted house.
However, proprietor Gaëtan Trottier doesn't appreciate all the rumours. He denies that the house is haunted because he doesn't believe in ghosts. He claims that there are no spirits haunting his establishment, but rather that the old building simply radiates magic from its thick stone walls. Indeed, in 2014 he told CBC News: "The house is very magical. When you come into the house, you feel a particular atmosphere. It's like a person and you feel it."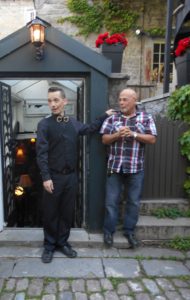 Perhaps fed up with all the ghost stories about the building being haunted, in 2014 the Trottier family decided to put Maison Pierre du Calvet up for sale with an asking price of $9.5 million. After 55 years of ownership, maintaining the inn was becoming burdensome for the Trottier family. After sitting on the market for several years, the building was finally sold in 2017. The new owners are the same people who operate the nearby restaurant La Champagnerie, a gourmet bistro that specializes in fine champagnes.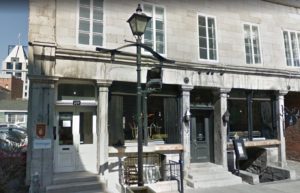 The new proprietors have not yet announced their plans for the historic building.
Whatever they decide to do with it, only one thing is certain: in purchasing the ancient and allegedly ghost-ridden Maison Pierre du Calvet, the new owners may have gotten more than they bargained for!
COMPANY NEWS
The Haunted Montreal public season of ghost tours is now open, with Haunted Griffintown and Haunted Mountain being offered in both English and French. From July to October, Haunted Griffintown is being offered on Friday nights and Haunted Mountain is on Saturday nights.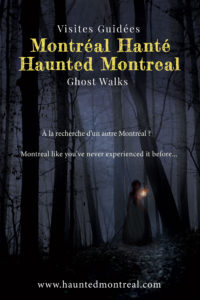 There are also many extra tours that have been added on Mount Royal in French due to high demand.
We have also been busy helping establish a new company called Secret Montreal! The new enterprise has taken over the Haunted Red Light District Ghost Walk and also offers a brand new Montreal Burlesque Walking Tour that is being led by real burlesque queens!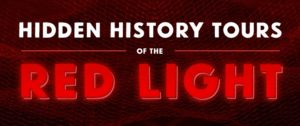 From June 23 to September 4, the Haunted Red Light District Ghost Walk will be offered in English on Sunday nights, in French on Monday nights and in both languages on Friday nights.
Secret Montreal plans to develop other tours in the future that delve into the city's fascinating past with a focus on hidden history.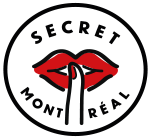 For details on Secret Montreal and its walking tours, please visit the Secret Montreal website.
Lastly, a big thank you to all of our clients who attended a Haunted Montreal ghost walk! If you enjoyed the experience, we encourage you to write a review on our Tripadvisor page, something that helps Haunted Montreal to market its tours. Furthermore, if you would like to receive the Haunted Montreal Blog on the 13th of every month, please sign up to our mailing list.
Coming up on August 13th: McGill University Faculty Club
Located on McTavish Street, the McGill University Faculty Club welcomes the school's elite, including professors, deans, provosts, and other academics and administrators. The opulent mansion is a private oasis on the bustling campus, a place where the university's elite come to relax, dine, socialize and discuss important matters. However, according to many sources, the Faculty Club is haunted by ghosts of the past. Designed in 1886 by Baron Alfred Baumgarten, a wealthy German sugar tycoon, it was acquired by McGill University in 1926. When it was converted into the Faculty Club in 1935, the professors immediately felt that something was amiss. Over the decades, there have been reports of all sorts of strange an paranormal activity in the building, from a piano playing on its own accord to ghostly billiard matches unfolding in the basement. A dangerous presence is also known to terrify the most hardened of security guards, raising the question: just who or what is haunting McGill University's Faculty Club?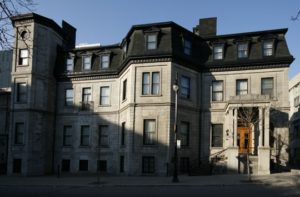 Donovan King is a historian, teacher, tour guide and professional actor. As the founder of Haunted Montreal, he combines his skills to create the best possible Montreal ghost stories, in both writing and theatrical performance. King holds a DEC (Professional Theatre Acting, John Abbot College), BFA (Drama-in-Education, Concordia), B.Ed (History and English Teaching, McGill), MFA (Theatre Studies, University of Calgary) and ACS (Montreal Tourist Guide, Institut de tourisme et d'hôtellerie du Québec).