Haunted Montreal conducts Ghost Walks, Paranormal Investigations & Haunted Pub Crawls. Our team also carries out research into ghost sightings, paranormal activities, historic hauntings, unexplained mysteries, and strange legends in the Montreal area.
We publish the Haunted Montreal Blog on the 13th of every month with a local ghost story. This service is free and we invite you to sign up to our mailing list.
Haunted Montreal would like to acknowledge that we operate on the un-ceded Indigenous territory of Tio'tia:ke and that the Kanien'kehá:ka (Mohawk) Nation is the custodian of these lands and waters.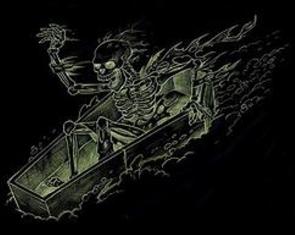 Ghost Walks, Paranormal Investigations & Haunted Pub Crawls
Conducted by a professional actor and storyteller, ​Haunted Montreal currently offers three Ghost Walks, a Haunted Pub Crawl and a new Paranormal Investigation into the old Saint-Antoine Cemetery. Both public and private tours are available.
Haunted Montreal is sorry to report that we have decided to cancel all tours until October 29 because of all the mixed messages from the Government of Quebec and the risks involved.
While Entreprise Quebec says we can do our tours, Francois Legault says "No Gatherings" even though he is OK with gatherings of anti-mask protesters (as long as they wear a mask).
Haunted Montreal's fear is that the police might target our tours. The officers could issue expensive tickets to our clients and guides. The Government is asking citizens to call the police if they spot a "gathering" and I find this risk unacceptable to the clients, guides and company.
We are sorry to say that this is just too risky for the company and could easily wreck it both financially and through negative press.
We will be reimbursing all clients as soon as possible.
Haunted Montreal aims to create a virtual alternative. We imagine a virtual session of ghost stories followed by a Q & A session, or something like that.
Please stay tuned!
Click on each to learn more.
Ghost Tours:
Other Haunted Experiences:
Research
Haunted Montreal also conducts research into local hauntings and welcomes people with a story to get in touch. If you have experienced anything ghostly, paranormal or otherworldly in Montreal and want to share your story, please let us know. We publish a new Montreal ghost story every month at the Haunted Montreal Blog.
Haunted Montreal Blog
The Haunted Montreal Blog is released on the 13th of every month! The blog focuses on a new Montreal ghost story each and every month, information about the haunted tourism industry and company news. Please sign up on the mailing list (below) to receive it on the 13th!
---
Haunted Montreal Blog #61 – The Ghost of the Wartime Bomber Pilot

While browsing the selection of titles, I saw something darker move out of the top corner of my eyes. I brushed it off at first thinking it was just another customer and didn't bother looking up but as the mass came closer it became clear that this was far from a regular store patron.

Haunted Montreal Blog #60 – Place des Jésuites

Shocked and terrified, as the apparition got closer, he could see it was clad in a black robe and holding what appeared to be a large crucifix that appeared as though it had just come out of an iron forge. It was glowing, as though red hot.

Haunted Montreal Blog #59 – The Haunted Award

Our July blog explores a missing award that has recently become haunted. Awarded to Haunted Montreal in 2019, the Travel and Hospitality Award for "Quebec's Most Unique Experience of the Year", a disgruntled ex-administrator has refused to return it to the company. As such, a spell-caster has placed a jinx on the award to make it haunted.