Haunted Montreal conducts Ghost Walks, Paranormal Investigations & Haunted Pub Crawls. Our team also carries out research into ghost sightings, paranormal activities, historic hauntings, unexplained mysteries, and strange legends in the Montreal area.
We publish the Haunted Montreal Blog on the 13th of every month with a local ghost story. This service is free and we invite you to sign up to our mailing list.
Haunted Montreal would like to acknowledge that we operate on the un-ceded Indigenous territory of Tio'tia:ke and that the Kanien'kehá:ka (Mohawk) Nation is the custodian of these lands and waters.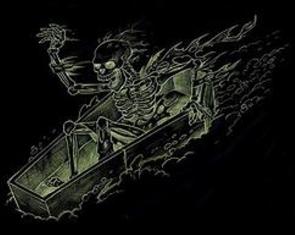 Ghost Walks, Paranormal Investigations & Haunted Pub Crawls
Conducted by a professional actor and storyteller, ​Haunted Montreal currently offers three Ghost Walks, a Haunted Pub Crawl and a new Paranormal Investigation into the old Saint-Antoine Cemetery.
Unfortunately these outdoor tours are not currently available due to a Public Health directive that places Montreal in a COVID-19 Red Zone.
Instead Haunted Montreal is thrilled to announce our new virtual haunted event:
Winter Ghost Stories: A Québécois Tradition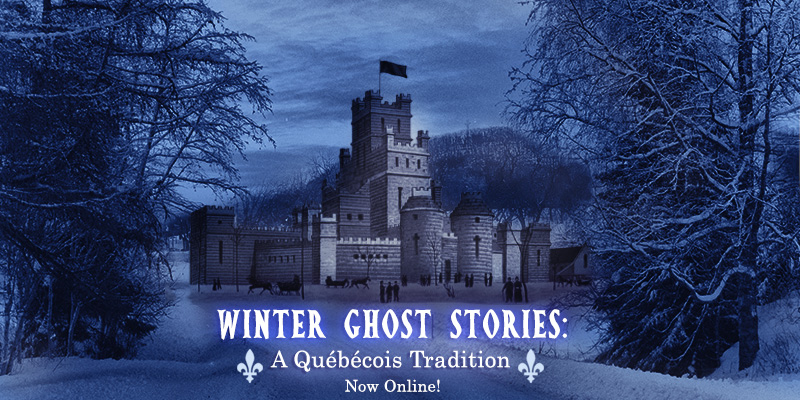 Haunted Montreal is thrilled to announce our new virtual haunted event:
Winter Ghost Stories: A Québécois Tradition!
Prepare a glass of mulled wine or brandy, fire up your computer and go back in time from New France to Montreal's Victorian Era. Back then, the telling of ghost stories around the fireplace was one of the most popular winter traditions in the city!
Guests will be regaled with winter ghost stories from Montreal's past and hear about the famous Winter Carnivals of the 1880s. Magnificent ice castles were built in Dominion Square – on top of the graves of tens of thousands of Cholera victims.
Learn the French Canadian legend of a rustic ghost house – and the miser who was trapped inside it for decades! Hear all about Montreal's haunted sewer network and a tragic accident one Christmas Eve that led to one collector being plagued by the deranged ghost of a vagabond.
Discover the most popular ghost story from the 1800s about a wealthy fur baron who died suddenly – then was spotted tobogganing down Mount Royal in his own coffin! Lastly, learn about Montreal's most haunted hotel – and the ghostly Lady in White who brings freezing temperatures with her wherever she wanders!
Winter Ghost Stories: A Québécois Tradition is ideal for company parties and for those interested in Montreal's deranged history and ghost stories!
Both public and private storytelling sessions are on offer in English and French.
Private sessions are based on the availability of our professional actors and can be arranged by emailing info@hauntedmontreal.com.
Click on each to learn more.
Ghost Tours:
Other Haunted Experiences:
Research
Haunted Montreal also conducts research into local hauntings and welcomes people with a story to get in touch. If you have experienced anything ghostly, paranormal or otherworldly in Montreal and want to share your story, please let us know. We publish a new Montreal ghost story every month at the Haunted Montreal Blog.
Haunted Montreal Blog
The Haunted Montreal Blog is released on the 13th of every month! The blog focuses on a new Montreal ghost story each and every month, information about the haunted tourism industry and company news. Please sign up on the mailing list (below) to receive it on the 13th!
---
Haunted Montreal Blog #65 – Montreal's Werewolf Legends

Werewolves and similar creatures have a long history of plaguing those living on the island of Tiohtià:ke/Montreal. When the French began colonizing the Indigenous lands of Turtle Island in the early 1600s, strange European tales of werewolves came with the settlers.

Haunted Montreal Blog #64 – Montreal's Haunted Sewers

There are reports of strange moaning noises and metallic clanging within the old sewer. Security guards have claimed the noises usually start around 9 p.m. and can last throughout the night. The best theory about why the collector is haunted takes us back to Christmas Day during 1840.

Haunted Montreal Blog # 63 – Jacques Cartier Suicide Bridge

With a long-standing reputation as the second most popular "Suicide Bridge" in the world, after the Golden Gate Bridge in San Francisco, the Jacques Cartier Bridge is known to be both deadly and haunted. A steel truss cantilever bridge that crosses the Saint Lawrence River from the city to the south shore at Longueuil, it has a tragic history of both suicides and murders occurring on the span. Despite recent improvements, such as an anti-suicide barrier and expensive lighting scheme, there are still suicides every year and tormented spirits are known to haunt the massive structure that crosses the mighty river.