Haunted Montreal conducts Ghost Walks, Paranormal Investigations & Haunted Pub Crawls. Our team also carries out research into ghost sightings, paranormal activities, historic hauntings, unexplained mysteries, and strange legends in the Montreal area.
We publish the Haunted Montreal Blog on the 13th of every month with a local ghost story. This service is free and we invite you to sign up to our mailing list.
Haunted Montreal would like to acknowledge that we operate on the un-ceded Indigenous territory of Tio'tia:ke and that the Kanien'kehá:ka (Mohawk) Nation is the custodian of these lands and waters.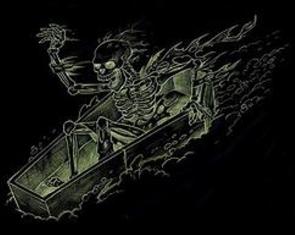 Ghost Walks, Paranormal Investigations & Haunted Pub Crawls
Conducted by a professional actor and storyteller, ​Haunted Montreal currently offers three Ghost Walks, a Haunted Pub Crawl and a new Paranormal Investigation into the old Saint-Antoine Cemetery.
Unfortunately these outdoor tours are not currently available due to a Public Health directive that places Montreal in a COVID-19 Red Zone.
Instead we are offering a Virtual Ghost Tour!
Virtual Ghost Tour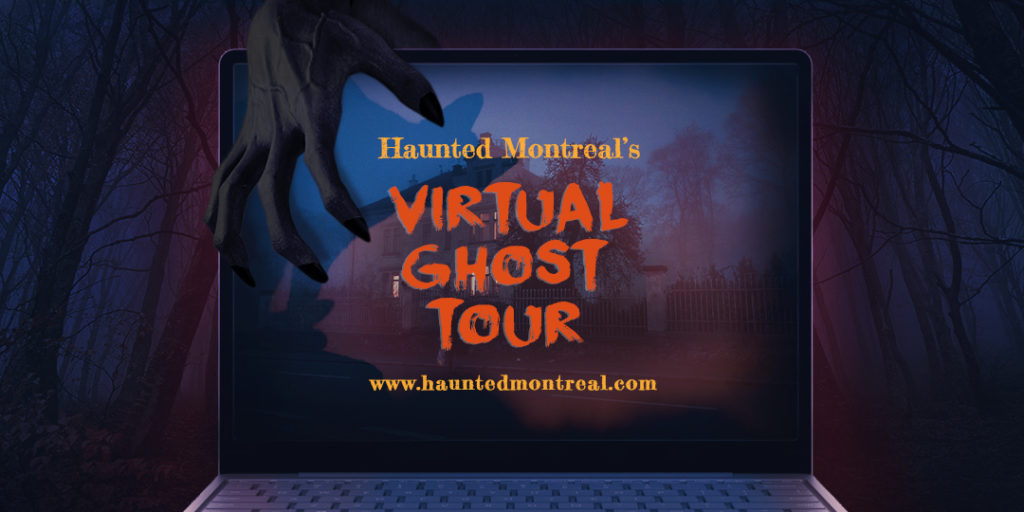 Don't let COVID-19 ruin your plans!
Haunted Montreal is pleased to offer a unique experience from the comfort of your home computer – our Virtual Ghost Tour!
Turn down the lights and fire up your computer! Log in easily via a Zoom link.
With over 400 documented ghost stories, Montreal is easily the most haunted city in Canada, if not all of North America. Teeming with spirits and paranormal activity, Montreal is a ghost-hunter's paradise.
During the Virtual Ghost Tour, a professional ghost storyteller will regale guests with the city's most infamous ghost stories and haunted locations, complete with a creepy online atmosphere!
Delve into the circumstances that made Montreal so haunted. Hear the most popular ghost story from the 1800s and discover the two most haunted parks in the city where paranormal activity is rife. Lastly, take in the deranged tale of Griffintown's Headless Mary, Montreal's most infamous ghost story today!
In a following talkback session, clients will enjoy a Q & A with the professional ghost storyteller. Ask any questions you like!
With limited numbers of clients per online event, it is an intimate way to enjoy learning about Montreal's unique haunted history!
Tickets for Haunted Montreal's Virtual Ghost Tour are now on sale!
Click on each to learn more.
Ghost Tours:
Other Haunted Experiences:
Research
Haunted Montreal also conducts research into local hauntings and welcomes people with a story to get in touch. If you have experienced anything ghostly, paranormal or otherworldly in Montreal and want to share your story, please let us know. We publish a new Montreal ghost story every month at the Haunted Montreal Blog.
Haunted Montreal Blog
The Haunted Montreal Blog is released on the 13th of every month! The blog focuses on a new Montreal ghost story each and every month, information about the haunted tourism industry and company news. Please sign up on the mailing list (below) to receive it on the 13th!
---
Haunted Montreal Blog # 63 – Jacques Cartier Suicide Bridge

With a long-standing reputation as the second most popular "Suicide Bridge" in the world, after the Golden Gate Bridge in San Francisco, the Jacques Cartier Bridge is known to be both deadly and haunted. A steel truss cantilever bridge that crosses the Saint Lawrence River from the city to the south shore at Longueuil, it has a tragic history of both suicides and murders occurring on the span. Despite recent improvements, such as an anti-suicide barrier and expensive lighting scheme, there are still suicides every year and tormented spirits are known to haunt the massive structure that crosses the mighty river.

Haunted Montreal Blog #62 – Montreal's Contemporary Ghost-hunters

We preview our Virtual Halloween Ghost Tour and speak with professional ghost hunter Dominique Desormeaux of 13 Spirits Paranormal

Haunted Montreal Blog #61 – The Ghost of the Wartime Bomber Pilot

While browsing the selection of titles, I saw something darker move out of the top corner of my eyes. I brushed it off at first thinking it was just another customer and didn't bother looking up but as the mass came closer it became clear that this was far from a regular store patron.