Welcome to the forty-third instalment of the Haunted Montreal Blog!
With over 250 documented ghost stories, Montreal is easily the most haunted city in Canada, if not all of North America. Haunted Montreal is dedicated to researching these paranormal tales, and the Haunted Montreal Blog unveils a newly-researched Montreal ghost story on the 13th of every month! This service is free and you can sign up to our mailing list (top, right-hand corner) if you wish to receive it every month on the 13th!
Our March blog explores The Grey Man of St. Urbain Street and various other paranormal activities that unfolded in a haunted house during the 1950s.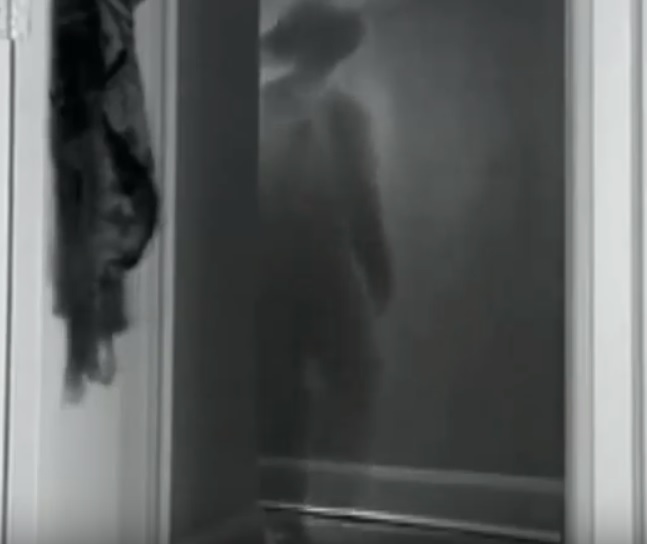 While Haunted Montreal is in winter mode and will not offer any more public ghost tours until April, 2019, we are pleased to announce our Haunted Pub Crawl is now open for business! Running every Sunday of the year, the tour in English starts at 3 pm and the tour in French is at 4 pm.
Please see our new Haunted Pub Crawl webpage for more details, the full schedule and to buy tickets.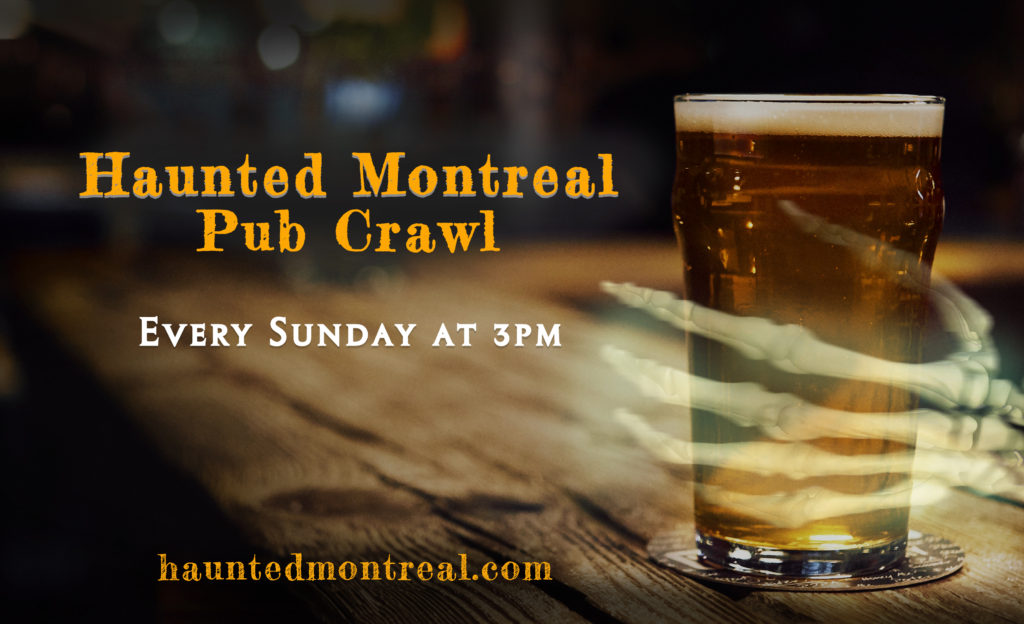 For those seeking ghost walks during our off-season, Haunted Montreal is still offering private tours for company outings, school groups, bachelorette parties and other gatherings of all types. Please contact info@hauntedmontreal.com to organize a private tour for your group. These ghost tours require very warm clothing during the winter months and the Haunted Mountain tour is not offered once there is snow on the ground due to dangerous and icy conditions on Mount Royal / Otsirà:ke. The haunted pub crawl is also available as a private tour.
Haunted Research
Mile End has had its share of hauntings over the years, from the spirits of 19th Century quarrymen to the ghost of a Parisian gendarme. There are surely many more to be uncovered in this old Montreal neighbourhood. One of the most documented ghosts in the Mile End is that of the "Grey Man".
Sarah Hart-Snowbell remembers her childhood, growing up with her four brothers and sisters, in a haunted house on St. Urbain Street in the Mile-End. Located between Fairmount and St. Viateur streets, from the mid 1940's to the mid 1950's, Sara's family had to endure invisible hands grabbing them, ghostly rectangular lights appearing, flying knives, restless spirits and a mysterious and shadowy "Grey Man". While the family moved out when Sara was 12, some members are still troubled by memories of the haunted house they lived in so many decades ago.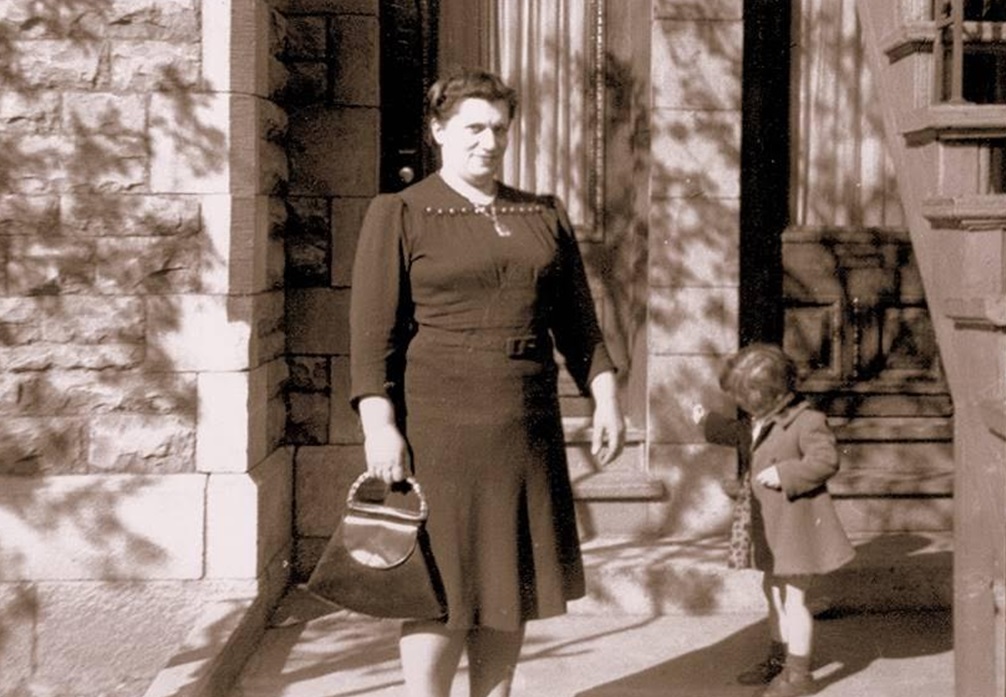 Sarah Hart-Snowbell contacted Haunted Montreal to see if our investigators could shed any more light on her personal encounter with the paranormal, especially her run-ins as a child with the mysterious grey apparition.
When Sarah's mother and father first moved into the house, the walls were covered with pictures of Saints. Being a devout Jewish family, her parents took down the pictures.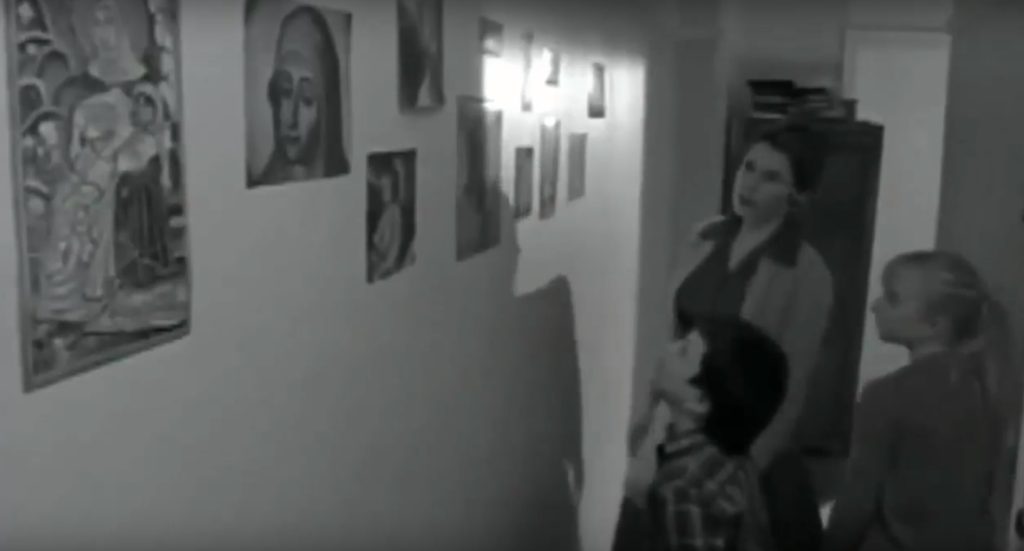 A stained-glass window was also replaced. Beside the main entrance there was another door that appeared to lead nowhere. The landlord had a key and the family believed perhaps it might have been a storage space, but nobody in the family ever entered the space and nobody really knew what it was used for. Over the decade she lived in the house, Sarah and other members of her family recall many instances of unexplained, paranormal and ghostly experiences.
Sarah remembers the first time she encountered the apparition she would come to call the "Grey Man":
"I was sitting on the floor in my brother's room, drawing with my crayons (one of my favourite activities) while my mother was in the kitchen preparing lunch. I heard my mother say softly, "Oh no … not again.", as if she had dropped something. At that same moment, something caught my eye. I looked up and saw what looked like the shadow of a man walk slowly from the hallway into the dining room. How odd! The man was dressed in a suit and wore a hat … but he appeared grey and "see-through". I knew that I was alone in the house with my mother at the time."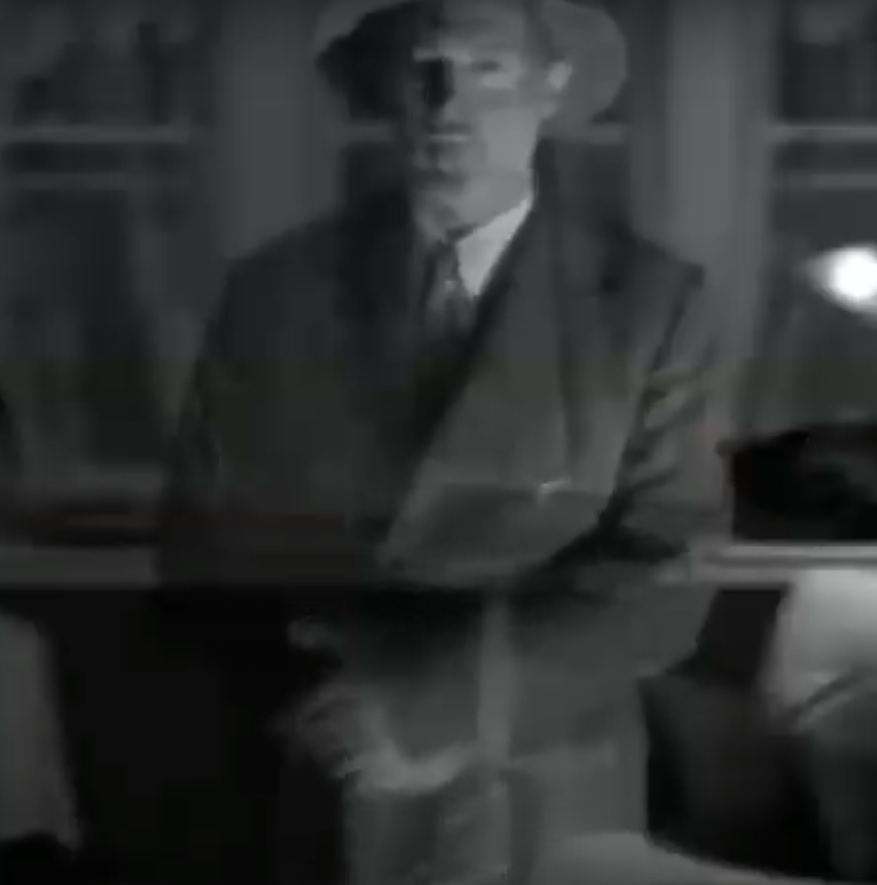 This was the first of many strange things that Sarah began experiencing in that house.
"One night I awoke from my sleep and saw what appeared to be a bright rectangle on the wall. I wondered how it got there and thought it may have been a reflection from a mirror … or something. I climbed onto the vanity table and waved my hand over the bright rectangle to see the shadow of my hand. There was no shadow! It appeared as if the bright light was not shining onto the wall, but rather shining outward from the wall. I ran into my parents' room and spent the rest of the night snuggled up close to my mother. When I told her that I'd seen a crazy light on the wall she comforted me. "It must have been a bad dream," she said."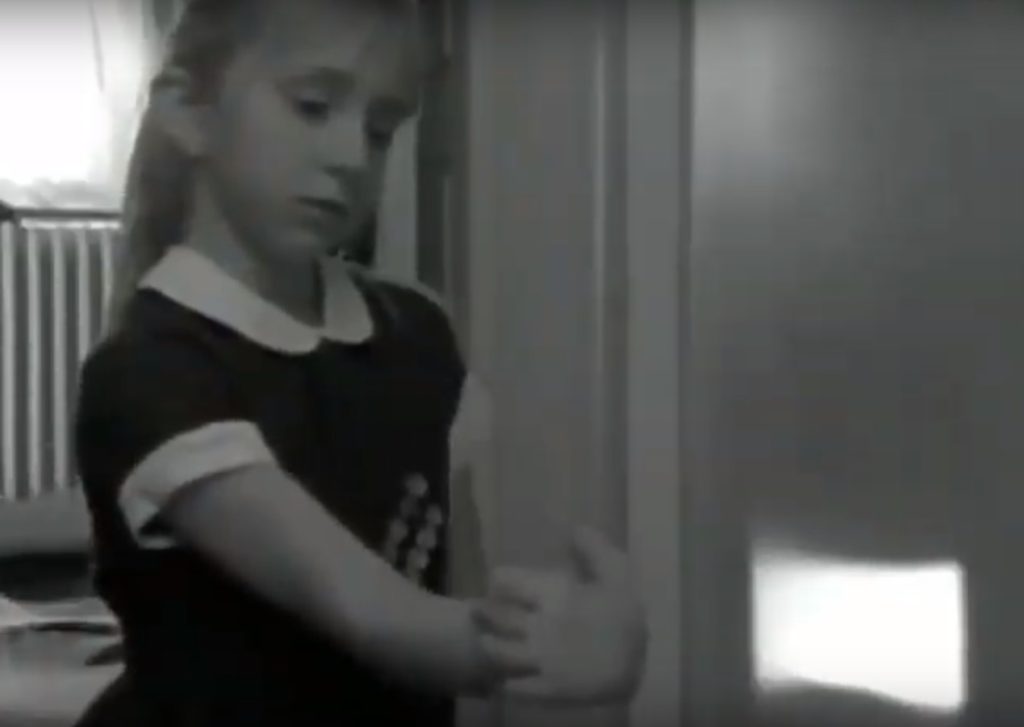 Sarah wasn't alone in encountering the restless spirit that inhabited that house on St. Urbain:
On a rainy summer night, after a long family outing, my father pulled up to park his old Ford in front of the house. "Don't leave the car!" he warned. "We're not getting out of the car for a very long time," he said. I turned to see the "grey man" standing at our front door. It was indeed a very long time until we went into the house that night."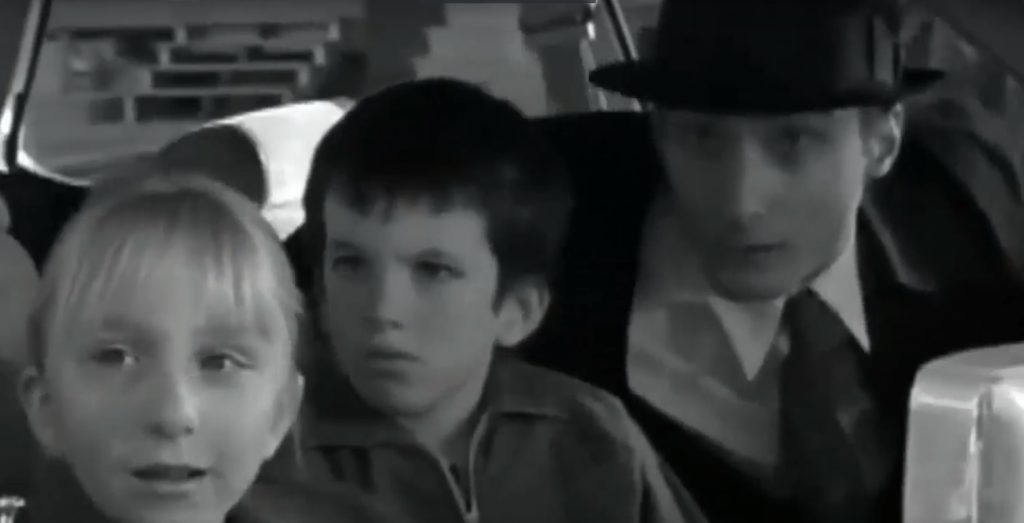 Another, even more shocking incident occurred when the family was celebrating Passover together:
"My father never spoke about the incident (in the car). He was a very religious man who believed, and encouraged us all to believe, that G-d is always protecting us. Dad was not the type of person to talk about supernatural or evil beings … until … one night when we were all seated at the Passover Seder. The glass Seder plate was set with the foods symbolic of the story of Passover. During the reading of the Haggadah (the text retelling the story of the Hebrews' Exodus from Egypt), I saw one of the knives rise from the table and drop onto the Seder plate, breaking it in half. My father sat in shock and said with great fear in his voice, "Satan is in this house!"
Sarah's brother was also the victim of a ghostly apparition:
"My brother told me that one day he had come home from school and when he opened the door, a cold hand grabbed his wrist. He pulled away and ran six blocks until he reached the comfort of our grandmother's house."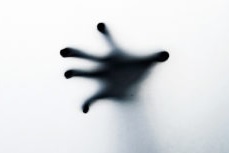 Finally, when it came time to move house, the spirits made themselves known. Was it a message from the beyond?
"When I was twelve, we finally moved. After all the boxes and furniture were loaded into the truck, my brother and I went back into the empty house to take a final look-around. I was excited to be moving (for the first time in my life), but felt a bit sad to be leaving the home I had known for so long. Just before leaving for the very last time, my brother reached to flip the light-switches off, but "something" beat him to it … the lights turned off by themselves. "Was it the grey man?" I wondered. Was it "his" way of saying 'goodbye' to us?"
The family never talked with each other about their experiences, until one day, prompted by a magazine article about a haunting that mentioned the paranormal phenomenon of "rectangular illuminations". This broke the taboo and got the siblings feverishly chattering about their memories of the paranormal. Sarah wrote:
"I saw that on the wall one night!" I confessed to my brother. "Well, so did I," he said, and we began to compare notes on our experiences in our old house. We then went into the kitchen to confront our mother who was peeling carrots at the time. We showed her the article. Then I mentioned the day I first saw the "grey man".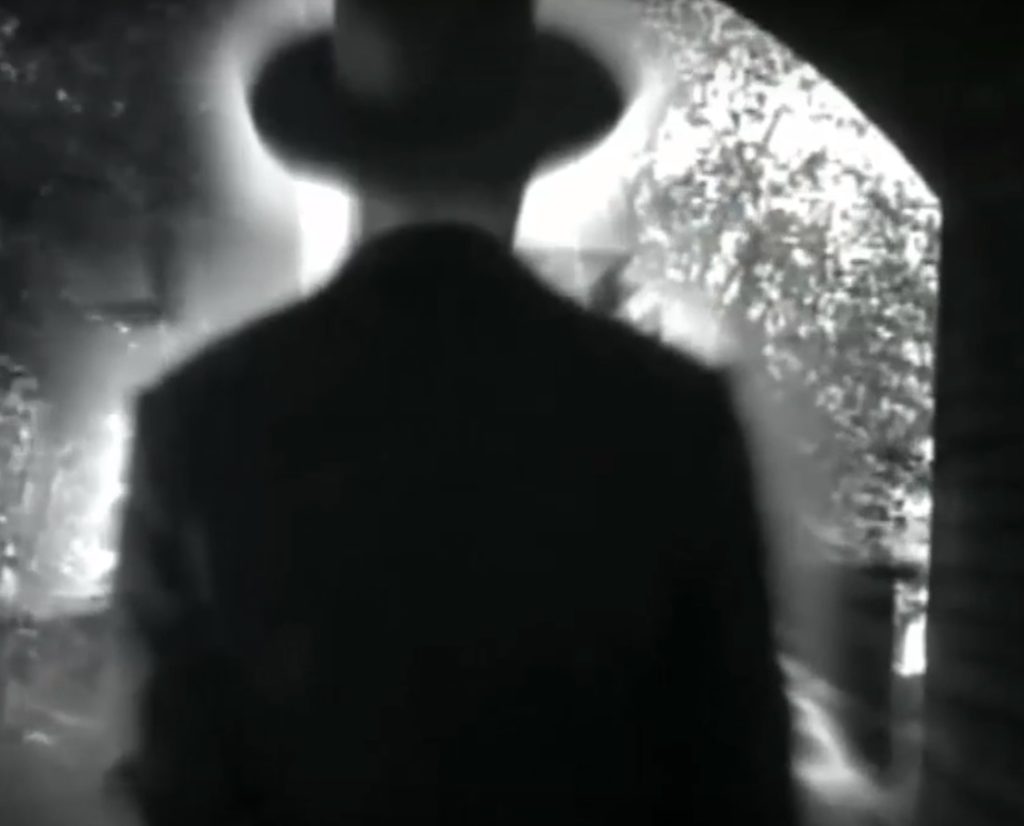 "My mother dropped the carrot peeler onto the kitchen table. "Oh my!" she said. "I never knew that any of my children ever saw him." "Well, does that mean you saw him?" I said. "Many many times," she said. "He spent most of his time in the kitchen." My mother recalled that she hated that house right from the start, but that my father had insisted on renting it without her knowledge. She said she was sure that she often saw smoke or steam rising from the floorboards, even though we lived on the ground floor."
The more they discussed the story, the more it snowballed and soon the media became interested in it. Sarah's story was featured on the television show, Ghostly Encounters:
It was also featured in Haunted Canada 2, True Tales of Terror by Pat Hancock (Scholastic Canada Ltd.)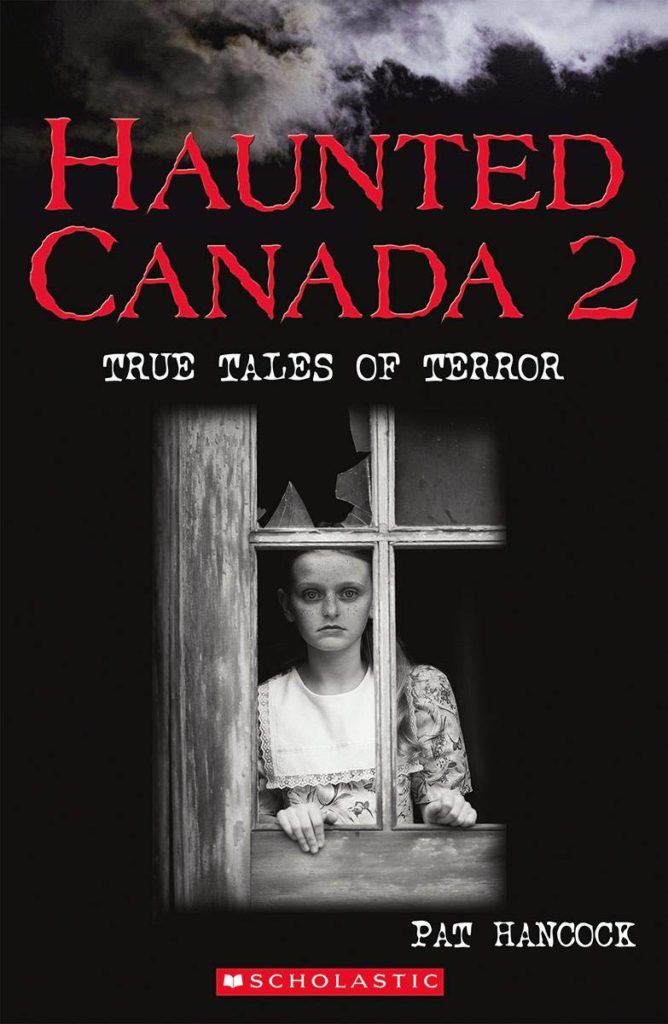 Many years later Sarah was speaking with her sister and the subject of the haunted house came up:
"One night I was on the phone with my sister. We chatted about old times and of course zeroed in on growing in the house on St. Urbain. She remembered my parents tearing down the pictures of the Saints. She said that she had never seen the Grey Man, but that when she walked from the kitchen-dining area to her room, she always felt a stark coldness in the hallway. She remembered once seeing the "door-beside-our-front-door" open. When she looked inside, she could only see darkness in what appeared to be a long narrow room."
In a sketch of the property, Sarah described the locked chamber in the basement, accessible only by a ramp. The landlord of the era, Mr. Beaulieu, was the only person with a set of keys to open this mysterious cellar.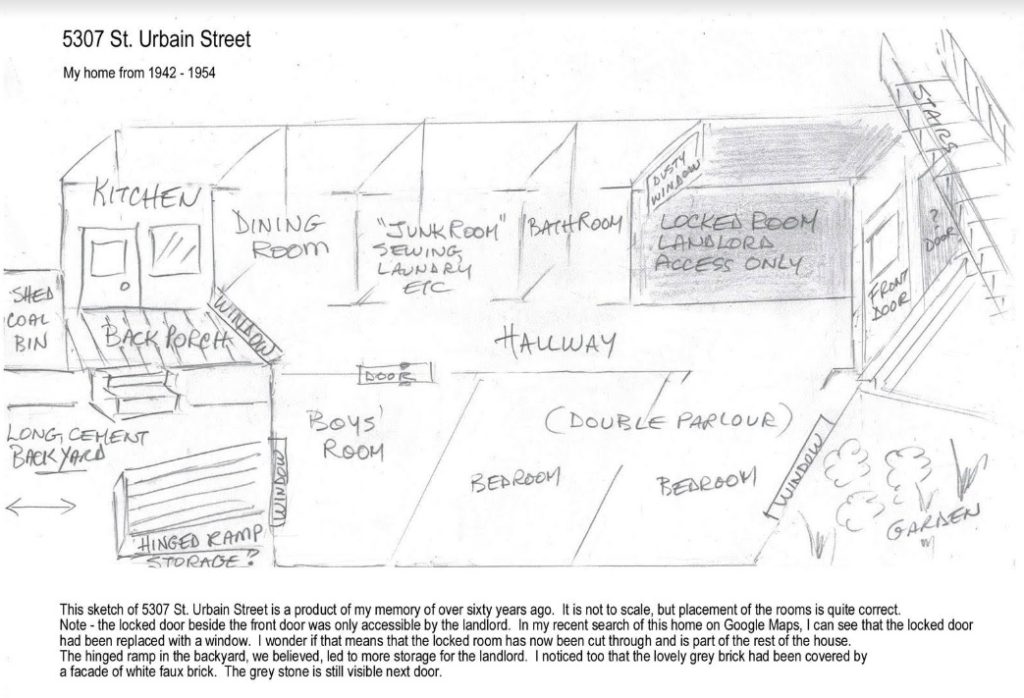 Sarah continued talking about her sister:
"She recalled that she and one of our older brothers had once seen the "ramp" (trapdoor?) in the backyard open. Although my brother was quite a daredevil, he would not venture to descend into the earthen hole that they saw. They had assumed that the landlord was down there in the cellar, but could see nothing but complete darkness."
There was also some speculation at the time that horrible things had been happening in the locked chamber beneath their haunted house, after a dead baby was discovered in a nearby alleyway. Speaking again about her sister, Sarah wrote:
"She remembered that there was a large crowd of people at the corner of St. Urbain Street and Groll Lane (now Rue Groll). She said this big scandal happened circa 1949-1950. She said that a man with a cane was poking around in the garbage in the side-lane off of Groll and found a package in which he discovered a dead baby. Word got around that a single girl who lived in the lane had given birth. My sister said she believed that the girl had been locked up, but wasn't too clear about all the details."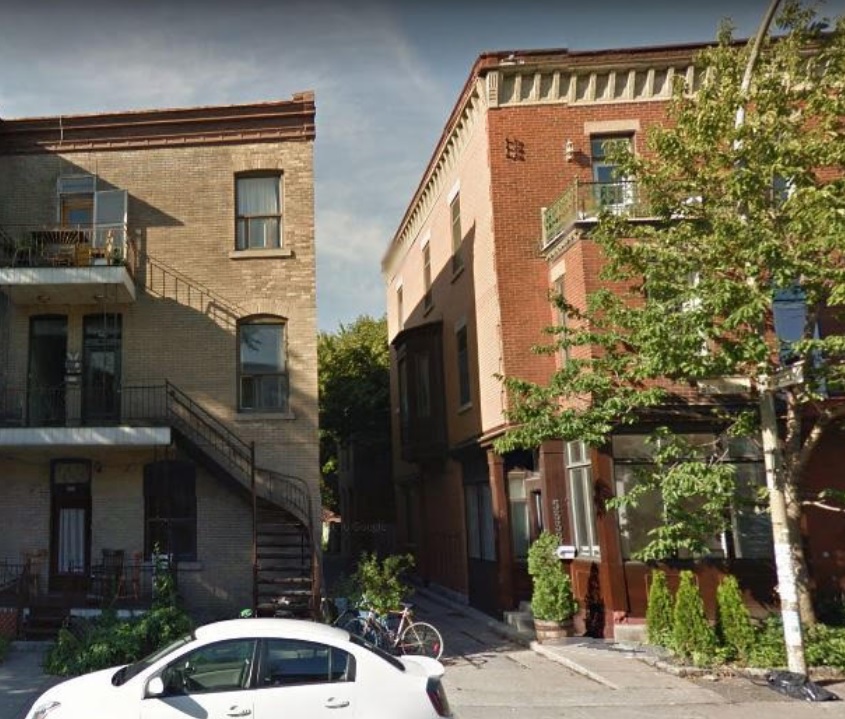 Today, when Sarah looks back at her St. Urbain home, she wonders about the restless spirits that haunted her childhood. Had there been a murder in the home or was the Grey Man himself the perpetrator or victim of some dark crime? Was there some religious conflict at the root of the haunting? What about the mysterious dark cellar? Was it a storage space or used for something more sinister?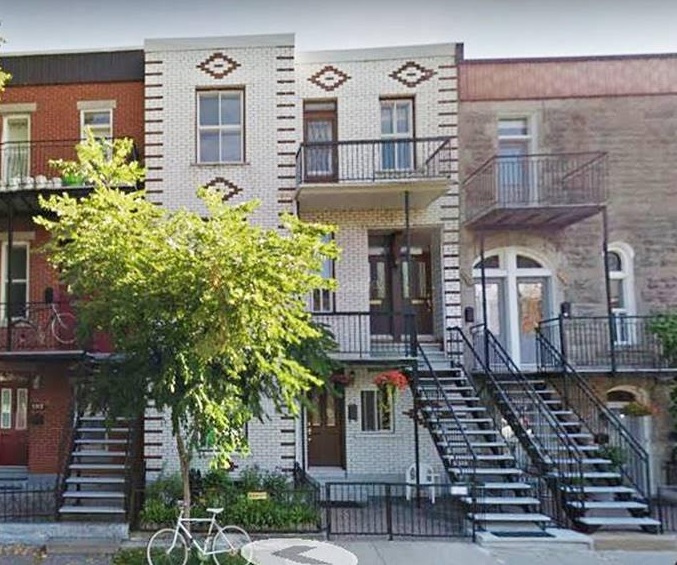 Although Haunted Montreal investigators were unable to determine the identity of the Grey Man as of yet, only one thing is certain – the mysterious apparition left an enduring impression on Sarah and the members of her family, one that begins and ends in the haunted house on St. Urbain Street.
Company News
On Saturday, March 16, our sister company, Irish Montreal Excursions, is pleased to offer a walking tour about the Irish Famine's impact in Montreal in 1847. Details can be found here.
In other good news, World's Scariest Hauntings – Griffintown is now online!
Haunted Montreal was very happy to work with Woodcut Media in the UK to research and produce this fine piece of haunted work about the Griff! A huge thank you to outstanding actor Anton Golikov for his storytelling in this episode!
We are also pleased to announce our new Haunted Pub Crawl.
Led by a professional ghost storyteller, the Haunted Montreal Pub Crawl visits four haunted bars. Starting at Charlie's American Pub in Downtown Montreal on Bishop Street, guests not only learn about many of the haunted drinking establishments in the city, but also hear Montreal's most infamous ghost stories.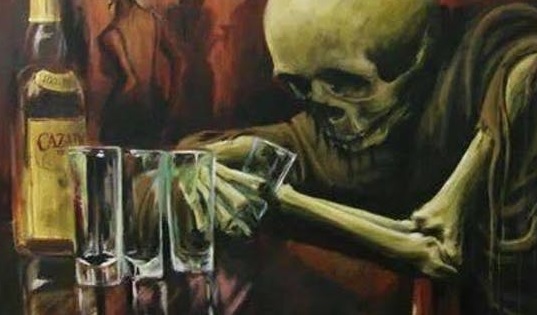 While sipping suds, guests enjoy haunted pubs, spine-tingling Montreal ghost stories and learn about the historical forces that transformed the ancient Indigenous island of Tiotà:ke into Ville-Marie, an austere French colony founded by Catholic evangelists.
After the British invaded, the city became a booming financial center and crime hub, a site of violent rebellion and subversive revolution and finally into Canada's most haunted city.
Clients hear the paranormal tales behind Charlie's American Pub, the recently-burned John Doe Pub, mysterious McKibbin's Irish Pub, the famous Sir Winston Churchill, funeral-home-cum-discotheque Club Le Cinq and, of course, Hurley's Irish Pub, where a ghost known only as the Burning Lady haunts the establishment.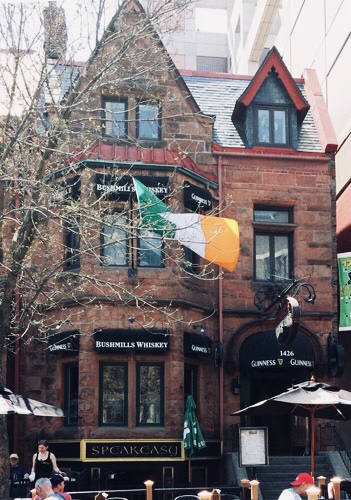 The ghost storyteller regales guests with Montreal's most deranged and infamous ghost stories, including Simon McTavish, a Scottish fur baron known to toboggan down the slopes of Mount Royal in his own coffin, the ghost of John Easton Mills, Montreal's Martyr Mayor who perished while tending to typhus-stricken Irish refugees during the Famine of 1847, and Headless Mary, the ghost of a Griffintown prostitute who was decapitated by her best friend in the shantytown in 1879. She returns every 7 years to the corner of William and Murray Streets, still looking for her head!
Join Haunted Montreal on this unforgettable pub crawl, where you can drink some spirits with a spirit, all the while learning about the city's deranged history and hearing spine-tingling local ghost stories!
For full details, including a description, the starting location and schedule, please visit our new webpage! Join us at 3 pm any Sunday of the year for a haunted pub crawl in English or at 4 pm in French! Tickets are now on sale!
Haunted Montreal also offers private tours and pub crawls for company outings, school groups, bachelorette parties and all types of gatherings. Please contact info@hauntedmontreal.com to organize a private tour.
Haunted Montreal has also been busy updating the local tour guiding industry, and is happy to report that after much work, the Institut de tourisme et d'hôtellerie du Québec has agreed to update its course to be more inclusive of Indigenous perspectives, as reported in The Eastern Door, a First Nations newspaper published in Kahnawake, on Friday, March 8.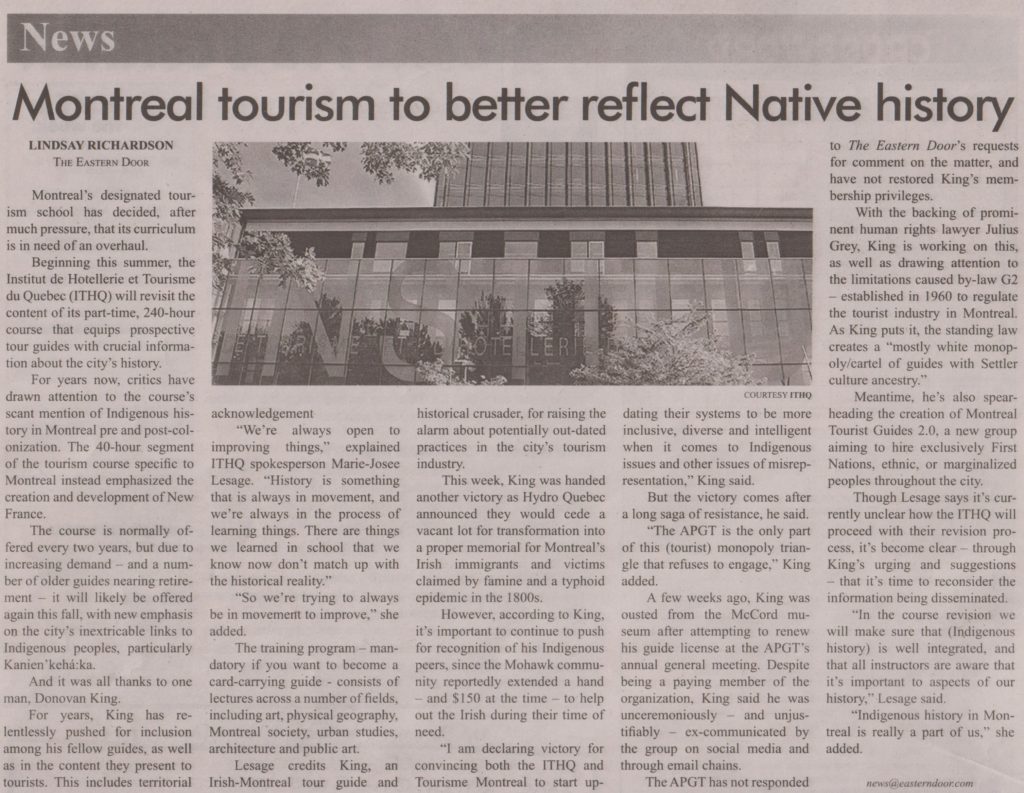 We are also pleased to promote a new book called Macabre Montreal.
Written by Mark Leslie and Shayna Krishnasamy, it is a "collection of ghost stories, eerie encounters, and gruesome and ghastly true stories from the second most populous city in Canada.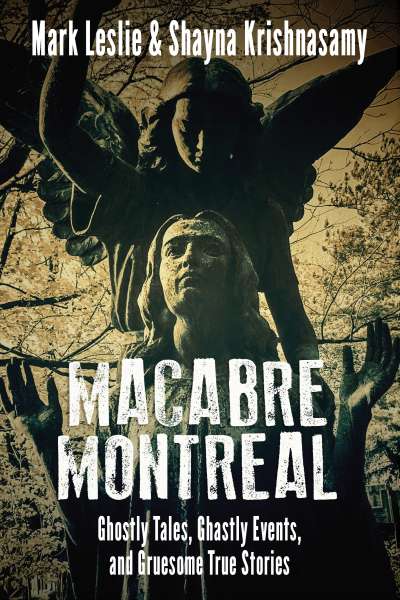 The authors write:
"Montreal is a city steeped in history and culture, but just beneath the pristine surface of this world-class city lie unsettling stories. Tales shared mostly in whispered tones about eerie phenomena, dark deeds, and disturbing legends that take place in haunted buildings, forgotten graveyards, and haunted pubs. The dark of night reveals a very different city behind its beautiful European-style architecture and cobblestone streets. A city with buried secrets, alleyways that echo with the footsteps of ghostly spectres, memories of ghastly events, and unspeakable criminal acts."
With the introduction written by Haunted Montreal, Macabre Montreal is a must-read for anyone interested in Montreal's dark side.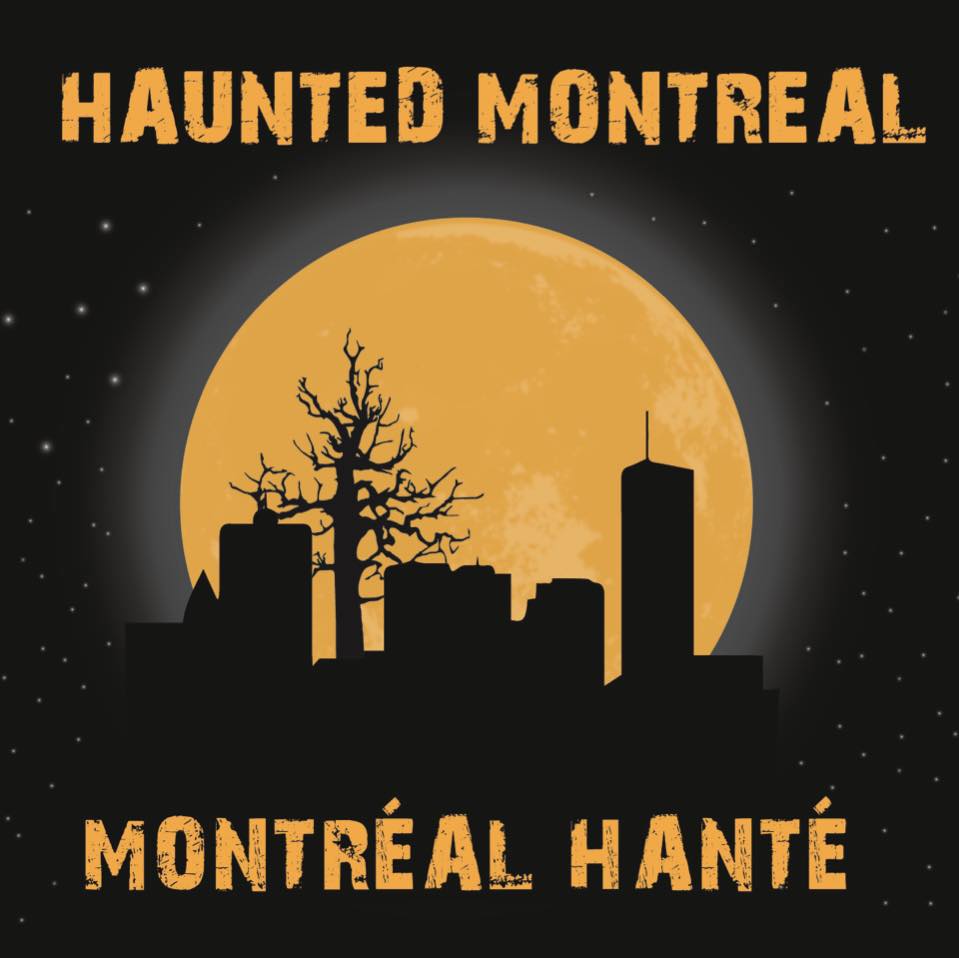 Haunted Montreal would also like to thank all of our clients who attended a ghost walk during the 2018 season or more recently!
If you enjoyed the experience, we encourage you to write a review on our Tripadvisor page, something that helps Haunted Montreal to market its tours. If you have any feedback, please email us at info@hauntedmontreal.com so we can improve our visitor experience.
Lastly, if you would like to receive the Haunted Montreal Blog on the 13th of every month, please sign up to our mailing list on the top right of this page.
Coming up on April 13: The Dawson Site
Downtown Montreal is haunted by the fact that it was built on the remains of an ancient Indigenous city. In 1859, construction workers building houses at the corner of Metcalfe Street and Boulevard de Maisonneuve unearthed remnants of an Iroquois First Nations village, including skeletons, fire pits, tools, pottery, longhouse posts, and other evidence. At the time, McGill Director and geologist William Dawson examined this site and concluded that the Iroquois village of "Hochelaga" once occupied the area. Today, while there are many arguments about whether or not the city was indeed "Hochelaga", the fact remains that road workers still discover remnants of the mysterious Indigenous city when digging. It is as though the ancient Indigenous city refuses to be forgotten and its memory haunts Downtown Montreal.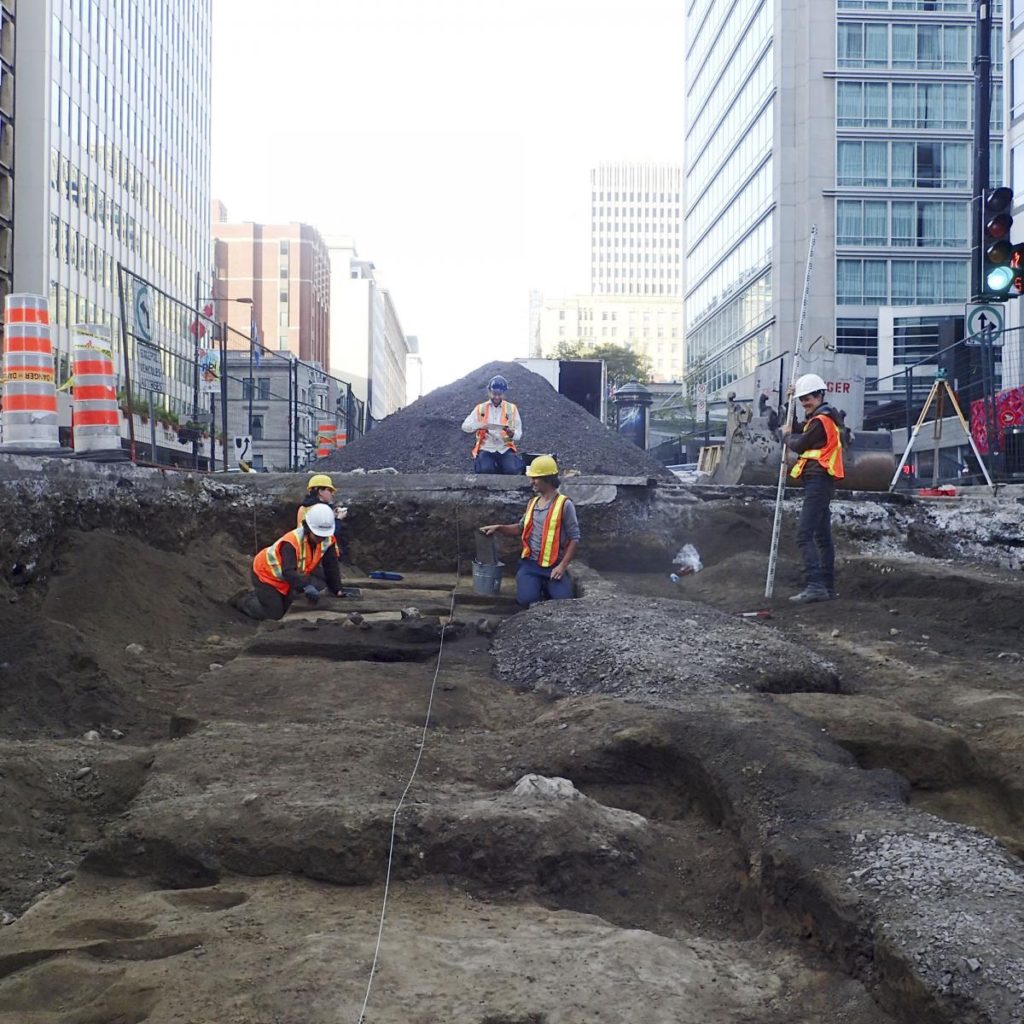 Miles Murphy is a Montreal-based writer and researcher with an interest in Irish traditions and folklore, Eastern mysticism, the paranormal and the occult
Donovan King is a postcolonial historian, teacher, tour guide and professional actor. As the founder of Haunted Montreal, he combines his skills to create the best possible Montreal ghost stories, in both writing and theatrical performance. King holds a DEC (Professional Theatre Acting, John Abbot College), BFA (Drama-in-Education, Concordia), B.Ed (History and English Teaching, McGill), MFA (Theatre Studies, University of Calgary) and ACS (Montreal Tourist Guide, Institut de tourisme et d'hôtellerie du Québec).